Victim blaming—how Ashling Murphy's murder highlights internalized misogyny in the UK
Ashling Murphy's recent murder has highlighted the UK and Ireland's continued issue with victim blaming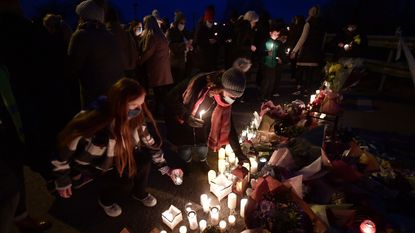 (Image credit: Charles McQuillan / Stringer / Getty Images)
The murders of women who were victims of gender based violence have highlighted the continued issue of victim blaming in the UK and across the world.
'Victim blaming' is a phrase that sounds truly ridiculous. To suggest that a victim of gender based violent attack could be blamed for their murder is an idea that is confusing, upsetting, and yet prevalent in the UK.
In a now-viral post, Feminist activist and Founder of Everyday Sexism, Laura Bates, explored this idea of victim blaming and suggested that the discussion around what victims were doing when they were killed, is implying that the women who were murdered are somehow to blame for the crimes committed against them.
The activist explained, "when we say 'she was just doing this' or 'she was just doing that', it suggests that the case wouldn't have been quite so awful or tragic if she had been doing something else."
"Like if she was walking down an alleyway at 2am, or going to meet her married lover or a sex work client or if she was drunk or she had taken drugs… like it would be a little bit less awful in those circumstances. And it devalues women's lives."
---
Why we need to stop saying, 'she was just going for a run'
This narrative has been all the more apparent with the recent death of Ashling Murphy who was killed in Tullamore, Ireland while she was out for a jog.
Immediately questions were asked about the incident—Was she jogging in a dangerous part of town? Was it dark out? What was she wearing? Was she alone?
Although we ask these questions because we want to understand how this could happen to a 23-year-old in broad daylight, repeating that she was doing everything right implies that there are some victims who did not do everything right. This suggests that there are some victims who are somehow more deserving of the violence inflicted against them than others—which of course, isn't the case.
To put this into a real-life context, many of the conversations around Ashling's murder have focused on the fact that she was jogging, in daylight, at 4pm in the afternoon, in a safe area of Tullamore.
The repetition of this has implied that perhaps victims like Sabina Nessa or Sarah Everard, who were both out at night, walking home alone, in London, were not doing everything they could have to protect themselves.
Or someone like Grace Millane, who was killed while having sex with a man who strangled her death. Was she responsible for her death because she chose to have a holiday fling with a stranger? Was she to blame because she allegedly told her killer that she liked to be choked during sex, which he interpreted as a defense for her murder?
Of course not. It's obvious that women do not deserve to be killed, regardless of what they were doing at the time of their death. But internalized misogyny tells us that it's the woman's job to protect themselves from male violence, and society encourages this.
We are told that by staying in groups at night, dressing modestly, not making eye contact with strangers, not getting too drunk, not wearing ponytails, staying near big groups on public transport, crossing the road if a man is coming towards you, flagging down a bus if you're stopped by the police, texting friends to let them know where you are, and holding keys in your fist as a weapon in case you are attacked on the way home, will keep you safe. But it won't.
Separating ourselves from the women who were out late at night or doing something we wouldn't do when they are killed, allows us to feel a sense of security as if we won't be a victim like they were.
But there is nothing that women can do to protect themselves from being murdered or attacked. The men who are the perpetrators have control.
Women do not have power when it comes to gender-based violence rooted in misogyny. We are not responsible and therefore we cannot ever be in control of a situation that is out of our hands.
But clawing at having some control over our lives is still evident in women across the UK. It's the reason I tell my friends to text me when they get home, when in reality the fact is, if they don't text me to let me know they are safe, it will already be too late by then to help them.
Similarly, if I think someone is following me on the street or I feel unsafe, I'll call someone or pretend to be on the phone. Apps have even been invented with this idea of women's safety in mind, but it takes seconds to kill someone and although some attackers may be deterred by a pretend phone call, others will not.
Fix the system, not the women
When it comes to gender-based violence, the victims are not to blame.
The perpetrators who kill them are to blame. The misogyny and sexism that is still so prevalent in everyday life in the UK and across the globe, is to blame.
The politicians who refuse to enact any meaningful laws that actually help women feel safe and reduce the numbers of women falling victim to male violence, are to blame.
And the society that encourages women to take responsibility for their own safety, when evidently the issue is out of their hands, is to blame.
'We shouldn't be here, and Ashling should,' said a speaker at Ashling's vigil at the London Irish Centre on January 15, 2022.
The people holding candles and laying flowers shouldn't have been crowded outside the Camden center on a cold January afternoon to pay their respects to a woman who should not be dead.
Ashling Murphy should still be alive. Sarah Everard, Sabina Nessa, and Grace Millane should still be alive. But they aren't. And victim-blaming won't bring them back or make the rest of us any safer.
Laura is a news writer for woman&home who primarily covers entertainment and celebrity news. Laura dabbles in lifestyle, royal, beauty, and fashion news, and loves to cover anything and everything to do with television and film. She is also passionate about feminism and equality and loves writing about gender issues and feminist literature.
Laura loves drinking and eating and can often be found trying to get reservations at London's trendiest restaurants. When she's not wining and dining, Laura can also be found travelling, baking, and hiking with her dog.