The $4 breakfast this billionaire eats every day
Believe it or not, billionaire Warren Buffett is extremely frugal - especially when it comes to his very particular breakfast routine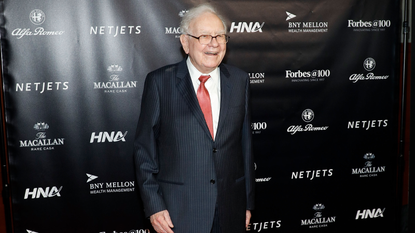 (Image credit: Taylor Hill / Contributor)
Talk about a breakfast for champions.
Despite being worth $106 billion according to Bloomberg's Billionaires Index, Warren Buffett is famously frugal about just about anything in life - including his morning meal, which costs him less than $4 daily.
In his HBO documentary Becoming Warren Buffett, the 92-year-old revealed that for the past nearly six decades he has stopped by McDonald's on his five-minute drive to the office every morning to indulge in one of the chain's three signature menu offerings: a sausage with egg and cheese, a bacon with egg and cheese or two sausage patties.
"I tell my wife, as I shave in the morning, I say, 'Either $2.61, $2.95 or $3.17.' And she puts that amount in the little cup by me here [in the car]," he said on camera. "When I'm not feeling quite so prosperous, I might go with the $2.61, which is two sausage patties, and then I put them together and pour myself a Coke. $3.17 is a bacon, egg and cheese biscuit, but the market's down this morning, so I'll pass up the $3.17 and go with the $2.95."
Not only does Warren opt for the same few items each day based on the stock market, but he makes sure to pay for them with exact change - perhaps another habit we should start embracing while trying to be as successful as him.
Warren's conservative nature is also apparent in his choice of living arrangements. In fact, the CEO of Berkshire Hathaway still lives in the five-bedroom house in Omaha, Nebraska, that he bought back in 1958 for $31,500. That price amounts to about $329,505 in today's market - which is still significantly less than the average cost of a billionaire's home anywhere in the world.
According to CNBC (opens in new tab), the 6,570-square-foot house that he lives in with wife Astrid Menks is currently valued at about $1.2 million. No matter the price, though, the CEO believes that the 1921 stucco structure does the job.
"I'm happy there. I'd move if I thought I'd be happier someplace else," he told BBC's Evan Davis while appearing on The World's Greatest Moneymaker back in 2009. "I'm warm in the winter, I'm cool in the summer, it's convenient for me. I couldn't imagine having a better house."
Don't expect him to change his opinion about his abode any time soon, no matter how much richer he'll get. In fact, in 2010, Warren penned a letter to his shareholders in which he listed his top three investments in life: two wedding rings and his home.
And there's more to his frugality: despite owning roughly 5.5% of Apple (reportedly Berkshire Hathaway's third-largest business!), Warren traded his $20 Samsung SCH-U320 flip phone for an iPhone only three years ago, in 2020.
"My flip phone is permanently gone," he said to CNBC's Beacky Quick while appearing on Sqawk Box back then. He also revealed that he uses his iPhone 11 (at the time, the newest model available) for phone calls only.
Clearly, Warren knows what he's doing: he's currently the third richest person on planet Earth.
Anna Rahmanan is a New York-based writer and editor who covers culture, entertainment, food, fashion and travel news. Anna's words have appeared on Time Out New York, the Huffington Post, Fortune, Forbes, Us Weekly, Bon Appetit and Brooklyn Magazine, among other outlets.