The Best Luxury Hand Wash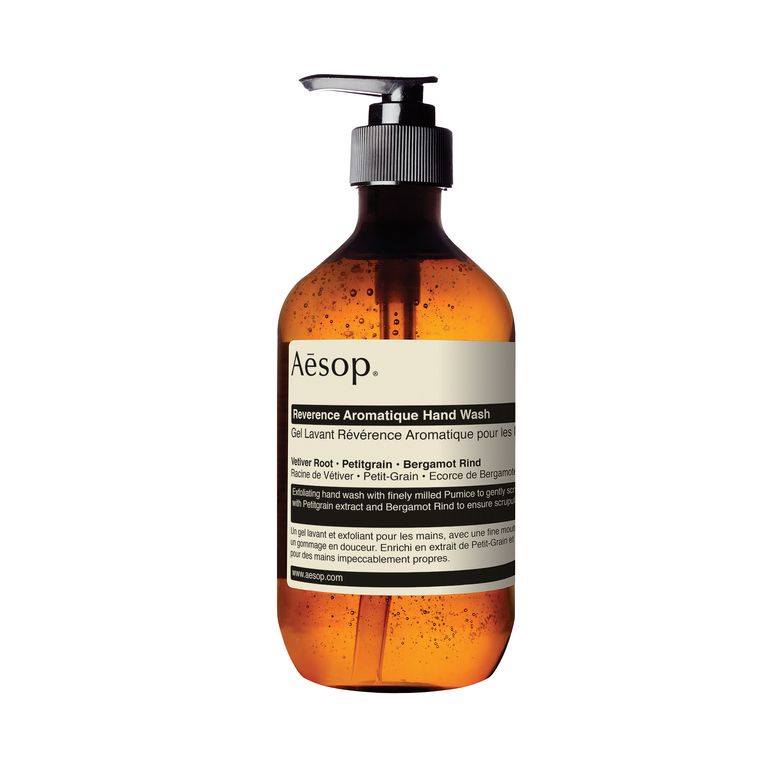 Impress houseguests and, more importantly, yourself with these indulgent, sudsy hand washes.
Here's the thing about hand wash; it's one of those products we use every single day, yet few of us put as much thought into it as we do our shampoo or shower gel. That's where we could be going wrong, as a luxury soap can mean the difference between just clean hands that are meh' and clean hands that are both sublimely pampered and fragranced.
Premium skincare brands and perfume houses have dosed up their hand washes with a bevy of softening benefits and scents that truly linger. Moreover, brands such as Jo Malone and Neom allow you to bathe your hands in the very same scents that are emitting from your candles or being spritzed from perfume bottles.
But it's not just superlative scents and textures that have us on the hunt for the perfect hand wash – consider the beautiful bottles the sinker to our metaphoric hook and line. By perching an elegant monochrome glass flacon (like Aesop) or a bottle from a brand synonymous with luxury (Jo Malone) by the sink, you'll upgrade your bathroom in a trice.
The perfect gift for a hostess, to leave out in the guest bathroom or, well, just for you, we've rounded up eight of our favourites. They make hand washing a joy…
Aesop Reverence Aromatique Hand Wash, £27 Marrying the satisfying scrub of Pumice with a warm, woody-citrus scent, this is more than a mere hand wash. The exfoliating cleanser makes every trip to the sink feel like a spa treatment, as hands emerge impeccably polished and oh so very soft.
Margaret Dabbs Nourishing Hand Wash, £22
She may be known for her pedicures, but Margaret Dabbs' hand formulas don't disappoint. This wash boasts a rich, hydrating lather and laces skin with the light, sparkling scent of mandarin and geranium.
Bamford Rose Hand & Body Wash, £22
Bamford products have an uncanny knack for making us feel like chic Cotswolds-dwellers. This organic wash, with its dewy rose scent and plant-based blend, is no different. Divine.
Jo Malone Orange Blossom Hand & Body Wash, £28
If you can resist taking it into the shower (we recommend buying two – at least), this Orange Blossom hand wash is just the thing to impress houseguests. Light, floral and fresh, the scent pleasingly lingers on skin, while the bottle looks suitably elegant by any basin.
Neom De-Stress Body & Hand Wash, £16
By taking the time to breathe in and enjoy this cedarwood and black pepper scent as you lather, you can turn a task as simple as washing your hands into a calming release. We like to take it in the shower ahead of a dauntingly busy day, as well.
Diptyque Softening Hand Wash, £26
No chic home should be without a little Diptyque tucked away somewhere. We're as addicted to this lavish, gentle, lavender scented wash as we are to their heady fragranced candles.
Aveda Rosemary Mint Hand & Body Wash, £18.50
Houseguests with sensitive skin will thank you for popping this hand-kind wash by the sink. Rosemary and peppermint refresh both skin and mind, as lavender soothes embattled hands.
L'Occitane Ultra Rich Hand & Body Wash, £15
If tight, parched skin is your biggest hand wash bugbear, try this milky, hydrating number. The sudsy cream harnesses shea milk to caress and comfort as it cleanses.