Shortlist revealed for w&h's Amazing Women Awards 2021—vote now for a community hero in your region!
Voting has now closed for the w&h Community Hero Awards - winners will be announced in late September!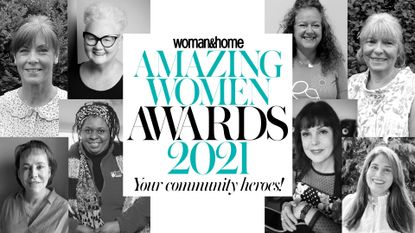 (Image credit: Amazing Women 2021)
Every year we present Amazing Women Awards to women over 50 who are making a difference in all walks of life. From brilliant entrepreneurs to women who are changing our country and inspirational celebrities, amazing women are everywhere. We asked you to help us shine a light on community heroes across five UK regions, by nominating a woman in your area who deserves an Amazing Women Community Hero Award.
Never have our communities been more vital and valued than over the past 12 months. As the pandemic shrank our worlds, we have come to know our friends, neighbours, local businesses and services like never before.
Thanks to everyone who nominated an amazing woman. The response was fantastic— and it was hard to narrow the list to 15 finalists, but these women were selected for their outstanding contribution to improving lives. We are delighted to present the shortlisted nominees for each of five UK regions.
Again we'd like your help, so vote for the fabulous women you would like in the final of the Amazing Women Awards 2021. Votes close on the 31st of July 2021—look out for the winners online and in our November issue (on sale October).
The Amazing Women Awards shortlist 2021
Which of these fabulous women you would like to see in the final of the Amazing Women Awards 2021? Vote in each of the regions' interactive voting panels below. Three women have been shortlisted in each region. There will be one winner from each region.
Wales and West Midlands shortlist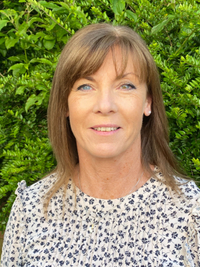 (opens in new tab)
1. AMANDA CONGREVE, 57, FROM CONWY
Nominated for: working tirelessly in ICU
Amanda is a clinical nurse specialist dealing in chronic pain for the NHS. Redeployed during the pandemic, she worked in the ICU at Glan Clwyd Hospital (opens in new tab) for nearly 12 months.
Amanda says: I was privileged to work with an amazing team over the past year. They supported me in my role and helped me every step of the way. It was a difficult year for us all – nurses, doctors, physios, occupational therapists, radiographers, cleaners – everyone. Every team member is as important as the next. I would never feel comfortable accepting this nomination as an individual – I'm no different and far less amazing than so many others. However, I do so with pride and thanks on behalf of every incredible person in our marvellous NHS who has worked tirelessly to save lives and bring the country back to health.
Carla Rosa Manfredino, who nominated her mother, says: After recovering from COVID-19, Mum wanted to help where it was needed. She adjusted to the changes in her life with grace, strength and humility – we are so proud of her.
---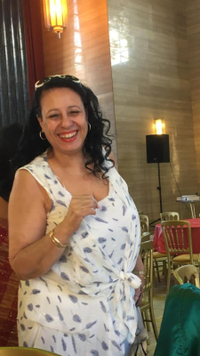 (opens in new tab)
2. HILARY BROWN, 61, FROM BARRY
Nominated for: Advocating human rights
Hilary is a lawyer and civil rights campaigner (opens in new tab) for ethnic minorities. She has represented those affected by the Windrush scandal and the family of Mohamud Mohammed Hassan, who died in unexplained circumstances after being in police custody. Most recently, Hilary co-founded the COVID-19 Food Box Response Project.
Hilary says: I have long been a community activist: I might be assisting asylum seekers, helping those seeking justice or supporting families in need of items of food, clothing and furniture. Each of these communities can be far-reaching, including not only those directly involved, but their friends, family, neighbours and others.
Steve Khaireh, who nominated Hilary, says: Hilary cares deeply and acts swiftly wherever she sees injustice. There is still so much poverty and racial inequality – we recently visited a family who had nothing but blankets – it's hard to believe deprivation like this exists in modern Britain.
---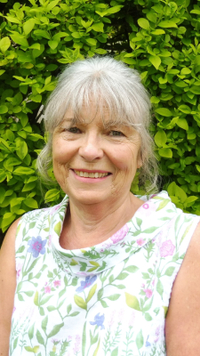 (opens in new tab)
3. VERONICA WELLS, 73, FROM PRESTATYN
Nominated for: Creating a social hub
Veronica co-founded the Prestatyn and Meliden Community Action Group pop-in centre (opens in new tab) in the mid-1990s for disaffected youth in the town. She became unpaid chair and has driven the project for 25 years, expanding services for the wider community.
Veronica says: The pop-in has developed into the main social hub for the town's young people, their families and senior citizens. We work closely with health, police and educational professionals, which has enabled us to establish trust and develop successful advocacy services for families in crisis. We are supported by many local volunteers, and hundreds of people access our services each year.
Antonia Jones, who nominated Veronica, says: RonStar, as she is known to me, saved my sanity and helps an army of people daily, week in week out, throughout the year.
---
Vote for the winner of Wales and West Midlands
East Midlands & East Anglia shortlist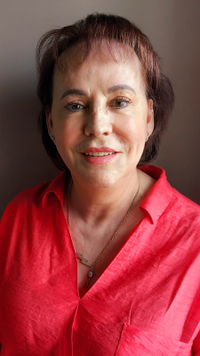 (opens in new tab)
1. SUZY CLIFFORD, 64, FROM BURY ST EDMUNDS
Nominated for: Supporting those bereaved by suicide
Suzy founded the charity Hope After Suicide Loss (opens in new tab), which provides support in Suffolk, Norfolk and Essex.
Suzy says: I was bereaved by suicide in 2009 when I found my husband had taken his life. There is still shame and misunderstanding around suicide, and the charity came out of my need to be among people who understood. We're peer-led and meetings are facilitated by a survivor with accredited training. It's wonderful to help people work through trauma and rebuild lives.
Vicki Chapman, who nominated Suzy, says: I lost my husband to suicide and Suzy supported me through the worst period of my life. Suicide survivors are more likely than most to take their own lives, so without doubt, Suzy is a lifesaver.
---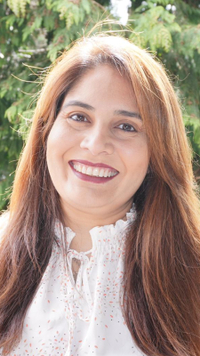 (opens in new tab)
2. AMY MEERA GILL 50, FROM NOTTINGHAM
Nominated for: Spreading joy
Amy Meera Gill, 50, from Nottingham, has brought laughter yoga (opens in new tab) to the community, continuing sessions online to help people struggling with their mental health during lockdown.
Amy says: Laughter is hugely beneficial – it's great aerobic exercise, proven to lower blood pressure, improve concentration and help your immune system. While children laugh on average around 300 times a day, adults average just five to 10 times. Luckily, the body can't distinguish between fake and real laughter, so playful exercises that stimulate a belly laugh can improve your mindset.'
Amy's daughter Sandy, who nominated her, says: When we arrived in the UK 10 years ago, Mum knew no one and sank into a depression. Although she has a degree in law and is a master NLP practitioner, she lost her smile. She found it via laughter yoga, and now she jumps at every opportunity to spread joy and wellbeing through laughter.
---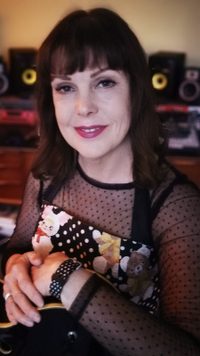 (opens in new tab)
3. LINZI STIVEY, 55, FROM BURY ST EDMUNDS
Nominated for: Empowering young people through music
Linzi co-founded and runs the Queens Road Studios School of Rock (opens in new tab) for children aged eight to 18. Passionate about supporting young people with social, academic or emotional issues, college lecturer Linzi established the studio with her musician partner in their garden and runs affordable sessions after work.
Linzi says: I wanted young people to have something cool to be passionate about, to help them make the tricky transition to adulthood. We're open to anyone who has a passion and an ear for music. We don't offer lessons or exams but our groups play huge gigs – this year we were booked to play Latitude Festival and Strawberry Fields – it's great to see their confidence grow.
Linzi's daughter Jozie, who nominated her, says: Mum is dedicated to the wellbeing of the children and, even in lockdown, got them played on and interviewed by local radio.
---
Vote for the winner of East Midlands & East Anglia
South East & South West shortlist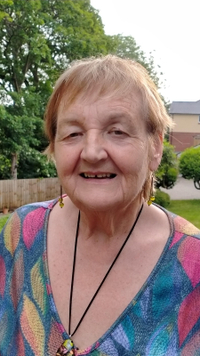 (opens in new tab)
1. FRANCES HEATHER, 70, FROM SOUTHAMPTON
Nominated for: Improving mental health
Frances set up and runs voluntary charity Creative Options (opens in new tab), which offers support, training, mentoring, and opportunities to people experiencing mental health issues.
Frances says: I worked in occupational therapy in mental health for 30 years before I had to retire due to health issues and became depressed. Aware that health services weren't often responsive to people's needs, I started a small drop-in group. This now operates seven days a week. We have a hugely successful Hope Programme, with groups and workshops, and we also operate a suicide prevention crisis service. Lockdown has exacerbated mental health issues, and I know we've saved lives during this period.
Elaine Digby, who nominated Frances, says: Until Frances started the charity, there was a huge void in services for adult mental health. Frances works so hard to get funding, and if it wasn't for her work, many people wouldn't be here today.
---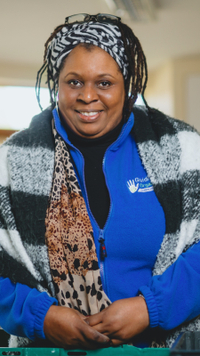 (opens in new tab)
2. TRACEY DAVIS, 51, FROM CROYDON
Nominated for: Making life easier for struggling mums
Tracey started the charity Guiding Hands (opens in new tab) in 2011 with a group of mums. Having worked in nurseries in the borough, she saw the struggles of families living below the poverty line, and established Foodie Fridays so mums could meet and learn to menu-plan and cook.
Tracey says: We hold groups in children's centres and church halls, offering a supportive, non-judgmental safe space for struggling mums. During lockdown, we've delivered food boxes to families, while social and advisory sessions have moved online. We run This Girl Can activities and Let's Talk sessions, where mums can discuss topics such as housing or childcare issues, and book one-to-one specialist support.
Vanessa Munnings, who nominated Tracey, says: Tracey is an outstanding asset to the community and has dedicated her life to helping single mums and struggling families, equipping them with life skills to keep their families happy and healthy.
---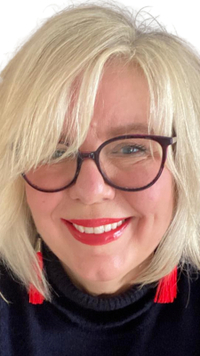 (opens in new tab)
3. KAREN GALLICHAN, 52, FROM JERSEY
Nominated for: Supporting those living with autism
Karen manages the Autism Jersey charity boutique (opens in new tab). A single mum of two boys, one with autism, she works tirelessly to support children, adults and the families of those with autism. In 2019, her Channel swim raised £13,000 to fund a Channel Your Dreams bursary for adults with autism.
Karen says: I became involved with Autism Jersey when my son, now 22, was diagnosed with autism. He's extremely bright but has complex needs, and parenting a child with autism can be hugely challenging. Through the swim and other fundraising initiatives, we now have funds to support families with children on the spectrum and adults. We might help someone buy a laptop to apply for jobs, or get their moped fixed so they can get to college.
Helen Miles, who nominated Karen, says: Karen's work is making a hugely positive difference to the lives of autistic islanders.
---
Vote for the winner of South East & South West
Scotland & Northern Ireland shortlist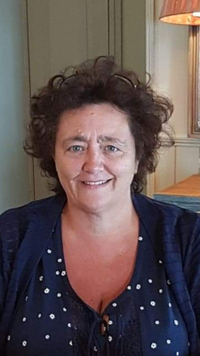 (opens in new tab)
1. MICHELE BENNETT, 57, FROM FINTRY, STIRLINGSHIRE
Nominated for: Coordinating remote rescues
Michele is a coordinator for remote communities in Scotland. Retired on health grounds, she is acting chair for the Fintry Community Council, team leader of the Fintry Resilience Group and key liaison with Stirling Council and Trossachs Search and Rescue (opens in new tab).
Michele says: My mother always told me, 'If you can't help people on this Earth, you shouldn't be here,' and that's the motto I try to live by. I was a property officer for the council, so I'm used to coordinating action – when an ambulance was stranded, I organised the rescue by getting the local farmers to dig it out. I like to think what I do enhances the community spirit.'
Moira Neville, who nominated Michele, says: She is a lynchpin of this community. She has coordinated emergency assistance during the 'Beast from the East' when the village was cut off, a heart attack rescue, flood assistance and COVID support.
---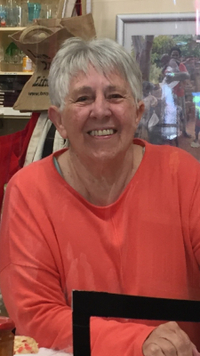 (opens in new tab)
2. VALERIE DUFF, 78, FROM EAST BELFAST
Nominated for: Caring for Vulnerable young women
Valerie runs the Waakisa Ministries Trust Northern Ireland (opens in new tab), managing the charity shop and dedicating her time to fundraising for the Pregnancy Crisis Centre in Uganda.
Valerie says: On my first trip to Uganda 20 years ago, I became aware of children being sexually violated and left vulnerable, so I bought a plot of land and set up a centre where girls can have their babies in safety. There is a nursery, we look after medical bills and teach independence skills. Back in Belfast, I set up a shop on the Holyrood Road to help fundraise. I also support vulnerable young girls in Belfast.
Beverley Milton-Edwards, who nominated Valerie, says: Aside from her work with Ugandan mothers, Valerie's commitment has encouraged generations of young people to a life of volunteering and support for diverse communities at home and abroad.
---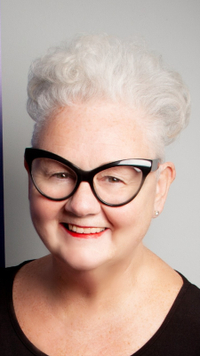 (opens in new tab)
3. GAIL REDMOND BEM, 54, FROM CO DOWN
Nominated for: Breaking the cycle of poverty
Gail founded the charity Via Wings (opens in new tab) in 2009, when she was deeply moved by a single mum who didn't have enough food to feed her children. The charity now has 17 staff and 133 dedicated volunteers who provide a food bank and wraparound service to break the cycle of poverty.
Gail says: We began with our Dare to Care food project to help young families, and work with supermarkets to provide food and ingredients. We have counsellors and mentors, and run two social enterprises, a shop and a cafe. This month, we are walking from Portrush to Co Down to raise awareness of mental health and raise money for a wellbeing centre.
Lynda Surgenor, who nominated Gail, says: Gail is a humble woman who is passionate about helping to meet people's needs and change lives. Her love and support has saved lives.
---
Vote for the winner of Scotland & Northern Ireland
North East, North West & Yorkshire shortlist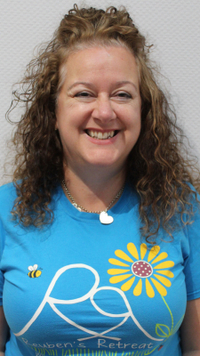 (opens in new tab)
1. NICOLA GRAHAM, 50, FROM LANCASHIRE
Nominated for: Steering families through grief
Nicola set up the charity Reuben's Retreat (opens in new tab), following the death of her youngest son Reuben, aged 23 months, in August 2012. It supports families of children with complex illnesses and those who have lost children. To date, the charity has helped more than 1,169 individuals from across the UK.
Nicola says: Reuben collapsed suddenly on a family holiday in Devon, and within hours we were told he had a brain tumour. They tried to operate, but he suffered cardiac arrest and died. There are no words to describe the grief of losing your child, but setting up the charity was a way to ensure Reuben's short life was not lived in vain. We offer families a sanctuary to create magical memories, and help them feel less isolated in their grief.
Lianne Bertelli, who nominated Nicola, says: Nicola is truly inspirational and dedicated to helping others in their time of need.
---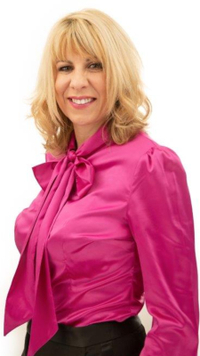 (opens in new tab)
2. MANDY TAYLOR, 52, FROM HUDDERSFIELD
Nominated for: Helping charities to thrive
Mandy, who has survived breast cancer twice but now has a rare form of head cancer, dedicates herself to helping others. In 2012, following her first cancer diagnosis in 2011, she established Charity Angels (opens in new tab), and helps to deliver local music festival Brodstock, which raises money for local charities.
Mandy says: I love hosting Brodstock – it's such a boost for the local community. I stand on stage for 10 hours, introducing the bands and drumming up support and donations. I'm also very proud of Charity Angels which I set up to connect individuals and businesses with charities.
Nicola Chance-Thompson, who nominated Mandy, says: Mandy has devoted her life to improving the lives of others. Besides her work with Brodstock and Charity Angels, she is a volunteer for a variety of charities, a super networker and highly respected by the business community. During lockdown, she supported the NHS, and shopped and cared for vulnerable people.
---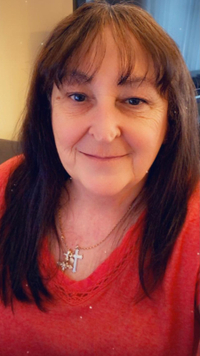 (opens in new tab)
3. CHRISTINE ASHTON, 60, FROM GREATER MANCHESTER
Nominated for: Supporting victims of domestic abuse
Christine supports women and children suffering abuse. She has pioneered refuges, recovery centres and children's trauma-based projects. She founded the charity End Abuse (opens in new tab), helped develop the UK's first specialist domestic abuse court service and a free 24-hour helpline.
Christine says: I run UK-wide training that helps women who have suffered abuse process what they've gone through. I founded End Abuse to ensure those who have suffered abuse have the advice and information they need, despite cuts to services. We assist women with court cases, and provide a specialised stalking and harassment support service. Putting our services online has helped women all over the UK to access our services, which has been valuable during the pandemic.'
Vanessa Quamby, who nominated her, says: Countless women have testified to Christine's kind, compassionate approach – her work deserves recognition.
---
Vote for the winner of North East, North West & Yorkshire
When does voting close and when will the winners be announced?
Votes close on the 31st of July 2020—lookout for the winners online in October and in our November issue (on sale October).
Stephanie Clarkson is a successful childrens' author of Hello Happy, Be Kind, and Super Milly and the Super School Day.
Stephanie graduated from the University of Leeds with a degree in French and Italian, before training as a journalist. She was then a staff writer at The Daily Mail and Deputy Features Editor on woman&home magazine until 2006 when she turned freelance. She continues to write regularly for the British press.
When she's not writing, she enjoys working with schools to promote literacy and the love of reading.