Why women are the real stars of the modern British royal family
We take a look at why we love the likes of Camilla, Meghan, Sophie and Catherine.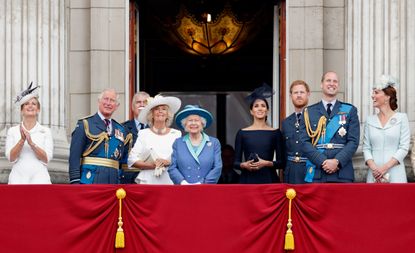 (Image credit: Getty Images)
We explore why and how the female members of the British royal family have become the real stars of the monarchy.
As an institution, the British monarchy hasn't always been known for its empowerment of women.
Up until 2013, when the Succession to the Crown Act changed, women were overtaken by any male siblings in the line of succession - even if they were born ahead of them. It means that Princess Anne is behind her younger brothers, Prince Andrew and Prince Edward, in line to the throne - but that now, Princess Charlotte is rightfully ahead of her younger brother, Prince Louis, in the line of succession.
And of course - going back centuries, royal treatment of women has been sketchy at best. Need we mention Henry VIII's six wives...?
But in recent times, women have finally taken centre stage in the royal family - and we say, rightly so.
It goes without saying that Queen Elizabeth II has been the star and the back-bone of the monarchy for decades now.
Only the third Queen of the United Kingdom since 1707, she is now the longest-reigning monarch ever, and has carried the family through many a crisis. Stepping in to the role at just 25, following the tragic early death of her father, she's remained steadfast in her duty ever since. At 93, she's now widely regarded as one of the hardest-working women in the world, and is highly respected around the globe.
MORE:How to raise a strong girl: a book-by-book guide
Then, there are the younger members of the royal family. We explore why the women of the royal family are the real stars of the show...
They're not afraid to get stuck in to help during difficult times
During the coronavirus pandemic, the women of the royal family have stepped up in a big way.
Far from sitting back in their royal homes 24/7, many of them have been out in the community contributing to the crisis as best they can.
One person who has been working away behind the scenes is Sophie, Countess of Wessex. She took the time this week to volunteer for a Woking charity The Lighthouse, a charity providing emergency food and baby supplies for the nearby the community. She was pictured packing food parcels for the vulnerable in Woking, Surrey.
Sophie also joined volunteers at Frimley Park Hospital in Surrey, where she gave birth to her own children, delivering essentials to NHS workers. In the same week, she also visited hospitality organisation Rhubarb, where she helped to prepare meals for NHS staff. So she's certainly been busy!
But course, she's not the only royal woman who has been helping out.
Duchess Meghan (while she may have stepped down from her duties), has been spotted delivering meals to vulnerable people in her new home city of Los Angeles, alongside Prince Harry.
Princess Eugenie, and her husband Jack Brooksbank, have also been delivering meals to NHS staff in London. And her mum, Sarah Ferguson, has also been doing her part for others during the pandemic. She recently launched aStorytime With Fergie And Friends YouTube channel, reading a story to children every day at 4pm. Eugenie has even appeared on the channel, reading out a story.
They don't shy away from shining a light on taboo subjects
Princess Diana will always be remembered for her vital work in breaking down the stigma around HIV and AIDs.
She stunned the world back in the 80s when she was pictured hugging and shaking hands with people who had the disease - breaking down the myth that you can catch HIV simply through bodily contact.
And amongst other things, Camilla, Duchess of Cornwall, has been integral in raising awareness of domestic violence and breaking down the taboo surrounding the subject. In a speech today, she said, "The campaign to end domestic violence needs voices of men as well as women, challenging the cultural, economic and political context in which we all experience the world. We will all benefit from building a society which will simply not tolerate this heinous crime any longer."
They are hugely successful in their own right
Although she was born too early to claim her rightful place in the line of succession, Princess Anne proven to be one of the most respected and well liked members of the royal family.
Where her brothers, Prince Charles and Prince Andrew, have faced scandal and criticism, Anne has become a professional success in her own right - as well as working tirelessly for her family and for important causes that she is passionate about. Princess Anne regularly scoops the award for hardest-working royal, often completing the most public engagements in a year out of her entire family (including her mother).
And outside of the royal family, with her equestrian career, she's had roaring personal success. At the age of just 21, she won the individual title at the European Eventing Championship, and even toook part in the Olympic Games in 1976, as part of the British team. And her daughter, Zara Tindall, has followed suit - winning a silver medal at the 2012 Summer Olympics.
Then, of course, there is Meghan Markle, who worked as a successful actress before even meeting Prince Harry - she worked on the US legal drama Suits for seven years, and has a net worth in the seven figures.
They're the brains behind some of the most successful royal work of the last few decades
While Prince William is the only blood royal within the Cambridge couple - it's the Duchess of Cambridge that everyone is fascinated by. Ever since marrying her husband in 2011, she's proven to be a reliable and steadfast member of the family.
And although the focus is sometimes on the future King more so than her, she's actually the brains behind some of the royal family's most impactful work.
Back in 2017, Prince Harry, Prince William, and Catherine, launched their enormous, worldwide mental health campaign, Heads Together, which was arguably one of the major turning points in the conversations surrounding our mental wellbeing.
But William has revealed that it was all Catherine's idea. He explained in an interview, "It was Catherine who first realised that all three of us were working on mental health in our individual areas of focus. She had seen that at the core of adult issues like addiction and family breakdown, unresolved childhood mental health issues were often part of the problem."
They work passionately for important causes
Duchess Meghan may only have officially been in the royal family for a short time, but she made a huge impact - and we're sure, will only continue to do so.
She hit the ground running after hers and Harry's May 2018 wedding, launching a cookbook, Together, with the Hubb Community Kitchen, which was and is run by female survivors of the Grenfell Tower fire. The money from the sales of the book has kept the kitchen running for months now, and it was a notable way for Meghan to honour her commitment to female empowerment - a subject she was passionate about before even meeting her husband.
Since that time, she's also worked with the charity Smart Works - which helps women get back into work - as well as becoming patron of Mayhew, an animal rescue centre, and the National Theatre.
Meghan even put together a capsule clothing collection with the likes of John Lewis and Marks & Spencer, where each sale sent a piece of clothing back to Smart Works.
The Duchess of Cambridge has also been dedicated to her work on children's mental health and the importance of their early years. In a speech, she declared, "It is our duty, as parents and as teachers, to give all children the space to build their emotional strength and provide a strong foundation for their future."
And she's worked passionately and tirelessly on the issue for years now, meeting experts and parents to understand how she can help.
Sophie, Countess of Wessex, has stepped up her royal duties following the departure of Prince Harry and Meghan Markle from 'the Firm' - but she's worked hard for the family for many years now.
Arguably more prominent even than her royal husband, Prince Edward, Sophie has been relied upon to carry on representing the family positively during difficult times - including Prince Andrew's recent controversy with Jeffery Epstein.
And the work that she's done over the years has been of vital importance. She supports children with disabilities, the agriculture industry, fashion, and works to raise awareness of avoidable blindness, amongst many other things.
MORE:These are the star signs most likely to become CEOs - are you on the list?
Sophie has been instrumental in raising awareness of women's issues across the world, and largely in areas of conflict. For example, she recently spoke about female peace-builders in dangerous parts of the world, and visited Munich, to find out more about organisations supporting women who have suffered from domestic violence, sexual abuse and trauma.
They've battled through plenty of adversity - but still won
Princess Anne is famous for her no-nonsense attitude too - brilliantly portrayed in The Crown. But she left the public in awe with her hilarious response to an attempted kidnapping, back in 1974.
An armed man attempted to kidnap the Princess Royal on the Mall, on the way to Buckingham Palace. An in an interview about the moment with Michael Parkinson, Anne recalled how she told the man that it wasn't going to happen...
"I said I didn't think I wanted to go. I was scrupulously polite.
She continued, "Because I thought it's silly to be too rude or that sort of thing, and we had a fairly low-key discussion about the fact that I wasn't going to go anywhere. And wouldn't it be much better if he moved away and we'd all forget about it?"
Now if that isn't the attitude, we don't know what is.
At the beginning of 2020, Meghan Markle and Prince Harry announced their intention to step back from royal life, after admitting that the pressure of royal life, and heavy media scrutiny, had become too much. Many have praised Meghan - and Harry - for making such a tough decision in order to protect their mental health and the happiness of their family - and we couldn't agree more.
Similarly, Camilla has faced a huge amount of controversy and opposition since her entrance into the royal family, given the rumours of hers and Charles' affair during the time he was married to Princess Diana. But over the years and in the face of plenty of adversity, the Duchess of Cornwall's popularity has risen, and she's remained dedicated to her work as a member of the royal family.
They adapt to change expertly
The Queen's decades-long reign has meant she's seen plenty of societal transitions during her time as monarch.
But every time, she has adapted, and thrived in the face of a changing world.
She became the first monarch to have a social media account, and pitched in during the war effort all the way back in 1940. When she was just 19, she joined the Auxiliary Territorial Service, and worked as a driver and mechanic, despite being a royal Princess. The Queen eventually attainted the position of Junior Commander.
Now, she is seen as an icon to many - and the picture of dignity, duty, and hard work.
Amy Hunt is an experienced digital journalist specialising in homes, interiors and hobbies. She began her career working as the features assistant at woman&home magazine, before moving over to the digital side of the brand where she eventually became the Lifestyle Editor up until January 2022. Amy won the Digital Journalist of the Year award at the AOP Awards in 2019 for her work on womanandhome.com.