Why King Charles, William and Harry exploded in 'torrents of profanity' over Princess Catherine
The King and his sons exploded into 'profanity' in defense of Princess Catherine after comments were made by Donald Trump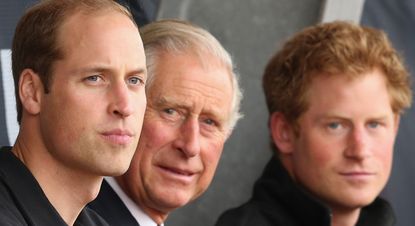 (Image credit: Chris Jackson/Getty Images)
A new book claims that King Charles, Prince William, and Prince Harry were reportedly so unhappy with the former President of the United States that they unleashed uncharacteristic "torrents of profanity." The alleged angry reactions came after Donald Trump tweeted comments about Kate Middleton being snapped sunbathing with her top off by French tabloid, Closer.
King Charles and his sons, William and Harry, all exploded into "torrents of profanity" aimed at the former President, Donald Trump
A new book claims that the royal rage was a result of Donald's social media comments aimed at Kate, after pictures of her sunbathing topless were published
---
Whether Donald Trump will run for President in 2024 remains to be seen, but, if he does, he might want to think about fixing things with one of our closest allies first.
Now that Charles is King, Donald might have to address claims that the King – along with his songs, Princes William and Harry – exploded into "torrents of profanity" aimed at the former President.
The shocking claims come after Newsweek detailed excerpts obtained from an upcoming royal biography.
Christopher Andersen's The King: The Life of Charles III is slated for release in the US on November 8 and in the UK on December 8, and the biography details an explosive account of what took place after Donald tweeted about Kate Middleton.
In 2012, Donald tweeted about the Princess of Wales after photographs of her sunbathing topless were published in the French magazine, Closer.
"Kate Middleton is great – but she shouldn't be sunbathing in the nude – only herself to blame," Donald's tweet read.
"Who wouldn't take Kate's picture and make lots of money if she does the nude sunbathing thing. Come on Kate!"
Christopher Andersen's book alleges that, "Trump's criticism of Kate resulted in what one Clarence House butler referred to as 'torrents of profanity' from both Prince Charles and his sons."
The book goes on to suggest that this wasn't the only time members of the Royal Family expressed some negative feelings towards Donald Trump.
Before Donald had made comments about Kate, the book also reminds readers of an incident involving comments Trump made about the late Princess Diana.
The book reads, "It didn't help that Trump had aggressively pursued Princess Diana after her divorce—overtures that were rebuffed—and claimed later on a radio program that he could have 'nailed her if I wanted to,' but only if she passed an HIV test."
Going even further, the book implies that Charles was a lot more opinionated on politics than his late mother ever was, purposely probing friends and associates about the antics of the then-President.
The book reads, "Throughout 2017 and into 2018, Britons seemed nearly as fascinated with the tweet-storming Trump as their American cousins. The royal family was no exception."
"At every opportunity, including Prince Harry's wedding reception, Charles took his wealthy and influential American friends aside and gently prodded them for information."
The except concludes, "Still… Charles asked on several occasions how likely it was that President Trump would be impeached. 'Trump seems to be detached from reality, doesn't he?' he asked a former Washington official who now headed up a major US conglomerate. 'What a ghastly, awful man.'"
It's previously been reported that, now he is King, Charles will emulate the Queen during his reign by being more selective about when, where and what he discusses.
If he is to run for President again, this just might include his opinions on Donald Trump…
Jack Slater is not the Last Action Hero, but that's what comes up first when you Google him. Preferring a much more sedentary life, Jack gets his thrills by covering news, entertainment, celebrity, film and culture for woman&home, and other digital publications.
Having written for various print and online publications—ranging from national syndicates to niche magazines—Jack has written about nearly everything there is to write about, covering LGBTQ+ news, celebrity features, TV and film scoops, reviewing the latest theatre shows lighting up London's West End and the most pressing of SEO based stories.