Who is the oldest member of the Royal Family? The lesser known 'rapping' Duchess who's a fan of Eminem
After the death of Queen Elizabeth II, the oldest surviving member of the Royal Family is a Duchess who loves rap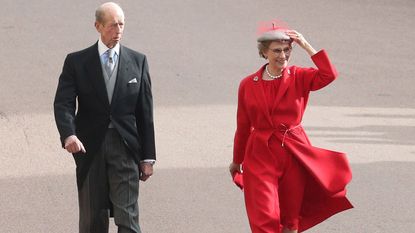 (Image credit: Andrew Matthews - WPA Pool/Getty Images)
After the death of Her Majesty the Queen, many are wondering who the oldest member of the Royal Family is. The Queen made it to 96 years old and now, the oldest serving royal is Katharine, Duchess of Kent, who is 89 years old. While not in the public eye too much, the Duchess has been a long-time advocate for charity and the arts.
The current oldest serving member of the Royal Family is Katharine, Duchess of Kent
At 89 years old, the Duchess is the two years older than her husband, Prince Edward, Duke of Kent
---
The late Queen Elizabeth II reigned for a historic 70 years, the only monarch many people ever knew.
After the Queen died, a new era was ushered in - the Carolean era – under King Charles III. However, Charles hasn't automatically become the oldest serving royal. That particular title goes to Katharine, Duchess of Kent.
Katharine is the wife of Prince Edward, the Duke of Kent. Edward was a first cousin of Queen Elizabeth II.
Edward most notably joined the late Queen for her Platinum Jubilee Trooping the Colour parade, having represented Her Majesty for over 50 years at various engagements around the world.
His wife, the Duchess of Kent, had taken more of a backseat in recent years.
Katharine, Duchess of Kent was perhaps best known for her conversion to Roman Catholicism in 1994.
In doing so, she became the first member of the royal family to convert publicly since the passing of the Act of Settlement 1701.
Earlier this year, in a rare interview, she opened up about her interests, surprising most by revealing she's a huge fan of rap music.
When asked about what she was listening to in an interview with The Sunday Telegraph, she said, "I just love music. Something that catches my ear on the radio - I don't really listen to records. If it makes my feet tap then I'm happy."
The duchess has previously described rap music as "probably the second best to classical" and "wonderful". She told The Guardian in 2014, "If you see someone on the M40 looking particularly dotty, it's me trying to rap in the car going home."
She added, "I don't know all their names" when she talked about rap music and the artists she liked, but was able to pick Ice Cube and Eminem as some favorites.
Katharine also went incognito as a teacher for 13 years, teaching music at Wansbeck Primary School in Hull.
"I was just known as Mrs Kent," she said. "Only the head knew who I was. The parents didn't know and the pupils didn't know. No one ever noticed. There was no publicity about it at all - it just seemed to work."
She stressed that far from being a recluse, she had "always been busy, always got something to do - whether it's something to do with music or charity".
Katharine is the oldest surviving royal, followed by her husband, Prince Edward at 87, and then Princess Alexandra of Kent, at 85.
The royal who made it to the oldest age in history was Princess Alice, Duchess of Gloucester, who died aged 102.
Jack Slater is not the Last Action Hero, but that's what comes up first when you Google him. Preferring a much more sedentary life, Jack gets his thrills by covering news, entertainment, celebrity, film and culture for woman&home, and other digital publications.
Having written for various print and online publications—ranging from national syndicates to niche magazines—Jack has written about nearly everything there is to write about, covering LGBTQ+ news, celebrity features, TV and film scoops, reviewing the latest theatre shows lighting up London's West End and the most pressing of SEO based stories.