From the national anthem to banknotes and coins - here are some of the key things that will change following Queen Elizabeth II's death
As the world mourns the death of Queen Elizabeth II, and Charles becomes King, many royal symbols and traditions will change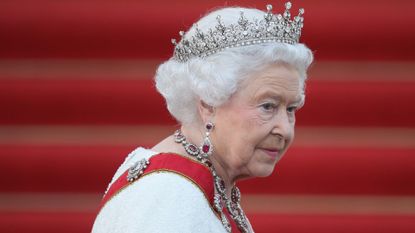 (Image credit: Getty)
Following the news of Queen Elizabeth II's passing, the world is mourning the longest-reigning monarch. Having sat on the throne for 70 years, her iconography is everywhere - from our banknotes to stamps and more. We unpick how some of this will slowly change in the coming weeks and years.
Queen Elizabeth II has died aged 96 at Balmoral Castle, Buckingham Palace confirmed.
As the world mourns her loss, information about what will change following her death is beginning to emerge.
---
Many royal symbols will change following the death of Elizabeth II. But after the Queen's record-breaking reign, removing her name and face from items including post boxes, stamps, and banknotes is a mammoth task that will take a long time. Here are some of the key things that will change as King Charles III takes the throne.
Things set to change following the death of Queen Elizabeth II?
Flags
Thousands of flags emblazoned with EIIR will need to be replaced. Military regiments fly "Queen's colors," many of which are studded with a golden embroidered EIIR, the fire service ensign includes her initials, and countries where the Queen remains head of state, including Australia, Canada, and New Zealand, have what flag experts call "E flags" – personal flags for the Queen that are used when she is visiting, which will all need to be changed too.
King Charles III's personally chosen royal cypher features a C for Charles instead of an E for Elizabeth, a III instead of a II to show that he is Charles III, and a R. However, the R in this new cypher stands for Rex as opposed to Regina, which the R in the former cypher stood for.
It's also possible that the royal standard – the quartered flag that flies whenever the monarch is in residence – could also change. The version that has been used by Queen Elizabeth II includes one quarter representing Scotland, one for Ireland, and two representing England but none for Wales. So it's possible that it could now change to incorporate a Welsh element.
Banknotes and coins
There are currently 4.5bn sterling banknotes in circulation with the Queen's face on them, worth a combined £80bn. Replacing them with alternatives featuring the face of King Charles III is likely to take at least two years.
When the Queen acceded to the throne in 1952, the monarch was not featured on the banknotes. This changed in 1960 when the face of Queen Elizabeth II began to appear on £1 notes in an image created by the banknote designer Robert Austin.
An image of the new monarch would be agreed with Buckingham Palace. The Queen's head also features on some $20 banknotes in Canada, on coins in New Zealand, and on all coins and notes issued by the Eastern Caribbean central bank, as well as other parts of the Commonwealth.
However, coin designs may be changed more slowly if historical precedent is followed. It was common to have different monarchs in your wallet as the changeover in coins happened naturally, rather than through recall.
National anthem
One of the simplest but perhaps most difficult changes will be the national anthem, of which the lyrics will change from "God save our gracious Queen" to "God save our gracious King." While it's only a small change, many people across the UK are used to singing the Queen's version and may take time to get used to the King's version.
The anthem has been in use since 1745 when an early version read: "God save great George our King, Long live our noble King, God save the King." Crowds have been singing the updated anthem to King Charles III since the Queen's passing, which is now the correct version of the song.
Prayers
Queen Elizabeth II was the "defender of the faith and supreme governor" of the Church of England, and there are prayers to her in the Book of Common Prayer, which dates from 1662.
One asks God to "replenish her with the grace of thy Holy Spirit, that she may always incline to thy will, and walk in thy way". These are expected to be amended to become prayers for King Charles. This must be done by legislation or a royal warrant and was last done after the Queen Mother died. Priests are also able to amend the prayer for temporary use.
In services of holy communion contained in the common worship, there is a "collect" for the sovereign that asks God to "rule the heart of thy chosen servant Elizabeth, our Queen and governor, that she may above all things seek thy honour and glory". This can be changed by the General Synod.
Post boxes and stamps
Currently, many post boxes are emblazoned with Queen Elizabeth's royal cypher, ER or EIIR. They could now change to CIIIR. When postboxes are made, they are given the mark of the monarch ruling at the time, and with more than 100,000 estimated to be dotted around Britain, it could take a long time to replace them all. Some post boxes with King George VI's GR cypher remain in use today, 70 years on.
As for stamps - which currently feature the face of Queen Elizabeth II - Royal Mail will be changing those, with a profile image of the new monarch being used instead. They will no longer produce stamps with the late Queen's face and will begin production on the new ones - although details on what they will look like have yet to be released.
Pledges of allegiance
MPs are not allowed to sit in the House of Commons, speak in debates, vote or receive a salary unless they pledge allegiance to the crown. Since 1952, when Queen Elizabeth II took the throne, the wording has been: "I (name of Member) swear by almighty God that I will be faithful and bear true allegiance to Her Majesty Queen Elizabeth, her heirs and successors, according to law. So help me God."
Now, MPs and peers will have to swear a new oath to King Charles III. New British citizens are also asked to swear to "bear true allegiance to Her Majesty Queen Elizabeth the second, her heirs and successors", and the Home Office is likely to change this, too.
The Commonwealth
The Queen's death will also affect Britain's wider Commonwealth realm, 14 countries of which recognize the monarch as their head of state. In many cases, their constitutions state that the Queen is the head of state. In these countries, constitutions will need to be amended to refer to King Charles III.
Among the constitutional monarchies, Australia, Canada, and New Zealand have measures in place so that the new monarch automatically becomes head of state.
Robyn is a celebrity and entertainment journalist and editor with over eight years experience in the industry. As well as contributing regular to woman&home, she also often writes for Woman, Woman's Own, Woman's Weekly and The Sun.