The Queen is an 'example to us all' despite grief and loss, says royal expert
The Queen's stoicism is something to be admired by the nation, a royal expert has said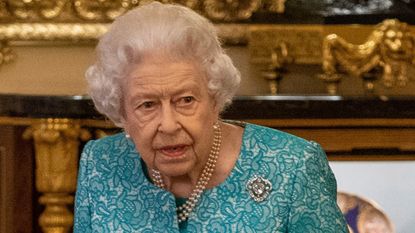 (Image credit: Getty)
The Queen has had to deal with a lot of personal loss and bereavement over the past year, but her stoicism should be an example to us all, according to a royal expert.
Royal columnist Victoria Arbiter has said that the Queen is "an example to the nation"
The royal commentator reflected on how the Queen described grief and praised her stoicism.
This follows royal news that Prince Charles is 'hopping mad' over Prince Andrew's hope for 'future role' in Royal Family
---
Victoria explained how grief is "an undeniable leveller," irrespective of social status, but commented how the Queen explained the pain and inevitability of grief better than most.
Writing for Australian outlet for 9Honey, she wrote: "An undeniable leveller, raw unadulterated grief eventually comes for us all.
"It is, as the Queen wisely said following the 9/11 terror attacks, 'the price we pay for love'.
"Nonetheless, those fortunate to live a long and healthy life are often forced to contend with more than their fair share."
The Queen has faced her own share of personal loss over the past year.
Last year, Prince Philip, her beloved husband of 70 years, passed away, and due to COVID-19 restrictions, she had to sit alone at his funeral.
On top of that, the monarch also lost the Duchess of Grafton, her friend and Mistress of the Robes, and last month Lady Farnham, her long time confidante and lady in waiting, who died aged 90.
And earlier this month, Her Majesty was hit with more grief when racing journalist and horse trainer Ivor Herbert, a close friend of the royals, died aged 96.
This year will also mark 70 years since her fathers death, 25 years since Diana died and the 20th anniversary of her sister Princess Margaret passing away.
Victoria added the Queen has put aside her own grief and sorrow for the good of the nation to set an example to all of us.
She wrote: "The Queen has endured a steady stream of sorrow and yet, true to form, she's put her own pain aside so as to focus on the welfare of others.
"In doing so, she's set an exceptional example to us all."
Robyn is a celebrity and entertainment journalist and editor with over eight years experience in the industry. As well as contributing regular to woman&home, she also often writes for Woman, Woman's Own, Woman's Weekly and The Sun.