Sarah Ferguson says 'online discourse' has become a 'sewer' after receiving a spate of abusive comments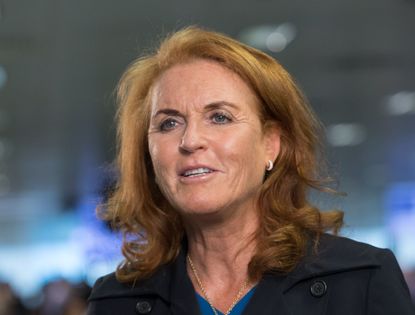 The Duchess of York received a spate of negative comments after she posted an open letter criticising the media for pitting women against each other.
The Duchess claims the 'bullying' behaviour isreminiscent of how she and Diana were treated, with reports of their apparent 'rivalry' often circulating the media.
Following a series of abusive messages, Sarah posted the following response.
'Responses on a news site to my warning online discourse has become a sewer. "Stay out it [sic] lady; Yorks don't need to be dragged into this fight - Shut it!" "I suggest you crawl back under your rock" "oh god - Yorkie bar is back!" They rather make point for me #HelloToKindness'
Sarah's fans were quick to show their support with one person writing, 'Please believe me - there are far more people who LOVE, APPRECIATE and ADMIRE you!! You are so courageous to be addressing this issue, and facing down the vile trolls! They do not speak for the public! You are an amazing person and we love you!!'
Another fan said, 'I was taught if you can't say anything nice, don't say anything at all. It's such a shame people decide to tear others down from behind the safety of a keyboard.'
In the letter to Hello! magazine, in support of their Hello to Kindness campaign, Sarah wrote, 'It's time to confront head on the fact that much of social media has become a sewer.'
As well as discussing online bullying, The Duchess of York shed light on an issue she can strongly relate to.
She said, 'Women, in particular, are constantly pitted against and compared with each other in a way that reminds me of how people tried to portray Diana and me all the time as rivals, which is something neither of us ever really felt.'
It could be perceived that Sarah's comments also refer to Meghan and Catherine's relationship.
An alleged feud between the Duchess of Sussex and the Duchess of Cambridge has been widely reported by the press - and is often heavily discussed on social media.
There have been reports of Catherine feeling 'threatened' by Meghan's Hollywood glamour and popularity, as well as reports of Meghan being rude to Catherine's staff causing upset. Regarding reports about Catherine and Meghan's relationship, the words 'tension' and 'rift' will often appear.
Sarah Ferguson had a similar experience with her and Princess Diana's relationship often catching the eye of the press, who were quick to report on their 'rivalry'.
In reality, the Duchess of York and Princess Diana had a very close relationship and were friends prior to marrying Prince Andrew and Prince Charles, with Princess Diana actually introducing Sarah to her husband.
They were fourth cousins but Sarah has said they were as close as siblings. In her autobiography, My Story, she wrote,'She was two years younger than I, and I strove to support and protect her as I would a younger sister.'
As well as sharing friends, it was reported Sarah Ferguson and Princess Diana had weekly lunches together, however it is thought the pair did not speak the year before Princess Diana passed away.
In an interview last year, Sarah toldGood Morning Britain,"I was thinking of Diana in my heart" whilst discussing Prince Harry and Meghan's wedding.