Princess Diana and Sarah Ferguson got into so much trouble on a night out - it almost sounds too wild to be true!
We kind of wish we could have joined them tbh...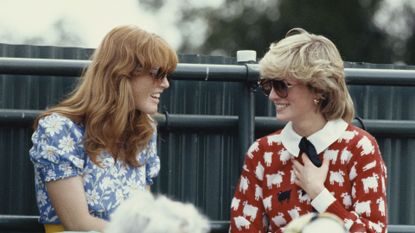 (Image credit: Georges De Keerle/Getty Images)
Sarah Ferguson has shocked royal fans after revealing the wildest story from her hen do. From getting kicked out of a club to her and Princess Diana being arrested for impersonating police officers, it sounds like the royals truly had a night to remember.
Sarah Ferguson has relived the night of her hen party live on TV, revealing that she and Princess Diana got up to some rather wild and unexpected antics during the celebrations.
According to the former royal, she and Princess Diana were not only kicked out of a members club, but were then arrested for impersonating police officers.
---
In a story no one could have seen coming, Sarah Ferguson - who now lives at Royal Lodge - has relived the night of her hen party, revealing it was so wild, she and her close friend Princess Diana ended up being arrested.
Appearing on US talk show The Kelly Clarkson Show to promote her new romance novel, Fergie told the incredible story about her bachelorette party, sharing that she and Princess Diana dressed up as police officers, got kicked out of a club, got arrested, and then stole snacks from the arresting officers. It's almost too crazy to believe.
Setting the scene for the story, the 63-year-old said she and Diana dressed up as police officers before heading out to a private members club, still in the costumes, to grab a couple of drinks. "It was extraordinary," she said, "We went to a nightclub. Of course we went to a nightclub with the Princess of Wales - then-Princess of Wales - and I was just still Fergie, wasn't married yet, and we went into this nightclub, and she was very good as her costume."
"Anyway, so we sat down, and the waiter came up to us and said, 'Excuse me, this is a members' club, and it's for fun, and we don't serve police officers here,' looking straight at us!"
Not wishing to cause a scene, the two women got up and left. And it's here that the story gets really wild.
"And we went out, and as we came out of the - up the stairs, a lady was getting out of a cab, and Diana said, 'She's got my dress on!' and I said, 'Dutch!' - I called her 'Dutch' - I said, 'Dutch! No, no, no, you can't say that, we're meant to be police officers.' It was very funny," she explained.
"Kelly?" Fergie paused for dramatic effect, "We were then arrested!"
"We were arrested by parks police, so we go in the back of the van, and [Diana] had put her engagement ring round the other way, and I'd put mine round the other way, and we were sitting in there like this, and she just looked round and saw smoky bacon-flavoured crisps and started taking them and eating them, and the policeman in the front said, 'You can't do that'!"
So how did the two young royals get themselves out of trouble? "Eventually they [the police] realized that it was just... you know, Diana, and me," Fergie said.
A slight misstep in her story, Fergie (who made an emotional promise to Diana before her death) failed to mention why she and Diana were arrested by parks police, leaving the host, Kelly Clarkson, confused. She asked why the two friends had been arrested, and Fergie answered matter-of-factly, "Oh, because we were impersonating police officers."
The story prompted Fergie to reflect on her friendship with Diana, who she lovingly called Dutch. She said, "People always say to me 'you must miss Dutch'. And I say no because she's with me all day. She and I, we laughed a lot."
According to Darren McGrady, Diana's former chef, the nickname Dutch was given to Diana in childhood by her family because "when she was younger she always acted like a Duchess," he told HELLO!.
Charlie Elizabeth Culverhouse is royal news and entertainment writer. She began her freelance journalism career after graduating from Nottingham Trent University with an MA in Magazine Journalism, receiving an NCTJ diploma, and earning a First Class BA (Hons) in Journalism at the British and Irish Modern Music Institute. She has also worked with Good To, BBC Good Food and The Independent.