Sarah Ferguson gets candid about plastic surgery, Prince Andrew and Prince Harry in revealing new interview
The Duchess of York has shared some characteristically unguarded opinions on her disgraced ex, and Harry and Meghan's on-going estrangement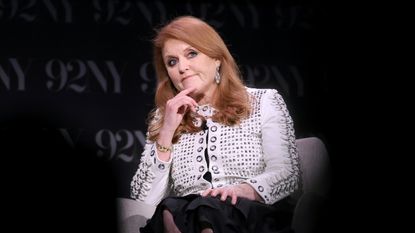 (Image credit: Michael Loccisano/Getty Images)
Sarah Ferguson, the Duchess of York has given a frank interview while promoting her latest book. While discussing the possibility of getting some cosmetic work done, she also broached the touchy subject of Prince Harry and Meghan Markle, the strain of being in the Royal Family, and how she really feels about her ex, Prince Andrew.
In a candid new interview, Sarah Ferguson reveals that she's considering getting some cosmetic surgery and recalls what life with the Royal Family was really like
The Duchess of York wishes for "more kindness" for her nephew, Prince Harry, as he continues his estrangement from the royals
---
Sarah, Duchess of York has the sort of life experience most people could only imagine.
From being a beloved member of arguably the most famous Royal Family in the world to experiencing public disgrace and backlash, she's lived through it all and come out stronger than ever.
Like her nephew, Prince Harry, she knows how it feels to fall foul of the family, often dubbed 'The Firm.' After all, she claimed to have been "the most persecuted woman" after pictures of her frolicking with her accountant made front page news.
The infamous toe sucking incident even made it onto the last season of The Crown, which captured the reported blowback Sarah faced from the family.
Embarrassing the royals, it led to a frosty ousting by Prince Philip and the Queen, though Sarah was known to have enjoyed a good relationship with the late Queen in the end.
She, in fact, ended up inheriting the Queen's last surviving Corgis.
So, having run the gauntlet, what does she think about the latest royal soap operas?
While promoting her latest book – with the duchess turning to writing in this chapter of life, having successful novels with the popular Mills & Boon publishers – Sarah has spoken out on some of the ongoing dramas within the Royal Family. And her experience means she can offer some unmatched insight.
In her interview with The Independent, Sarah seemingly alludes to Harry and Meghan, and their sometimes conflicting messages.
The duchess said, "Well, you can't have it both ways. You can't sit on the fence and keep one foot in and one foot out. You're either in or out. But then don't cry about not being invited to weddings. You chose to leave, now go and live it – and be it."
However, she proved she was coming from lived experience when she showed an empathetic side to the pair.
Referring to her nephew, she added, "I don't believe in judging anyone, and I would just ask for a little more kindness."
She further added that, despite having her own share of difficulty as a royal, it's nothing compared to the onslaught they face today. She explains how "the pressures of being in the public eye" are only made worse by social media, stating, "I think social media probably makes it even more difficult today."
The Duchess of York also showed off her famously steadfast resolve by defending the largely disgraced Prince Andrew, her ex-husband.
She described Andrew as a "wonderful, very kind and a very good man" when discussing the comparisons between her and her fictional romantic heroines.
She claims that her wedding to Andrew in 1986 "was one of the greatest moments of my life", as she walked down Westminster Abbey's iconic aisles – the same aisles which will see King Charles' coronation in a months' time - in an ivory satin wedding dress by Lindka Cierach, complete with a 17 foot train.
"Nothing can beat love for me... when you are in love, you can do anything for love," she says adamantly. "And I married a wonderful, very kind and a very good man. I fell in love with him. And therefore, nothing was unsurmountable."
Sarah and Andrew remain close, after divorcing in 1996. The pair share the Royal Lodge in Windsor together to this day.
As for how she feels now she's a grandmother herself.
She's not opposed to tweakments and opting for some touching up here and there.
When discussing people telling her it's "time for a facelift", she said, "…it really reminds me of when I was much younger. I think of Nancy Reagan... I don't know if she had one or not... but all those sorts of times, when the facelifts were very like that..." [she pulls her face back into a stretched-back look]
"But nowadays with... all these different things, maybe there's a new way." She considers for a moment. "And also my father [Major Ronald Ferguson] had cracks in his mouth going down that way," she says, pointing at her mouth. "So, I'm thinking maybe I need to go get this sorted out."
Jack Slater is not the Last Action Hero, but that's what comes up first when you Google him. Preferring a much more sedentary life, Jack gets his thrills by covering news, entertainment, celebrity, film and culture for woman&home, and other digital publications.
Having written for various print and online publications—ranging from national syndicates to niche magazines—Jack has written about nearly everything there is to write about, covering LGBTQ+ news, celebrity features, TV and film scoops, reviewing the latest theatre shows lighting up London's West End and the most pressing of SEO based stories.