Princess Margaret's secret romance was exposed to the world because of a tiny piece of fluff
Princess Margaret's secret romance with Peter Townsend came to light because of one small gesture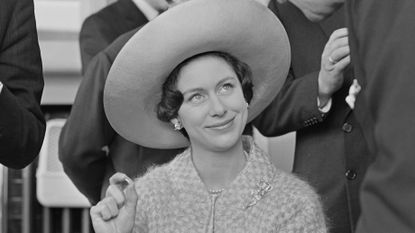 (Image credit: Getty Images)
Princess Margaret's secret romance with Peter Townsend is said to have been revealed to the world because of a piece of fluff on his jacket.
Princess Margaret's ill-fated love affair with royal equerry Peter Townsend was depicted in the first season of The Crown on Netflix, with Queen Elizabeth II famously not allowing her sister to marry her lover.
It's claimed that Princess Margaret's romance with Peter was seemingly confirmed in front of the world when she picked a small piece of fluff from his jacket at the Queen's coronation.
In other royal news, the heartbreaking reason Princess Margaret broke longstanding tradition when it came to her burial has been revealed.
---
Princess Margaret's love affair with divorced royal equerry, Peter Townsend, began when she was just 22-years-old, shortly after her father, King George VI, died in 1952.
While Princess Margaret was known for her fun nature and lavish lifestyle, reportedly having a fabulous way of paying for Harrods trips and a rather extravagant morning routine, her love life wasn't plain sailing.
Despite Peter Townsend being 16 years Margaret's senior, the pair fell in love and had a passionate, whirlwind romance - but a life together wasn't to be.
As Peter was a divorced man, the Queen was unable to allow her sister to marry him, as the match would have been firmly frowned upon by the Church of England, of which the monarch is the head.
Before the heartbreak of being denied the joy of marrying, Princess Margaret and Peter's quiet romance was exposed to the world, with rumors of their love seemingly being confirmed when she picked a piece of fluff from his suit jacket at the Queen's coronation in 1953.
Detailing the moment a royal reporter spotted the gesture at Westminster Abbey, Dickie Arbiter, who was the Queen's press secretary from 1988 to 2000, said, "An eagle-eyed reporter saw Margaret brush a bit of fluff off Group Captain Peter Townsend's RAF tunic."
Appearing on Channel 5's Scandals at the Palace documentary, Dickie continued, "Royals don't brush fluff off the hired help's tunic. So [the reporter] thought 'Aha! there's something here'."
"It was out in the open, they couldn't disguise it," he added.
Royal historian Richard Fitzwilliams has explained that the public move was "unwise" of Princess Margaret, with news of their secret romance spreading around the world afterwards.
"That gesture of the bit of fluff went right around the world and was in fact major story which led unquestionably to a crisis.
"This was a public display of affection which was very unwise," he said during the documentary.
Princess Margaret was forced to face the reality that she would not be able to marry Peter and the pair's relationship came to an end, with the Queen's sister releasing a statement in 1955 that read, "Mindful of the Church's teaching that Christian marriage is indissoluble, and conscious of my duty to the Commonwealth, I have decided to put these considerations before any others."
Margaret went on to find new love with Anthony Armstrong-Jones, who became her husband in 1960 - and her ex husband in 1978, with the Princess allegedly having a ruthless response to the news he was divorcing her.
The duo welcomed daughter Sarah Chatto and son David Armstrong-Jones during their marriage and despite having an 18-year-long marriage, they separated in 1976 amid rumors that Margaret had found romance with gardener Roddy Llewellyn.
A statement shared by Buckingham Palace at the time said, "HRH The Princess Margaret, Countess of Snowdon, and the Earl of Snowdon have mutually agreed to live apart. The Princess will carry out her public duties and functions unaccompanied by Lord Snowdon. There are no plans for divorce proceedings."