There's just been a major shake-up at the palace for Prince William, Harry and Meghan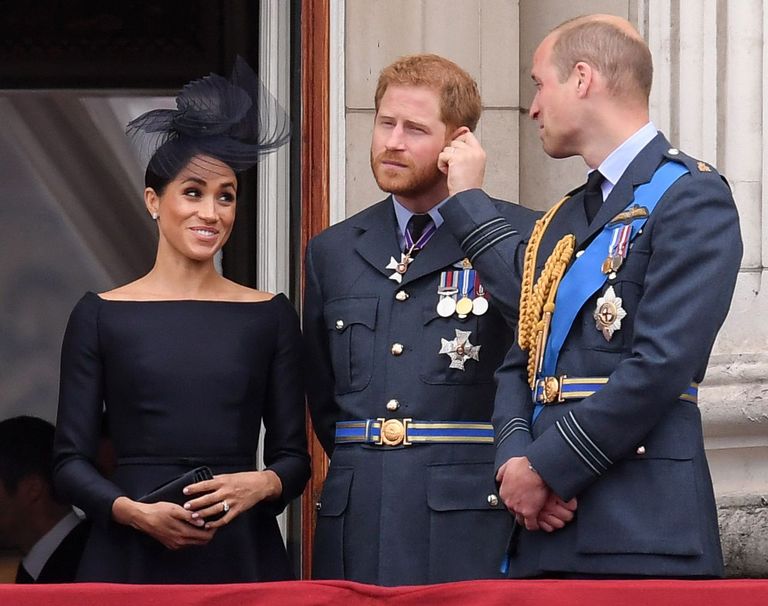 (Image credit: David Fisher/REX/Shutterstock)
By Amy Hunt
Princes William, Harry and Meghan, the Duchess of Sussex, are going through a major change at Kensington Palace at the moment, as their Private Secretaries have all just departed from their posts.
Royal reporter Emily Andrews revealed that yesterday, the Duke and Duchess of Cambridge held a reception to formally mark the resignation of Prince William's private secretary Miguel Head, who has worked for the pair for 10 years.
Although he was officially assigned to deal with matters concerning Prince William, he has invariably been involved in Catherine's royal career through the years too.
And he was not the only one who also left Kensington Palace yesterday. Edward Lane Fox, Prince Harry's, and later, Meghan Markle's Private Secretary, also officially left his post after announcing he was leaving earlier this year.
Edward has worked with Prince Harry for years now, but has also been key to organising Meghan's first few months as a member of the royal family. In fact, it's thought that Edward helped to organise the Duke and Duchess's royal wedding in May. Emily Andrews has revealed that he is leaving to spend more time with family.
Both men announced that they were leaving their positions early this year, and the Duke and Duchess of Sussex actually held an investiture for Edward back in July.
He was given the honour of a Lieutenant of the Royal Victorian Order. After announcing the news that he was leaving the post, Prince Harry issued a heartfelt statement thanking him for his work.
He said, "His Royal Highness is hugely grateful to Ed for his hard work during a period that has seen the launch and growth of the Invictus Games, countless tours around the world, and the detailed planning for next month's wedding."
The role of Private Secretary to a member of the royal family is thought to be vital to the running of a royal's life. Their duties include issuing statements and letters on their behalf, organising their diaries, and ensuring that their policies are properly implimented.
But Meghan, Harry and William will not be without their Private Secretaries. Both of the roles have now been filled following Edward and Miguel's departures.
Prince Harry and Meghan Markle have been given Samantha Cohen as a Private Secretary. She is one of the Queen's most trusted former advisors, and has been drafted in to help see Meghan through the early years of her royal life.
Simon Case will be William's new Private Secretary - he previously served as Principal Private Secretary to Theresa May.
The Duchess of Cambridge actually has her very own Private Secretary, given that she now has a very busy royal career of her own, separate to her husband's. Catherine Quinn took up the role in July 2017, after Catherine's close friend Rebecca Deacon left the post earlier that year.