Prince Harry's complaints about royal childhood are no different to Prince Charles criticising the Queen, royal experts claim
Prince Harry opened up on the "suffering" brought to him by his royal status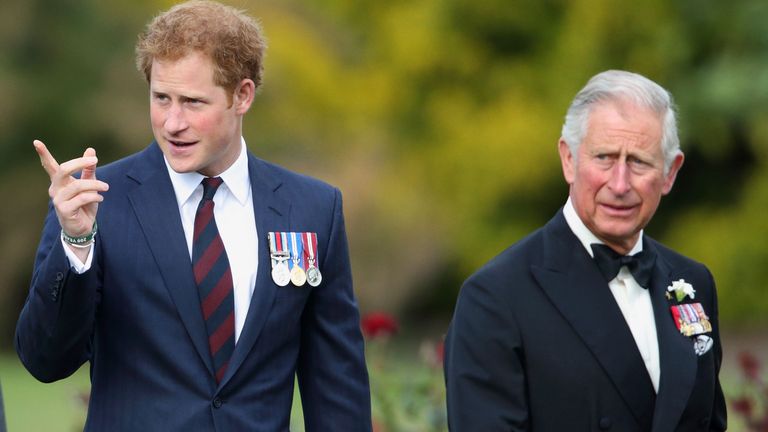 (Image credit: Photo by Max Mumby/Indigo/Getty Images)
Prince Harry's claims that he was victim of a cycle of "genetic pain and suffering" during his royal upbringing are reminiscent of Prince Charles' criticisms of his own childhood, royal insiders say.
Prince Harry's complaints about the "pain and suffering" he endured during his royal childhood are no different to Prince Charles' criticisms of his own upbringing within The Firm, royal experts claim.
The Duke of Sussex recently admitted that he left his role as a senior royal to move to LA in order to stop his own family falling victim to what he faced.
---
Prince Harry gave a brutally honest insight into his upbringing within the royal fold, detailing how he feels his father's life impacted his childhood.
Speaking on the Armchair Expert podcast with Dax Shepard, the Duke of Sussex described the "genetic pain and suffering" he feels was passed down to him via his royal roots, admitting swapped Buckingham Palace and Frogmore Cottage for LA with Meghan and their son Archie in order to "break the cycle".
"There is no blame. I don't think we should be pointing the finger or blaming anybody, but certainly when it comes to parenting, if I've experienced some form of pain or suffering because of the pain or suffering that perhaps my father or my parents had suffered, I'm going to make sure I break that cycle so that I don't pass it on, basically," he said.
"It's a lot of genetic pain and suffering that gets passed on anyway so we as parents should be doing the most we can to try and say: 'You know what, that happened to me, I'm going to make sure that doesn't happen to you'.
"Suddenly I started to piece it together and go 'OK, so this is where he went to school, this is what happened, I know this about his life', I also know that is connected to his parents so that means he's treated me the way he was treated, so how can I change that for my own kids?
"And well here I am, I moved my whole family to the US, that wasn't the plan but sometimes you've got to make decisions and put your family first and put your mental health first."
Harry has been slated by royal fans and critics for his harsh analysis of what it meant for him to be part of the Queen's monarchy, with aides believing it to be a "disgraceful betrayal".
But royal insiders have reportedly suggested that his outpour is not far from Prince Charles' complaints in his 1994 biography, written by Jonathan Dimbleby.
The Telegraph reports that 'The Prince of Wales: A Biography', which was authorised by Charles following extensive personal interviews, has been compared to Harry's recent chats by palace experts.
According to the publication, the book laid bare details of Charles' unhappy childhood, as well as the breakdown of his marriage to Princess Diana.
The book also dubbed Prince Charles' mother, the Queen, "emotionally distant" and recalled how his father, Prince Philip, was "harsh" and annoyed by his sensitivity.