Prince Harry praised for having this important conversation with Archie—'kids understand so much'
Harry has won praise for his straightforward approach to discussing tough topics with his children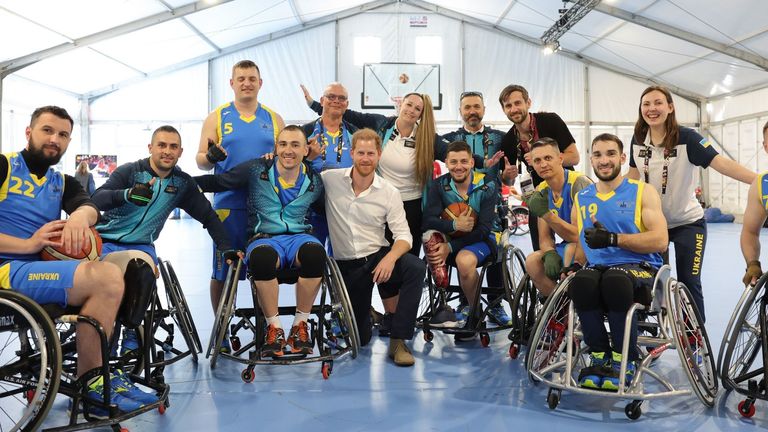 (Image credit: Chris Jackson/Getty Images for the Invictus Games Foundation)
Prince Harry has opened up about just how important the Invictus Games are to him, and how he plans to introduce the Games to his children in the future. Harry also revealed how he's broaching the subject of disabilities with his children, and his straightforward approach has earned him praise.
Prince Harry has shared with reporters that he plans to bring children Archie and Lilibet to the Invictus Games when they're older.
He also explained how he's helping Archie to understand disabilities, and his approach has been met with praise.
---
Harry has shared why the Invictus Games means so much to him, and has won praise for revealing his open, direct approach to discussing the topic of disabilities with son, Archie.
When asked by a reporter from PEOPLE if he's looking forward to taking his children to the Invictus Games in the future, Harry replied that he "can't wait."
He went on to explain how he's started to introduce Archie to the Invictus Games, a multi-national sporting event for wounded, injured, and sick servicemen and women that were founded by Harry in 2014.
"I showed Archie a video of wheelchair basketball and rugby from the Invictus Games in Sydney, and he absolutely loved it," Harry said, before adding that it's always been important to teach his children that not all disabilities are obvious or visible.
"I showed him how some [players] were missing legs and explained that some had invisible injuries, too," Harry told the reporters. "Not because he asked, but because I wanted to tell him. Kids understand so much, and to see it through his eyes was amazing because it's so unfiltered and honest."
Harry's open and honest discussion of a potentially tough topic has been met with praise from fans online, and from Fatherly, the leading digital media brand for fathers.
Writing about Harry's approach, Fatherly praised the Duke for refusing to "sensationalize what was going on."
"He didn't paint the athletes as an inspiration simply for playing rugby or basketball. He left ableism out and normalized the conversation of disability."
Talking to our kids about disability is an important and ongoing conversation. But how we go about having the conversations is just as important. Prince Harry did it right: keeping things matter of fact, leaving sensationalized language out of it, and showing his kids that it's OK to see our differences.
Harry went on to explain why the Invictus Games are so important to him and Meghan.
"There is nowhere you can feel more embraced and supported than with the Invictus family," he explained. "The Toronto Games were our first time out and about publicly in an official way. We were dating at the time, so it was a lot to take in, but fortunately, we were with the perfect community for that."
"Now, five years later… I had always wanted to share these incredible moments with someone special, and to have Meg by my side means everything."
Jack Slater is not the Last Action Hero, but that's what comes up first when you Google him. Preferring a much more sedentary life, Jack gets his thrills by covering news, entertainment, celebrity, film and culture for woman&home, and other digital publications.
Having written for various print and online publications—ranging from national syndicates to niche magazines—Jack has written about nearly everything there is to write about, covering LGBTQ+ news, celebrity features, TV and film scoops, reviewing the latest theatre shows lighting up London's West End and the most pressing of SEO based stories.