Prince Harry pens moving letter after suffering a devastating loss
Such personal and touching words from Harry...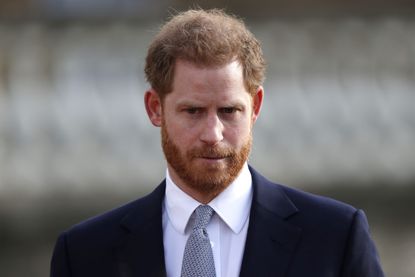 (Image credit: Getty)
Prince Harry wrote a heartbreaking letter to the family of a teenage girl who recently died.
The Duke of Sussex met Holly Smallman back in 2015 when her sister was given an award for caring for her.
Holly, who was from Liverpool, suffered from various complex medical conditions throughout her life, including epilepsy, cerebral palsy and lung disease.
Despite being told by doctors she wouldn't make it past two-years-old, Holly died in her sleep in lockdown last month, aged 18.
Having attended her daughter's funeral with just ten guests, Holly's mum has revealed that she received a personal letter from Prince Harry.
'I wanted to write and say how saddened I was to hear of the tragic loss of your daughter Holly,' Harry wrote.
'I feel so fortunate to have met Holly when her sister Ruby received a Well Child award.
'Holly was evidently a very special and happy girl, despite her significant challenges, and she clearly had an extra special relationship with her siblings.'
READ MORE: Duchess of Cambridge's go-to jewellery brand has designed a lovely necklace to support the NHS
Ensuring to emphasise his memory of meeting Holly and her family, the royal continued, 'It was a great privilege to spend time with you all, particularly Holly, and I still remember the amazingly creative handmade penguin that Ruby gave me.
'I imagine words cannot really hope to provide much comfort to you and your family at this most difficult of times.
"But I wanted you to know that you, and your daughter Ruby and son Josh, are all in my thoughts and prayers.'
Signing off the letter with a mention of his wife, he added, 'Meghan and I send our deepest and most heartfelt condolences.'
Speaking out on how much the message meant to her during the tough time, Holly's mother Hayley told the Daily Mail, "For Prince Harry to find the time to send this email, to know that Holly made that impact on him and that he cares so much, even in all this private turmoil he's going through, just meant the world to us."