Lady Kitty Spencer reveals how her life changed forever after Prince Harry and Meghan Markle's wedding
Diana's niece says life wasn't the same after the big day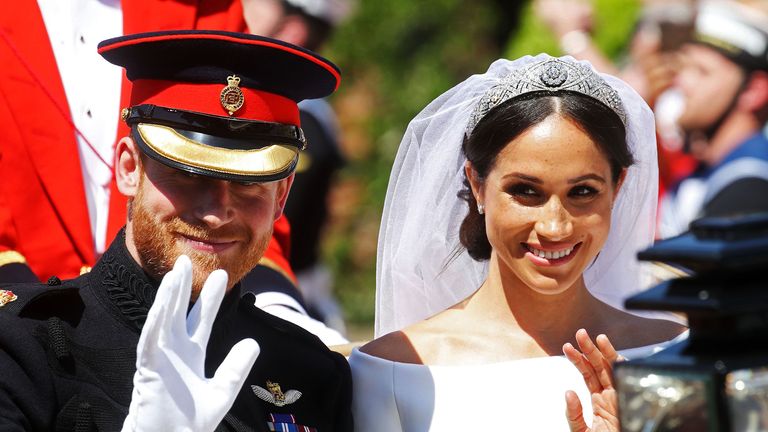 (Image credit: CHRIS JACKSON via Getty Images)
Prince Harry and Meghan Markle's royal wedding changed Princess Diana's niece Lady Kitty Spencer's life forever.
• Lady Kitty Spencer has opened up about how her life changed following her cousin's royal wedding.
• She revealed how sudden fame has affected her day-to-day life.
• In other royal news, Meghan Markle has decided not to have a baby shower for this reason
---
Lady Kitty Spencer is the daughter of Princess Diana's brother Charles and therefore the cousin to Prince Harry and Prince William. Despite her royal connections, Lady Kitty remained fairly unknown until her cousin Prince Harry's wedding in 2018.
Lady Kitty wore an emerald green Dolce and Gabbana Alta Moda gown with a matching fascinator and velvet orange heels. This outfit caught the attention of the world and the young royal was thrust into the limelight.
Her Instagram following leapt from 37,000 to an enormous half a million followers. Lady Kitty told Town and Country, "I woke up the next day and looked at my phone and thought, 'Whoops, did I take someone else's by mistake?'" she said. "It was very weird, and a little bit overwhelming."
Less than a week after the royal wedding, Lady Kitty was selected to model for huge designer brands. She became the face of Bulgari and has since modelled for brands like Alberta Ferretti and Ralph Lauren.
Lady Kitty made her catwalk debut a year before the royal wedding in February 2017 for Dolce and Gabbana. She spoke about the experience and revealed, "It was terrifying!" she says. "I was 26 and working full-time for a charity, and I loved it, but it's very different from that world of style. I went home and spoke to my family, and my mum said, 'Well, why don't you?'"
She decided to say yes to the experience and said, "I thought, 'I'm going to do it for my older self, so I can look back and say I did it.'" She also suggested that the experience could be, "the start of a confidence-building exercise".
She revealed that she lost weight for the job but was impressed with the brands emphasis on body confidence. She said, "I remember trying to be really healthy, going to the gym and doing that sort of stuff, and when I tried on the dress for a fitting, Domenico [Dolce] was like, 'Have you lost weight?' I proudly answered, 'Yes!' and he said, 'OK, now the measurements are different…' There was no emphasis on size – that's not what it's about at all."
In the interview the royal also explained that she likes to keep her personal life private. She said, "I feel less vulnerable when I don't discuss things like my love life. I just think, 'Really, what's that got to do with anyone else?' It shouldn't make a difference to anyone's day. Who I love or don't love, or have a crush on or don't have a crush on, or go on a date with, I don't know why that should be what somebody reads over their cornflakes. As long as I keep it sacred, then it can remain so. As soon as I don't, I don't think you can get it back."