King Charles's special touch for the coronation set to reflect his 'modern' monarchy
King Charles's coronation is being marked with a special emoji based on St Edward's Crown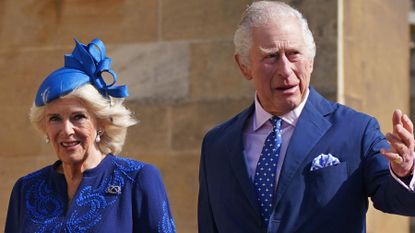 (Image credit: Getty Images)
King Charles III is set to be crowned during his long-awaited coronation ceremony on May 6th and there will be a special social media touch in place to mark the big day.
---
King Charles took the throne following the passing of Queen Elizabeth II in September 2022, however he will be officially crowned as monarch during his momentous coronation ceremony in May.
With the big day just weeks away, it has been announced that a special emoji will be released for use on Twitter in honor of the historic event.
Unveiling the emoji, a post on the official Royal Family Twitter account said, "A special emoji for the Coronation has gone live today!"
As of April 10th, royal fans will be able to adorn their Twitter posts with a small emoji based on St Edward's Crown, when they use the hashtags #Coronation, #CoronationConcert, #CoronationWeekend, #CoronationBigLunch and #TheBigHelpOut.
A special emoji for the Coronation has gone live today! The emoji, based on St Edward's Crown, will appear when any of the following hashtags are used: #Coronation#CoronationConcert#TheBigHelpout#CoronationWeekend#CoronationBigLunch pic.twitter.com/ueHOpkNn6MApril 9, 2023
See more
St Edward's Crown is one of the most recognizable aspects of the Crown Jewels, with the iconic purple velvet crown having been made for King Charles II in 1661. It's also the crown that King Charles will wear at the coronation.
The incredible crown is made from solid 22-carat gold and features the likes of rubies, amethysts, white topazes and sapphires.
Of course, this is the first time that social media has played a key role in the coronation of any monarch, with Queen Elizabeth II having been crowned decades ago in 1953.
It seems that the involvement of platforms like Twitter is a reflection of King Charles's desire to mould a modern monarchy that mirrors a modern society.
With the new King reportedly keen to have a 'stripped back' monarchy, with only key working members of The Firm being a big focus of the institution, it's been reported that the coronation itself will reflect Charles's modern values, compared to Queen Elizabeth II's over 70 years ago.
Commenting on how the King's desire to keep things in line with the modern world when it comes to his coronation as well as his reign, Hello! Royal Editor, Danielle Stacey, said, "For all the pomp and ceremony, we already know that the King's coronation will also differ in many ways to the late Queen Elizabeth's.
"The ceremony itself will only be an hour in length, compared to over three hours for the 1953 coronation," she added, pointing out that Charles is also "conscious" of the cost of living crisis and has a "desire to have a much more modern monarchy".
"The world has changed so much since the Queen's coronation 70 years ago and it makes sense for Charles to put his own stamp on it," Danielle concluded.