King Charles' new coronation tribute includes a major pop culture icon – but there's a sad connection to the late Queen
James Bond is back – and it's all to save King Charles' coronation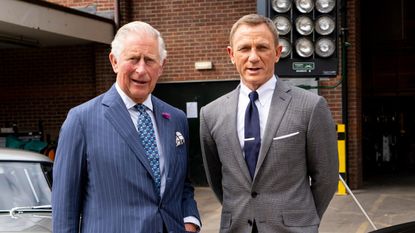 (Image credit: NIKLAS HALLE'N/POOL/AFP via Getty Images)
A new James Bond novel will be published to celebrate King Charles' coronation. The iconic British spy will return as he faces a race against time to save the King's upcoming coronation in a new story to be released ahead of the May 6 ceremony. Proceeds from the Bond novel will go towards supporting the National Literacy Trust, which provides disadvantaged children with literacy skills.
A new James Bond book will be written and released ahead of King Charles' coronation
While exciting, it officially ends the role of James Bond working for Her Majesty's Secret Service – something which the character did for over seventy years
---
The name's Charles. King Charles.
Among the many celebrations and tributes planned for King Charles' coronation this May, none are quite as suave as this.
A whole new James Bond story has been commissioned by comedian and Young Bond author Charlie Higson, and it'll see the legendary British spy take on a mission to save the coronation from nefarious forces.
The tribute will feel extra special for the King who gets to take after his mother - the late Queen Elizabeth famously featured in a James Bond sketch for the London 2012 Olympics.
The new Bond novel also bears some touching significance. The 007 spy has, for most people's lifetime, been a member on Her Majesty's Secret Service. But now, as we fully move away from the Elizabethan era with Charles' coronation and the start of the Carolean era, Bond will work for His Majesty's Secret Service.
The book – titled On His Majesty's Secret Service is due for publication on May 4, two days ahead of the coronation.
On His Majesty's Secret Service also comes 60 years after the publication of Bond creator Ian Fleming's tenth novel, On Her Majesty's Secret Service.
"When Ian Fleming Publications came to me with the idea of writing an adult Bond story a little more than a month ago I was thrilled -- until I realised it had to be ready for the coronation in May," Charlie Higson said in a statement.
"Getting it written and turned around in such a short space of time was going to be as tense and heart-pounding as any Bond mission. Although, of course, nobody would actually be shooting at me. Fleming famously wrote fast, and I channelled that energy. And now it's so exciting for me to finally enter the world of grown-up Bond."
Despite the coronation being a serious affair, Charlie promised fans the usual cocktail of "sex, violence, cars, a colorful villain with a nasty henchman, and of course, Bond himself" for the novel.
"The coronation of King Charles III is a momentous occasion for the country," said Corinne Turner, managing director of Ian Fleming Publications.
"We asked ourselves how we could celebrate it, and the answer seemed obvious. Ian Fleming's On Her Majesty's Secret Service was first published on April 1 1963. What better way, 60 years on, to mark this new chapter in history than with a brand new story: On His Majesty's Secret Service?"
Jack Slater is not the Last Action Hero, but that's what comes up first when you Google him. Preferring a much more sedentary life, Jack gets his thrills by covering news, entertainment, celebrity, film and culture for woman&home, and other digital publications.
Having written for various print and online publications—ranging from national syndicates to niche magazines—Jack has written about nearly everything there is to write about, covering LGBTQ+ news, celebrity features, TV and film scoops, reviewing the latest theatre shows lighting up London's West End and the most pressing of SEO based stories.