Kimberley Walsh shares her opinion on Kate Middleton's parenting skills after Platinum Jubilee moment
Kimberley Walsh spoke about Prince Louis' cheeky Jubilee moment and how Kate handled it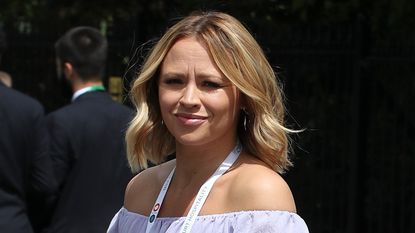 (Image credit: Getty Images)
We all watched as cheeky Prince Louis pulled funny faces at Kate Middleton during the Platinum Jubilee weekend - now mother-of-three Kimberley Walsh has shared her opinion on the incident.
Everyone from Mike Tindall to celebrity nannies has spoken out on Kate's parenting skills, and now the former Girls Aloud singer has spoken to Hello magazine about how well the Duchess handled the very public moment.
She went on to praise the royal's parenting style and thought the interactions, including when Louis put his hand over Kate's mouth, while they watched the royal concert, just showed the prince 'being a kid'.
Kimberley, who last year gave birth to her third child, Nate, and is also mum to Bobby, seven and Cole, five, told Hello magazine that she loved watching the exchanges between Louis and Kate.
She said, "I mean, we've all been there, that could have quite easily have been Bobby at one point."
"She did an amazing job of just keeping calm. You could panic in that situation. You know, the world is watching you. It's like oh, how is she going to deal with it? Well, at the end of the day, she dealt with it like any other normal mum would and in the perfect way."
Prince Louis definitely stole the show and had some of the best Jubilee moments from cheeky balcony faces to sweet chats with the Queen, but Kimberley believes that Kate's reaction was spot on.
While Kimberley went on to say how Louis behaved, especially in such a high-pressure public situation, was normal, "She stayed calm. He's a kid, he's being a kid, and that's fine and that's normal. It was quite nice - it's always nice to see those natural moments between them, I think."
Despite marking his fourth birthday back in April, Prince Louis' official public appearances had been few and far between before the Jubilee weekend, with the pandemic meaning he spent much of his life unable to gain the same royal experiences Princess Charlotte and Prince George had by his age.
But Louis certainly made up for lost time when he joined sister, Princess Charlotte and brother Prince George to celebrate the Queen's 70 years as sovereign, with Prince Louis' best Jubilee moments being some of the most memorable from the weekend.
Prince Louis was also 'warned' by Mike Tindall to behave at the Platinum Pageant - but it wasn't as serious as it looked. As Louis acted up Mike was pictured jokingly giving the four-year-old the 'eyes', as a friendly reminder that he'll be watching his behavior during the show.
However, Kate Middleton, who was sitting next to Louis during the exchange, appeared amused by the banter between her cousin-in-law and youngest son.
Sarah is a freelance journalist - writing about the royals and celebrities for Woman & Home, fitness and beauty for the Evening Standard and how the world of work has changed due to the pandemic for the BBC.
She also covers a variety of other subjects and loves interviewing leaders and innovators in the beauty, travel and wellness worlds for numerous UK and overseas publications.
As a journalist, she has written thousands of profile pieces - interviewing CEOs, real-life case studies and celebrities - interviewing everyone from Emma Bunton to the founder of Headspace.