How the Queen's quirky teenage outfit caught a young Prince Philip's eye
The Queen wore this unconventional attire in the early stages of her courtship with Prince Philip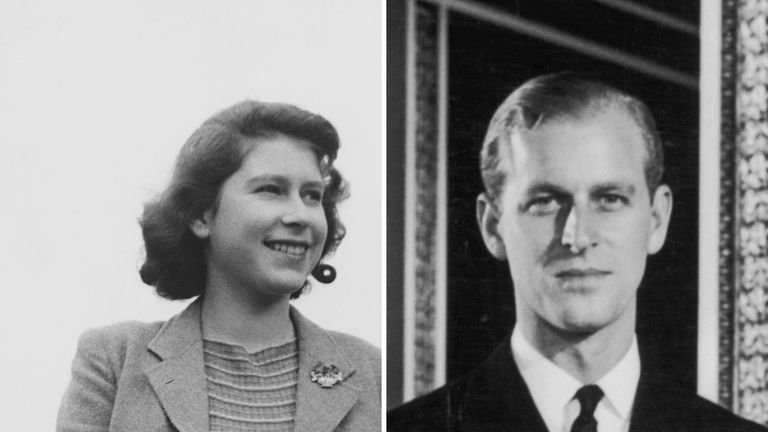 (Image credit: Getty)
By Emma Dooney published
The Queen entertained Prince Philip in an unconventional outfit at the beginning of their courtship, ditching her traditional dresses for a boyish ensemble.
The Queen wore a show-stopping outfit to entertain Prince Philip in the early days of their romance, switching up her go-to dresses for a slightly more androgynous look.
Princess Elizabeth rocked the boyish costume for her performance in Aladdin in 1943, four years before she and Prince Philip wed.
---
A majestic outfit worn by the Queen during the early stages of her romance with Prince Philip has been revealed—and no, it's not a sparkly ballgown.
Princess Elizabeth had all eyes on her during her portrayal of Aladdin in 1943, taking to the stage of Windsor Castle's Waterloo Chamber in a gold brocade and turquoise jacket with turquoise dungarees and matching hat. To complete the 'boyish' look, she styled her hair in an updo and wore opaque tights (which used to also be worn by young men!)
The folklore play was just one of many royal pantomimes to feature the future Queen, who spent much of World War II sheltering from the London bombings at the Berkshire country estate. It was enjoyed by an audience of 400 people, one of whom happened to be Prince Philip of Greece.
The 22-year-old Navy lieutenant had been corresponding with Elizabeth for four years by that point and was understandably eager to support her creative endeavors. His presence in the pews didn't go unnoticed by the 17-year-old royal, who was reportedly smitten with Philip's 'Viking' good looks.
"The pantomime went off very well," the Queen's former governess, Marion Crawford, recalled. "I have never known Lilibet more animated. There was a sparkle about her none of us had ever seen before." She even expressed her excitement to the Scottish tutor backstage, gushing, "Who do you think is coming to see us act, Crawfie? Philip!"
Princess Margaret also starred in the productions alongside her older sister. For her role as 'Princess Roxana' in Aladdin, she donned a red silk dress and matching jacket, pearls, and a decorative fan.
The cast of these amateur plays, which raised money for knitting wool to make comforters for WWII troops, also included actors from commoner families. Local children and often joined the sisters on stage, with the service personnel occasionally helping out too. However, lead parts were always granted to Elizabeth and Margaret, no matter how talented the other kids were.
While it's unlikely we'll ever get to see the Queen perform in a play again, her theatre legacy lives on in her surviving costumes. Six of the vintage designs from Elizabeth and Margaret's pantomime era have been dug up from the archives and will be available to view between 25 November 2021—31 January 2022 at Windsor Castle.
Emma is a news writer for woman&home and My Imperfect Life. She covers the Royal Family and the entertainment world, as well as the occasional health or lifestyle story. When she's not reporting on the British monarchy and A-list celebs, you can find her whipping up vegan treats and running the roads to cheesy '90s pop music...but not at the same time, obviously.