Harry and Meghan's ambitious next steps for taking their brand 'truly global'
The Duke and Duchess of Sussex are planning to build their own virtual reality landscape and offer themselves up as avatars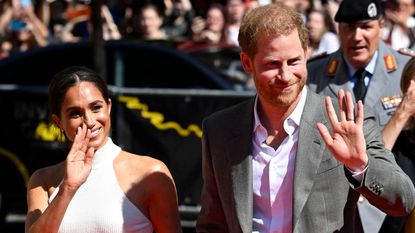 (Image credit: Sascha Schuermann / AFP/ Getty Images)
Prince Harry and Meghan Markle are reportedly planning to move into the metaverse – or virtual reality – in a bid to amplify their brand even further. The couple are said to be in talks with an award-winning tech company to make their virtual dreams a reality, moving into "immersive, life-like experiences" in a simulated world.
Harry and Meghan are in talks with a leading tech company to enter the world of virtual reality in a bid 'to take their brand truly global'
The couple could launch the first public "land sale" in the metaverse, thought to be the next evolution of the internet
---
We are living in a Meta-rial world, and Harry and Meghan are Meta-rial boys and girls.
They've already conquered the likes of Netflix and Spotify, with Meghan's podcast being a huge success, and now the tech savvy couple are eyeing up the next stage of the internet – the metaverse.
While scholars, software geniuses and visionaries could talk about the metaverse in thousands of words, the plainest, top-level explanation of the metaverse is that it's a virtual world in which people actually live, work, shop and interact.
Some have likened it to the Sims on a much bigger scale. You have an online, virtual representation of yourself who can earn (and spend) money, travel places and even foster relationships.
By entering the virtual world, Meghan and Harry could appear as avatars of themselves in a variety of settings such as gaming, business meetings and online communities.
For the Sussexes, it's reportedly the next step in elevating their brand.
A source has said of the possible move, "Both Meghan and Harry believe they will an even greater ability to spread their message if they have a presence in the virtual world as well as the physical world. They've spoken to a variety of experts and the view is this is the next stage to take their brand truly global."
It's rumored that the tech firm Pax.world could be the prospective partner for their ambitious new plans. If the rumors prove true, Harry and Meghan will join the likes of Justin Bieber, Paris Hilton and Snoop Dogg in taking their star power into the world of virtual reality.
While the idea might be harder for some to grasp, stars have the ability to make real money on the platform.
In December, someone paid $450,000 to be Snoop Dogg's virtual neighbour in Snoopverse (the name of his virtual land), the world Snoop built on metaverse platform, The Sandbox.
Paris Hilton has also pulled in crowds of up to 400,000 people for Paris World, a metaverse created on Roblox, where she's hosted virtual parties and carried out virtual DJ sets.
Jack Slater is not the Last Action Hero, but that's what comes up first when you Google him. Preferring a much more sedentary life, Jack gets his thrills by covering news, entertainment, celebrity, film and culture for woman&home, and other digital publications.
Having written for various print and online publications—ranging from national syndicates to niche magazines—Jack has written about nearly everything there is to write about, covering LGBTQ+ news, celebrity features, TV and film scoops, reviewing the latest theatre shows lighting up London's West End and the most pressing of SEO based stories.