Prince Charles' plans as future King dashed due to Meghan and Harry?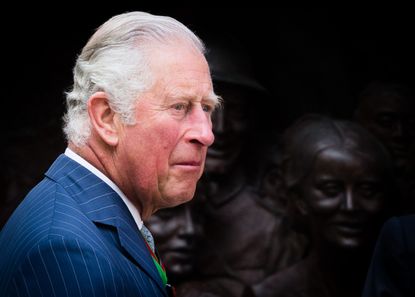 The Prince of Wales had plans to create a slimmed-down monarchy once he became King and make the Duke and Duchess of Sussex key players before they stepped down.
Prince Charles saw Harry's marriage to Meghan as an opportunity to create a 'new story' for the royal family
A royal expert says the Prince favours a 'slimmed down' monarchy
The Prince of Wales is second in line to the throne
A royal expert has claimed Prince Harry and Meghan Markle's decision to step down from the royal family earlier this year has thrown a spanner in the works for Prince Charles plans as King.
Royal biographer, Nigel Cawthorne, revealed Charles prefers the notion of a "slimmed down" monarchy, and at the heart of his inner circle would have been the Duke and Duchess of Sussex.
With the Prince of Wales reportedly keen to have less "minor" royals, the role of his own children – Prince William and Prince Harry – would no doubt have been ramped up when he becomes King.
The expert told Express.co.uk, "Charles wouldn't consider his own son minor royalty."
While Meghan has ruffled some feathers among the family, Nigel claimed Charles, 71, saw her marriage to Harry as an excellent opportunity for a "new story" for the royals.
READ MORE: The Duchess of Cornwall reveals surprising ballet injury
"He saw that the marriage of the Sussexes brought Harry great happiness, and that it created at the same time a new story for the monarchy that resonated deeply both in Britain but also in the Commonwealth and other English-speaking countries if not the world," Nigel explained.
The future King even had big plans to make them a key part of the Firm.
"He was delighted with Meghan and, undoubtedly, would have continued to draw the Sussexes in more and more and would have tried to expand their role within the Firm as much as could be expected," Nigel added.
Sadly the Sussexes had other plans and shocked the world by stepping back for a more "peaceful" life in America earlier this year, leaving Charles' plan in tatters.
"Of course, when they decided to emigrate all that had to come to an end as there is no such thing as an absentee HRH."
Georgia writes across Woman & Home and Good to Know and specialises in all things royal. Previously labelled the "Queen of the royals," Georgia knows the whose who and what's what when it comes to the monarchy. When she's not eagerly following the royal family, Georgia enjoys shopping and self-care. She lives with this motto in mind; "if your dreams don't scare you, they aren't big enough."