A 'distasteful' Jubilee tribute to the Queen is dividing royal fans
A special tribute to the Queen on Stonehenge is proving divisive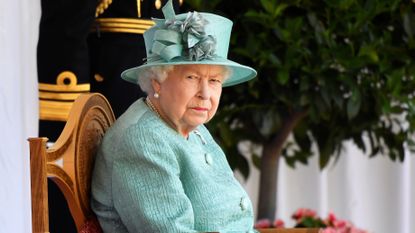 (Image credit: Photo by Toby Melville - WPA Pool/Getty Images)
A tribute to the Queen on Stonehenge has divided the opinions of royal fans, with many members of the public branding the Jubilee honor 'inappropriate' and 'distasteful'.
A projection of images of the Queen on Stonehenge has been unveiled in honor of Her Majesty's Platinum Jubilee celebrations this weekend.
Portraits of the monarch over the years are being beamed onto the historic British landmark to pay tribute to her on her 70th year as Queen.
This royal news comes after it was claimed the Queen is set to meet Lilibet on her first birthday after facing a disappointing cancellation.
---
In an announcement shared on social media, it was confirmed that eight photographs of the Queen would be displayed on the iconic Wiltshire monument as the country prepares to enjoy a long weekend to mark the Jubilee.
"Our spellbinding homage to Her Majesty the Queen," a tweet shared on the official Stonehenge Twitter account reads, alongside a sneak peek of the huge tribute.
"We've projected eight portraits of Queen Elizabeth II onto Stonehenge in celebration of the Platinum Jubilee," the post adds.
Our spellbinding homage to Her Majesty The #Queen! 👑We've projected eight portraits of Queen Elizabeth II onto Stonehenge in celebration of the #PlatinumJubilee. pic.twitter.com/vn5vkGHJGtMay 30, 2022
See more
In a video shared on how the project came together it's explained that an image from every decade of the Queen's reign is being projected onto the rock faces, in order to "show different aspects" of the Queen's personality and to represent "what a special lady she is".
Reactions to the uncovering of the Jubilee tribute were mixed, with some royal fans in awe of the Stonehenge salute to Her Majesty and others coming forward to express their disappointment.
Watch how our teams created this stunning illumination on the iconic Stonehenge façade to mark The Queen's #PlatinumJubilee. https://t.co/NWPpmRZIsV pic.twitter.com/cRa4CjMZmGMay 30, 2022
See more
One of the Queen's loyal supporters, finding the tribute very fitting, penned on Twitter, "This is beautiful. The henges were used to honor important moments and a woman giving service to her country and people for 70 years with honor, humility, respect, courage, and love is a once in a lifetime iconic moment."
"This has certainly split the crowd. A fine tribute to our longest serving monarch - I rather like it," another wrote.
"What a lovely way to commemorate a woman who has devoted her life to serving a nation we love," one more continued in agreement.
Others were quick to say they feel that the projection of the Queen's image on an age-old monument, that holds spiritual meaning for Pagan and Druid groups, is highly inappropriate.
"This is hideous - an insult to the site and its heritage," one Twitter user wrote.
"Oh this is so tacky," added another, while a third posted, "As a pagan who has visited this intensely spiritual 'church', I am disgusted it is being used like this."
"This is dreadful. An insult to the timeless history of those stones," yet another displeased tweeter wrote.