It's Back... Poldark Returns!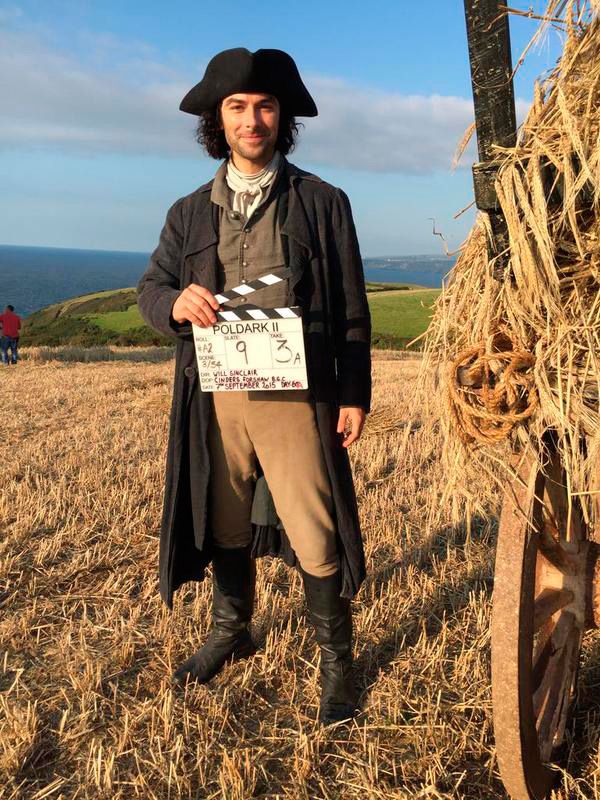 After the gorgeous Aidan Turner erupted onto our screens this year as Ross Poldark, the BBC'S epic new adaptation became an instant hit.
After series one finished it didn't take long for the 10 million viewers that fell in love with the series to start begging for more. Their prayers have finally been answered, with Turner back jumping back in the saddle as Poldark to start filming this September - and rumours that they'll be more shirtless scything scenes!
Aidan and Seamus are reunited and looking good
This season is said to be based on the 3rd and 4th books in the Poldark saga by Wilson Graham. The original story centres around a love triangle between soldier Ross Poldark, aristocrat Elizabeth and his servant Demelza with season two delving deeper into the his relationships with both women.
According to Debbie Horsfield, writer and executive producer for the show, there will be several exciting new characters as we follow Poldark through more turmoil, strife and plenty of challenges. She also warns viewers to brace themselves for a few losses and some intense shocks this season. And with an extended run of 10 episodes - what more could you ask for!
Heida Reed and Eleanor Tomlinson share a 'frienimies' photo during filming.
Some new cast members include former Midsomer Murders star John Nettles, who will play one of the county's wealthiest landowners, Gabriella Wilde (Endless Love) as his niece - a beautiful yet manipulative heiress and prospective MP Unwin Trevaunance played by Hugh Skinner (W1A).
John Nettles will play wealthy landowner Ray Penvenen
Poldark season two official synopsis:
'1790 and there is riot and revolution in the air. Ross Poldark must once again fight for his freedom when George Warleggan tries desperately to steal his mine and have him hanged as a revolutionary. Can Demelza save Ross from himself? Crippled by debts, Ross and Francis try to heal old wounds by joining forces in a new mine free of the Warleggans. But Ross and Elizabeth's feelings for each other cannot be repressed, and Ross risks everything in a desperate smuggling venture.'
Tomlinson and Turner together on set
We met Aidan earlier in the year to talk about the first season and he is as gorgeous in real life as he is on screen. Endearingly shy, he's from Walkinstown, just outside Dublin, and you'll recognise him from roles in The Hobbit films and Being Human.
Eleanor Tomlinson plays Demelza and she has admitted that her favourite moment on set was watching Aidan get a spray tan - which he vehemently denies. "That tan was my own as we filmed in the height of summer," Aidan told us. Hmm...
The cast isn't the only thing of beauty. Filmed in Cornwall, Poldark is incredibly cinematic with lots of sweeping cliffs, crashing waves and galloping horses. "When you see my hair looking windswept in photographs, that was the real deal," Aidan told us. "I was standing on the edge of a cliff looking out to sea - there was no need for wind machines."
Poldark is used to success, with the 1970s adaptation of Poldark boasting it attracted 15 million viewers and being shown in 40 countries. It made household names of its stars Robin Ellis and Angharad Rees at the time.
Poldark is set to return to BBC One in 2016