Your favorite foods might actually be good for you
A new study shows three "guilty pleasure" foods actually have health benefits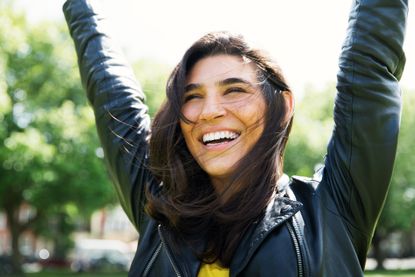 (Image credit: Getty)
A new in-depth scientific review of research by a team at the University of Naples Federico II in Italy looked at how moderate consumption of cheese, coffee, and wine affect cardiovascular health. The verdict? All are linked to healthier hearts.
While this is not the first study into the health benefits of wine or any of these foods, it is one of the more comprehensive reviews. Published in the European Society of Cardiology (opens in new tab), and led by Dr. Gabriele Riccardi, professor of endocrinology and metabolic diseases at the University of Naples Federico II, analyzed multiple existing studies on different foods and their relation to cardiovascular disease.
In addition to wine, cheese, and coffee, the review looked at meats, eggs, fish, nuts, legumes, cereals, chocolate and more. The results found that wine, cheese and coffee had more notable heart benefits.
Riccardi found that drinking three cups of coffee per day is associated with a 10-16% reduction in risk of heart disease incidence and mortality. More than three cups does not further reduce risk.
He also found that people who regularly consumed cheese had an 18% reduction in heart attacks. The rate is similar, 17%, for consumption of yogurt and other fermented dairy products. People who ate about 1.8 ounces of cheese per day had a 12% reduction of coronary heart disease.
Perhaps most importantly, Riccardo found that two glasses of wine per day reduced the risk of cardiovascular disease by 32% when compared with people who drink no alcohol.
"A glass of good wine is the natural complement of a meal that couples gastronomic pleasure and healthiness," Riccardi told Wine Spectator (opens in new tab). "Many centuries of human experience have taught us that longevity and quality of life can be significantly improved by what we eat and what we drink."
Note that more than two glasses of wine per day increases risk. He said that full-bodied red wines have the highest concentration of polyphenols, which can contribute to reduced risk of cardiovascular disease and diabetes. Other polyphenol-rich foods include chocolate, coffee, tea and tomatoes.
Beer drinkers can also rejoice: one glass or can of beer per day is associated with a 20% lower risk of heart disease, compared to people who don't drink.
Rebecca Holland is a travel and food writer based in Chicago. She has written for the Guardian, New York Times, Architectural Digest, Food & Wine, Wine Enthusiast and more. She is currently a graduate student at Northwestern's Medill School of Journalism. When not working, you can find her eating her way through Chicago's neighborhoods, or in non-pandemic times, traveling around the world.