Why was Are You There God? It's Me, Margaret banned?
On the heels of the release of the movie Are You There God? It's Me, Margaret, fans wonder why the original 1970 book by Judy Blume was banned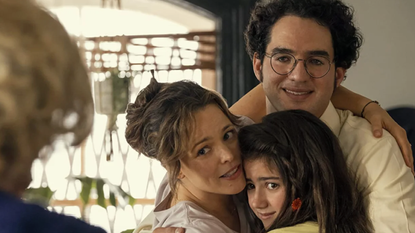 (Image credit: Lionsgate)
Are You There God? It's Me, Margaret is the new much-anticipated movie adaptation of the beloved 1970 eponymous book by Judy Blume that is set to drop in theaters this week.
Featuring Rachel McAdams - star of, among plenty of other films, The Vow, The Notebook and Disobedience - alongside Kathy Bates and Abby Ryder Fortson, the coming-of-age production tells the story of Margaret Simon, a sixth grader who moves to New Jersey from New York City with her family and starts figuring out who she is as the daughter of a Jewish father and a Christian mother.
The plot also explores the sorts of issues that young adolescent women around the world constantly contend with, including menstruation, romantic and friendly relationships and the right time to start wearing a bra.
Although the storyline is certainly not considered taboo in 2023, Judy's original book was quite divisive at the time it was released. Certain schools, libraries and cultural institutions even banned its distribution.
WHY WAS THE JUDY BLUME BOOK ARE YOU THERE GOD? IT'S ME, MARGARET BANNED?
When Are You There God? It's Me, Margaret, was published in 1970, critics took offense to the book's honest portrayal of issues related to puberty - especially its depiction of menstruation and its chronicling of a child's ability to pick her own religion.
As a result of the uproar, plenty of educational institutions and libraries around the country refused to keep a copy of the novel on premise - including the own author's children's primary school.
Although we've come a long way since the 1970s, conversations about book censorship have dominated cultural circles all across the United States in recent months.
Another one of Judy's books, in fact, the 1975 Forever, which takes a look at teenage sexuality, was one of nearly 100 books banned in a Florida School district earlier this month. Things have changed - but not as much as they should have.
Lest you think censorship to have stopped Judy from pursuing her passion and writing about topics that are near and dear to her heart, think again.
The now 85-year-old writer has recently spoken up about the banning of her books, specifically addressing the release of her novel's movie adaptation.
"I was a new-ish, young-ish writer and it was hard to take," Judy said to NPR. "[But] it never stopped me from writing."
Although plenty of filmmakers approached her about turning her work into screen-worthy productions throughout the years, Judy only accepted this latest proposal - and she's extremely happy about her decision.
"I was on the set for five weeks and got to know a lot of the actors, young and older," she said to NPR. "But even that didn't prepare me for what I saw when I first saw it on a big screen in a theater with an audience: it was just beautiful."
In addition to the new film, fans of the author can catch more about her in the new documentary Judy Blume Forever, currently streaming on Amazon Prime. The production dissects the arc of the writer's personal life and stellar career.
Anna Rahmanan is a New York-based writer and editor who covers culture, entertainment, food, fashion and travel news. Anna's words have appeared on Time Out New York, the Huffington Post, Fortune, Forbes, Us Weekly, Bon Appetit and Brooklyn Magazine, among other outlets.