On Blue Monday, we take a look at why January is the 'Monday' of months
Hands up who else feels as though this month has gone on forever?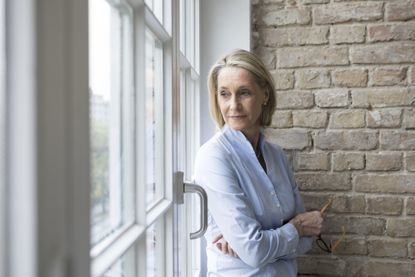 They don't call it the 'January Blues' for nothing.
As the first month of the year, January gives us that 'Monday' feeling for 31 whole days - the fun of Christmas is over, and it's back to reality for most of us.
And if that wasn't enough, January actually has it's own 'worst' day - 'Blue Monday', usually the third Monday of January, which is officially touted as the most depressing day of the year. Need we say more?
This year, Blue Monday falls today, on 20th January. Originally, it was an idea conceived of by Sky Travel, who put it down to the bad weather, long, dark days, over-indulgence of Christmas hitting home, and the realisation that many New Year's resolutions may have already failed.
Of course, many argue Blue Monday is just a concept, and it doesn't necessarily mean we'll all be feeling rubbish on that day particularly. After all, our mental health is complex, and can't be dictated by one day - nor should it be.
However, we can probably all agree that January is a pretty rubbish month in general. So here are our top reasons why January is the worst month of all...
1. We're broke
After the Christmas festivities, lavish gift buying and impulse sale-shopping, our bank balances are looking less than healthy. AND January/February payday seems miles into the future.
2. We're all back at work
Say farewell to Netflix-and-pyjama marathons, it's back to the 9-to-5 on 1st January. And on Blue Monday, we've been getting up early for weeks, so we're all understandably feeling a bit exhausted following the distant memories of our lovely two-week Christmas break. Yet another difficult task that makes January rubbish.
3. The terrible weather
After a deceptively mild December, winter is back with a vengeance. Throw any beauty resolutions out the door, as that new year weather of rain and wind is sure to leave your hair a dire mess and your makeup running south. It's also typically one of the coldest months of the year, so simply heading out to the shops can feel like a mammoth task!
4. Dark days ahead
We wake up, it's dark. We leave work, it's dark...and most glimpses of sunshine are hidden behind ominous rainclouds.
However, there is a silver lining, as from the middle of January, we start to get a few seconds more of daylight each day - yippee!
5. The dreaded diet
January invariably means embarking on another diet, just when you'd got used to the taste of cheese, wine and yuletide sweet treats. Bring back the stodge, please!
6. Exercise
New year, new you...and new everyone else. Any attempts to hit the gym are thwarted by the legions of other January health-kickers hogging the equipment (that is, if you make it to the gym at all!)
So how do you feel about January?
Isa Jaward is a journalist from London who has written for the likes of Time Out, The Guardian and Music Week.