Who killed Marilyn Monroe? New Netflix documentary investigates the enduring conspiracy with previously unseen evidence
Who killed Marilyn Monroe is a question that's been left unanswered for decades. Will the new Netflix documentary answer it?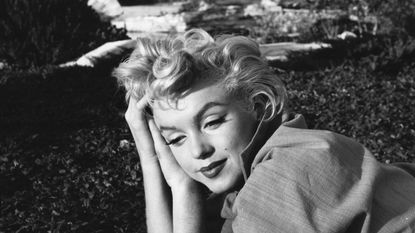 (Image credit: Baron/Hulton Archive/Getty Images)
Even though 2022 marks the 60th anniversary of her passing, Marilyn Monroe's star power seems just as powerful as ever.
Arguably one of the most recognizable faces in the world, and one of the biggest icons in the western world, Marilyn Monroe is a global symbol of beauty, glamour and sexuality. She was a superstar when she was alive, starring in movies like Gentlemen Prefer Blondes and Some Like it Hot, but she's become a supernova after her death.
So much so that, in the 2018/19 financial year alone, Marilyn's estate earned $13 million and, more recently, with a record making asking price of roughly $200 million, Andy Warhol's artwork of the icon—titled Shot Sage Blue Marilyn—is set to become one of the most expensive 20th century paintings ever sold at auction.
Her legend lives on, but so too do questions around her demise. Since her passing on August 5, 1962, there have been plenty of unanswered questions and wild conspiracies around her death.
Who was involved, what was the cause and how did she die? These are some of the questions that a new Netflix documentary, The Mystery of Marilyn Monroe: The Unheard Tapes, will explore…
How did Marilyn Monroe die?
"I can't say anything," one source says in the trailer for the documentary. "And I knew it all."
In the first official trailer for Netflix's new Marilyn doc, different sources tease the many rumors and conspiracies surrounding her death.
After a brief investigation, Los Angeles police officially concluded that her death was "caused by a self-administered overdose of sedative drugs and that the mode of death is probable suicide."
However, this true crime story will center on the many questions surrounding it, particularly when her case was reopened in 1982 after the debut of KTLA's The Marilyn Files aired on television.
Featuring tapes that have never been released to the public, The Mystery of Marilyn Monroe seeks to explore every rumor out there.
The trailer teases the Kennedy connection (both JFK and Robert), the question of accident or suicide, the FBI's involvement, communism, and the potential of a cover up.
When is the Marilyn Monroe documentary out?
The gripping new doc will be available to stream on Netflix from April 27.
Emma Cooper will direct the film, with Tiger King creator Chris Smith executive producing.
When is Blonde, the Ana de Armas Marilyn movie, out?
Marilyn mania is at full throttle over at Netflix because they have another Marilyn Monroe project coming soon, too.
Adapted from Joyce Carol Oates's novel Blonde, Blonde is based on the life of actress Marilyn Monroe and stars Ana de Armas.
An exact release date has not been confirmed but the film was included in Netflix's 2022 release, so it should be out at some point this year.
Jack Slater is not the Last Action Hero, but that's what comes up first when you Google him. Preferring a much more sedentary life, Jack gets his thrills by covering news, entertainment, celebrity, film and culture for woman&home, and other digital publications.
Having written for various print and online publications—ranging from national syndicates to niche magazines—Jack has written about nearly everything there is to write about, covering LGBTQ+ news, celebrity features, TV and film scoops, reviewing the latest theatre shows lighting up London's West End and the most pressing of SEO based stories.