Who is Lady Eadgifu in The Last Kingdom, why was she recast in Seven Kings Must Die and was she a real person?
Lady Eadgifu in The Last Kingdom made quite an impression when she debuted in season 5 and now she's returned in the intense movie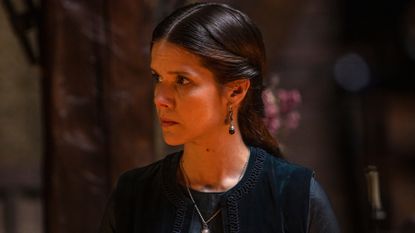 (Image credit: Netflix)
Fans first saw Lady Eadgifu in The Last Kingdom season 5 and although she returned as in Seven Kings Must Die, she wasn't played by the same actor.
Inspired by Bernard Cornwell's historical novels, Netflix's The Last Kingdom has had viewers transfixed with its blend of intense battle scenes and emotional moments since 2015. The news that season 5 would be its last was made slightly less heart-breaking when a follow-up movie, Seven Kings Must Die was announced. The film sees Uhtred of Bebbanburg back in action played by Alexander Dreymon but he's not the only familiar character. Lady Eadgifu was also in both the show and movie - though played by different stars - and her return might have left some fans wondering more about her.
Here we reveal who Lady Eadgifu in The Last Kingdom is, whether she was a real historical figure and why her role was recast in the Seven Kings Must Die movie…
*Warning: Spoilers ahead*
Who is Lady Eadgifu in The Last Kingdom?
Joining the cast of the hit Netflix historical drama from season 5, Lady Eadgifu in The Last Kingdom is the wife of King Edward the Elder of the Anglo-Saxons. She's the stepmother of Æthelstan who played a particularly huge role in the Seven Kings Must Die movie and the daughter-in-law of King Alfred the Great who was friends with Uhtred of Bebbanburg in the earlier seasons of the show.
By the Seven Kings Must Die ending she has been through a *lot*, notably the loss of her husband and the dangerous start to her life as an Anglo-Saxon widow which was the starting point for the film's dramatic storyline.
King Edward's death kickstarted a succession war lead by her stepsons Æthelstan and Ælfweard and which placed her own son Edmund's life in danger. The pair fled to Uhtred in Bebbanburg in Northumbria and explained what had happened, leading the Saxon-raised-by-Vikings to set off to try and bring about Alfred the Great's dream of a united England.
Although Eadgifu never takes to the battlefield herself, the threat to her family is immense and she had a similarly huge impact on King Edward during season 5. Timothy Innes who played King Edward in the series previously explained on the Screen Chronicles podcast as per Express.co.uk how much things were changed by the arrival of Lady Eadgifu in The Last Kingdom.
"Season five… he's in his element," he said. "It's peacetime at the beginning, so he's in his element. He thinks and solves problems. And then he falls in love! It's a love story for Edward."
Timothy continued, "[Eadgifu is] played beautifully by Sonya Cassidy, who is absolutely an incredible person to work with, and a blessing. And from then on it's navigating how love and this new sense of energy and authority that he brings because he is inspired by this woman that he has absolutely fallen in love with, but trusts entirely."
Was Lady Eadgifu in The Last Kingdom a real person?
Although The Last Kingdom itself isn't purely historical and is an adaptation of Bernard Cornwell's bestselling Saxon Chronicles series, Lady Eadgifu in The Last Kingdom was one of the characters that is based on a real person. Just like the show version of her, the real Lady Eadgifu was the third wife of King Edward the Elder of Wessex and the mother of Edmund, King of the English.
She was also known as Eadgifu or Ediva of Kent and had other children besides Edmund - son Eadred, King of the English after Edmund and daughter Saint Eadburh of Winchester, as well as a possible other daughter Eadgifu.
She died in around 968 after spending 44 years as a widow and having seen her stepson King Æthelstan become King of the English. However, she lived long enough to see both of her sons succeed him on the throne.
As revealed by the Royal Collection Trust, Eadgifu was interned after her death at Canterbury Cathedral in Kent where an 15th century panel painting was found that helped an engraver to produce a portrait of her. It's understood that although she was married to King Edward she wasn't known as Queen as at this time the consorts of Anglo-Saxon Kings weren't traditionally crowned.
Why was Lady Eadgifu recast in Seven Kings Must Die?
Whilst many fans might've loved Sonya Cassidy's portrayal of Lady Eadgifu in The Last Kingdom season 5, they were in for quite the surprise as The Last Kingdom cast member didn't return in Seven Kings Must Die. Elaine Cassidy (no relation to Sonya) stepped into the role of Lady Eadgifu in the movie instead. When it comes to why Lady Eadgifu was recast, Sonya previously told The Digital Fix that she couldn't appear in The Last Kingdom movie thanks to a scheduling conflict.
"It's with a heavy heart that I say no, because of a scheduling conflict," she said. "I had a blast on The Last Kingdom. I was a big fan of the show anyway, so it was really fun to kind of join those guys in beautiful Budapest. And I really liked that character, I really enjoyed playing Eadgifu, but my time playing her was for season five."
Sonya continued, "Alas, someone else will be picking up that baton. So I'm glad that at least her story will continue. In another world, I'd have happily done it. But unfortunately, I couldn't."
Whilst Sonya's departure as Lady Eadgifu in The Last Kingdom was undoubtedly sad, Elaine was equally brilliant in the role. She took the character forward on the next stage of her life as a fleeing widow and mother of a rival heir to the Anglo-Saxon throne.
The Last Kingdom seasons 1-5 and Seven Kings Must Die are available to watch via Netflix now.
Emma is a Senior Lifestyle Writer with six years of experience working in digital publishing. Her specialist areas including literature, the British Royal Family and knowing all there is to know about the latest TV shows on the BBC, ITV, Channel 4 and every streaming service out there. When she's not writing about the next unmissable show to add to your to-watch list or delving into royal protocol, you can find Emma cooking and watching yet more crime dramas.