Who is Goliath in Bloodlands and how does this huge mystery affect season 2 of the chilling BBC drama?
Goliath in Bloodlands is a central mystery for the James Nesbitt show and the repercussions of their crimes are making for a seriously suspenseful season 2...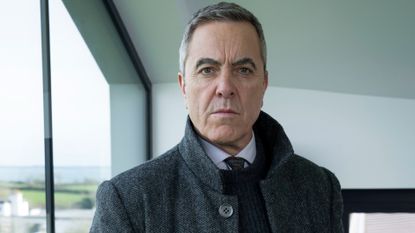 (Image credit: BBC/HTM Television)
Who is Goliath in Bloodlands is a question that first arose in season 1 and continues to have a huge impact upon season 2 as the tension rises ever higher in the BBC drama.
There's nothing like a series-long mystery to keep thriller fans coming back for more and Bloodlands is no exception. In season 1 we journeyed back into the past as DCI Tom Brannick and his team looked into the crimes committed by a possible assassin nicknamed Goliath in the 1980s in Belfast. The criminal was finally revealed to viewers in the season 1 finale but that was far from the end of Goliath's story, leading to some seriously dark moments in Bloodlands season 2.
But who is Goliath in Bloodlands, who knows about their true identity and how does their attempt to keep it secret make season 2 all the more intense? We reveal what you need to know…
*Warning: Bloodlands seasons 1 and 2 spoilers ahead!*
Who is Goliath in Bloodlands?
Just like the question of who is H in Line of Duty and who is Tom Faulkner in Silent Witness, season 1 of the James Nesbitt drama introduced an equally huge mystery - namely who is Goliath in Bloodlands? The answer was revealed in the season 1 finale where it emerged that Goliath is none other than the main character, DCI Tom Brannick, played by James. In season 1 he investigated a case which appeared to be similar to crimes committed by Goliath, but episode 2 saw Tom shoot Adam Corry, the brother of one of the men murdered by Goliath in 1989.
From there viewers' worst fears were confirmed by Tori Matthews, a doctor who was also the secret daughter of Father Simon Quinlan and had been looking into his murder. Father Quinlan was killed alongside former IRA member Jack Harkin that night as they waited to receive weapons at Strangford Lough island. In emotional scenes Tom confessed to Tori and claimed that he'd been coerced into the murders.
The police officer said he came home that night to find his wife Emma missing, only to receive a call from David Corry telling him that she would be returned safely if he did as he was told. Tom killed the men, but he didn't stop there after seeing Emma and David arrive, acting "like a couple".
Convinced he'd been taken for a fool and that Emma had no intention of coming home, Tom murdered David too. He maintained to Tori that he'd let his wife go free and that with her intelligence skills she'd be able to remain undiscovered. Having heard the truth, Tori told the police officer that he had to admit what he'd done to his and Emma's daughter Issy.
She then set off to the isolated farmhouse where Tom claimed he'd hidden the murder weapon, only to find herself facing former IRA member Pat Keenan. Pat had been called by Tom and told that Tori had been the one who'd kidnapped him and tied him up earlier in the season - a lie that got the doctor killed before Tom arrived and shot Pat in an apparent act of self-defence.
The presence of Goliath's weapon made Tom's colleagues believe that Pat was Goliath and DCS Jackie Twomey (who Tom had previously framed) was free to go. By the end of the season Tom could breathe a sigh of relief, though not everyone seemed to be so convinced by what the events seemed to confirm…
Which Bloodlands characters know who Goliath is?
Given that the matter of who Goliath is in Bloodlands is one that changes your perception of the entire show and DCI Tom Brannick, it's perhaps somewhat of a surprise that no-one still alive in Bloodlands season 2 knows his secret identity. Throughout his career the police officer has proved he's every bit as adept at covering up his own crimes as he is at solving other people's. And even in season 2 although some remain suspicious and one person rumbled what he's been up to, they were promptly silenced.
In season 1 we saw Tori Matthews finally provide fans with the truth they'd been eager for - but her death at the hands of Pat Keenan meant that this never saw the light of day. Instead, Pat took the fall for the Goliath murders with DCS Jackie Twomey exonerated and Tom interrogated over recent events, but ultimately left free to continue life as normal. Or as normal as it can be when you've narrowly escaped having a secret like that exposed… However, that doesn't mean that Tom being Goliath will remain a secret forever.
His colleague Niamh McGovern has clearly remained suspicious since the end of Bloodlands season 1. In Bloodlands season 2 she even brought evidence to Jackie that Goliath was still at the heart of the case they were investigating. And, of course, he is - not that her superior wanted anything to do with her theory.
In Bloodlands season 2 the team are investigating the death of crooked accountant Colin Foyle with Tom teaming up on the sly with Colin's widow, Olivia Foyle, played by Victoria Smurfit. Both want the gold bars he'd hidden in an unknown location and Tom was the one who had previously brought them to Colin after he discovered them alongside weapons the night he committed the murders of Father Simon Quinlan and Joe Harkin.
Niamh found evidence that the gold bullion once belonged to Goliath in episode 3, though with Jackie believing Pat was the criminal, she was dismissed from his office. However, it looks as though if more evidence emerges, she's one officer that's not going to shy away from investigating the possibility that Pat wasn't Goliath after all.
Of course, it's also not exactly clear if Olivia Foyle knows that Tom is Goliath. She knows he's corrupt because of their side-mission to track down the gold and given how keen he is to remain undetected it's likely he hasn't told her. But who knows what she could have found out?
The two are playing a very dangerous game as the gold was originally stolen for the IRA by the Savages, a Boston crime family. Now Ryan Savage is in town and he wants his gold back - only Olivia has got there first as of Bloodlands season 2 episode 4.
This episode also marked the end of DC William Bird AKA Birdy after the suspicious cop tailed his boss and Olivia and watched them dig up the gold, after first securing footage of Tom murdering Robert Dardis, who'd known Colin.
A devastated Tom seemed to be preparing to kill Birdy to silence him as the young DC started to read him his rights and arrest him for Dardis' murder. It was then that Olivia shot Birdy and damned her one-time partner-in-crime in the process.
"It's your gun tom," she tells him delightedly in the closing seconds of episode 4. "And it's got your DNA all over it."
It seems Olivia has double-crossed Tom, got him over a barrel and ended Birdy's one man operation to arrest Tom. But Birdy did put his evidence of Tom throwing a petrol bomb into Robert's shed on his personal laptop. Birdy was romantically involved with Issy Brannick, meaning there's a possibility that if this comes to light, it will be Tom's own daughter who becomes the next to learn her father is Goliath.
Unlike season 1, Bloodlands season 2 has six episodes, meaning there are still two more instalments left and plenty of time for Niamh or Issy or anyone else to uncover Tom's identity as Goliath. And with Olivia holding a DNA-covered murder weapon over him and Ryan Savage on the trail of the gold, it might be that a full confession of his Goliath crimes looks like a preferable option for Tom in the end.
Either way now you know who Goliath in Bloodlands really is, the remaining tense episodes likely can't come soon enough!
Bloodlands season 2 continues at 9pm on Sundays on BBC One, with all episodes aired so far available to watch on BBC iPlayer.
Sign up to our free daily email for the latest royal and entertainment news, interesting opinion, expert advice on styling and beauty trends, and no-nonsense guides to the health and wellness questions you want answered.
Emma is a Royal Editor with seven years of experience working in digital publishing. Her specialist areas including literature, the British Royal Family and knowing all there is to know about the latest TV shows on the BBC, ITV, Channel 4 and every streaming service out there. When she's not writing about the next unmissable show to add to your to-watch list or delving into royal protocol, you can find Emma cooking and watching yet more crime dramas.