Where to watch Mayfair Witches and how many episodes are there?
Season 1 of Mayfair Witches just wrapped up and the series already got renewed for season 2 - here is how to catch each episode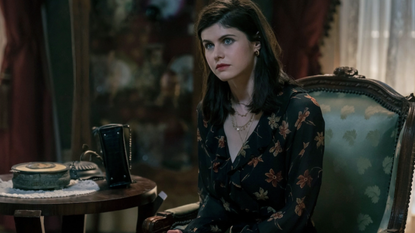 (Image credit: AMC)
You know a TV series is worth your time when it gets renewed for a second season basically as soon as the first one premieres.
Case in point: Anne Rice's Mayfair Witches, also simply referred to as Mayfair Witches, the relatively new supernatural thriller based on the novel trilogy Lives of the Mayfair Witches by Anne Rice.
The show premiered on AMC this past January and, the next month, the network renewed it for a second season. Although the author has already proven her worth - her book Interview with the Vampire was also adapted into a horror TV series for AMC - the quick renewal news is certainly a big deal.
WHAT IS MAYFAIR WITCHES ABOUT?
Mayfair Witches stars Alexandra Daddario as Dr. Rowan Fieding, a neurosurgeon who discovers she's actually the heiress to the Mayfair dynasty of witches who are haunted by an evil spirit.
Harry Hamlin plays Cortland Mayfair, the patriarch of the dynasty, while Jack Huston is Lasher, a shape-shifting entity" that has always been somehow bound to the witches.
The main cast is rounded out by Tongayi Chirisa as Ciprien Grieve, who is a combination of two characters from the books: Michael Curry and Aaron Lightner.
In the AMC series, Ciprien is basically a guide to Rowan, introducing her to the supernatural world she's a part of.
There a number of recurring characters to keep track of as well, including Beth Grant as Charlotte Mayfair, Rowan's controlling aunt who is also Cortland's sister; Annabeth Gish as Deirdre Mayfair, the protagonist's biological mother who is invalid; Erica Gimpel as Elena Fielding, Rowan's adoptive mother who, believe it or not, is actually a cousin of the family and very well aware of her daughter's dynasty; and Geraldine Singer as Mille Mayfair, also a sister of Cortland's.
HOW TO WATCH MAYFAIR WITCHES
Mayfair Witches is an AMC series that has already been aired in full but is currently available for streaming on AMC+ and Prime Video so anyone with a subscription to either service will get to swiftly catch up on season 1 of the show.
HOW MANY EPISODES OF MAYFAIR WITCHES ARE THERE?
Season 1 of Mayfair Witches includes eight episodes in total, each one about an hour long.
No word yet on how many episodes season 2 will feature, when it will premiere or if production on it has even started but given the fervor surrounding season 1, we expect folks behind the project to soon start working on new episodes.
Anna Rahmanan is a New York-based writer and editor who covers culture, entertainment, food, fashion and travel news. Anna's words have appeared on Time Out New York, the Huffington Post, Fortune, Forbes, Us Weekly, Bon Appetit and Brooklyn Magazine, among other outlets.