What really went down between Jennifer Lopez and Ben Affleck at the Grammys? A seat filler who witnessed everything reveals all
Fans were worried that there was trouble in paradise for Bennifer after a tense looking Grammy's appearance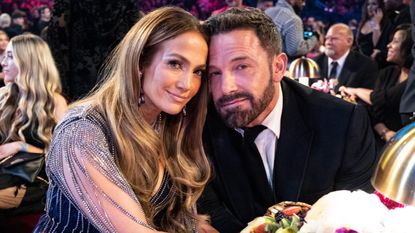 (Image credit: John Shearer/Getty Images for The Recording Academy)
The Grammys this year served up plenty of drama, from Madonna's appearance sparking endless reactions and thinkpieces to what many believed was Harry Styles' unexpected win over Beyoncé.
But while there was plenty of drama on-stage, something happening in the crowd has caused endless speculation and memes – Ben Affleck's apparent misery, and what appeared to be tense exchanges with his wife, Jennifer Lopez.
Fear not, fans of Bennifer – the couple who proved that second chances can lead to happily-ever-after, because all is well with the power couple.
TikToker Almostanna has shed some new light on what was really going on between the superstar pair – and as a seat filler for the Grammys, she had unparalleled views to it all.
Posting on her TikTok, she explained that the couple were loved up all night, and Ben's reactions were learning that he had become a meme during the ceremony.
The Shotgun Wedding actress thought the memes about her husband's unimpressed looking natural facial expressions were funny and showed them to Ben. However, despite the online teasing, Ben did nothing to change his expression, the seat filler claims, possibly confirming he was in on the joke.
In her video, the Tiktoker explained, "I sat next to Ben Affleck at the Grammys. Me and my seat filler friend Jake and Ben Affleck was right there."
"I was next to them for a good bit, that was my favorite seat because I was right in front of Beyonce... So I didn't know the meme about Ben Affleck being upset at awards shows, like I didn't know that was a thing, and we also didn't talk to them because Ben Affleck didn't look happy so I didn't want to talk to him and be like, 'Oh my God, Good Will Hunting is one of my favorite movies! You're my hero!'"
Describing what the couple were like, she said, "The whole time they were cute and s**t... JLo showed Ben Affleck the phone and was like, 'Oh my God, honey, look at this meme circulating about you!' And he was like, 'Oh God, this again.' Like he knew during the performance that he was a meme!"
"I love how unbothered that is! So I know that she was like on her phone and saw it and was like, 'Honey, this is so funny, look at this.' And he was like, 'Jesus Christ.'"
"But they were super lovey dovey, like their hands were always intertwined. I don't know how to describe it. But they just were! So it wasn't like, 'Oh my God, this is going to lead to divorce!' Like, they were cute!'"
Since the evening – and the many memes and reactions – Jlo has gotten in on the fun.
She shared a trailer to Ben's new movie, AIR, which co-stars EGOT winner Viola Davis.
Posting a thumbnail of the trailer where Ben is looking very grumpy, Jennifer added a caption reading, "My husband's happy face."
Jack Slater is not the Last Action Hero, but that's what comes up first when you Google him. Preferring a much more sedentary life, Jack gets his thrills by covering news, entertainment, celebrity, film and culture for woman&home, and other digital publications.
Having written for various print and online publications—ranging from national syndicates to niche magazines—Jack has written about nearly everything there is to write about, covering LGBTQ+ news, celebrity features, TV and film scoops, reviewing the latest theatre shows lighting up London's West End and the most pressing of SEO based stories.