The top 10 trending memes for 2021 have been revealed—and they include *that* hilarious Bernie Sanders photo
From Squid Game to the Bernie Sanders mittens, we look back at the year's top trending memes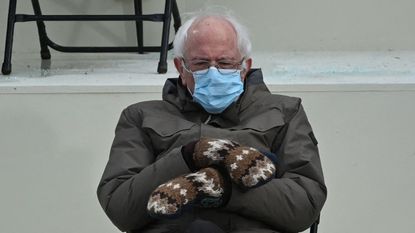 (Image credit: BRENDAN SMIALOWSKI/AFP via Getty Images)
There are plenty of ways to remember 2021. From lists dedicated to the best TikTok videos, a run through the top celebrity moments, or dissections of the most exciting TV shows to grace our screens, we always find different ways to honor the years. But there's just something about memes that, put simply, makes us happy to walk down memory lane.
And, in 2021, we had plenty of fun (and funny!) memes that are sure to make a mark on the upcoming year as well.
To that intent, we've rounded up the top 10 trending memes of 2021. Get ready to laugh...
2. Bernie Sanders sitting on a chair
Likely one of the most popular memes outside of the UK as well, a photo of Senator Bernie Sanders on Inauguration Day in the United States made the rounds all over the Internet and beyond in January—and for good reason. The photo depicts him wearing a brown coat, a face mask and a pair of gloves while sitting on a folding chair with his arms and legs crossed. Bernie-on-a-chair has been transported to the setting of hundreds of different movie sets, cities and paintings.
All the Bernie memes today are a spontaneous eruption of America's collective unconscious. We know who we love and we just weren't gonna let the day go by without saying so. pic.twitter.com/pXsjN2jLTOJanuary 22, 2021
See more
2. Four lads in jeans
This viral photo depicts four 'lads' standing next to each other wearing extremely tight jeans and tops ready for a night out. The photo was first posted by one of the lads in 2019 and took some time to spread like wildfire but 2021 was the year it went stratospheric.
How they look Vs How they thought they looked? 🤣#fourlads 🤣 pic.twitter.com/Q52WLg2vKpJanuary 18, 2021
See more
3. The scared hamster
The memes depicting a scared-off hamster weren't necessarily funny, but they clearly made a mark. The original video—which shows the animal in his cage, boasting a terrifying expression while quite literally recoiling in fear—was taken by an employee of Petsmart while he was feeding the hamster. Although posted in 2016, TikTok gave the clip new life for 2021.
Petco Customer: "This hamster is so cute!" Employee: "I know! I could just eat him!Me: pic.twitter.com/rIkE0FeOl7December 16, 2018
See more
4. Prince Philip
One of the most popular memes of the year involved a then 98-year-old Prince Philip leaving the hospital looking, well, his age. A barrage of memes ensued.
Prince Phillip looks incredible pic.twitter.com/EZCr2NMGN3March 16, 2021
See more
5. It's Coming Home
Remember the Euro Cup? Football fans across the UK urged the England team to "bring home" the trophy. Alas, the team lost to Italy—a fact that made all the memes based on the saying that much funnier.
When work try call me on Monday after we just won #ItsComingHome 🏴󠁧󠁢󠁥󠁮󠁧󠁿🏴󠁧󠁢󠁥󠁮󠁧󠁿🏴󠁧󠁢󠁥󠁮󠁧󠁿🏴󠁧󠁢󠁥󠁮󠁧󠁿🏴󠁧󠁢󠁥󠁮󠁧󠁿 pic.twitter.com/DMhZqoVj1gJuly 7, 2021
See more
6. Squid Game
Likely one of the most popular shows of the year, Netflix hit Squid Game gave rise to thousands of think pieces, countless downloads and, of course, a whole lot of memes from fans all across the world. A lot of images were meant to get us "through the trauma" of watching the show.
me starting squid game vs me after squid game #SquidGame pic.twitter.com/3U3J57r3iHSeptember 23, 2021
See more
7. Sea shanties
A sea shanty is a work tune usually sung by sailors on large merchant boats. However, sea shanties are also erroneously associated with pirates—the very subject of the memes that became popular this year.
8. Homeschooling
A whole lot of students were homeschooled this year given COVID-19 related restrictions. As upsetting, sad and anxiety-causing as the system has been, one of the best ways to cope with our feelings has been to actually create memes about the trend. We laughed it off, together.
9. Line of Duty
Everyone was talking about season six of Line of Duty and, as is the case with clearly every topic of conversation, the show gave rise to a lot of memes based on the cast, catchphrases, iconic scenes and more.
Kate every time she finds out Steve has wooed another witness 😂#LineOfDuty #LineOfDutyFinale pic.twitter.com/6wXidl0qFcMay 2, 2021
See more
10. Matt Hancock resigning
Health secretary Matt Hancock resigned back in June after footage of him kissing an aide—and therefore breaching the exact social distancing rules that he himself put in place—was leaked. His was a resignation that generated thousands of memes, some focusing on the time he ran away from the press and others depicting his goodbye speech.
Matt Hancock at the job centre on Monday #resigned #matthanock pic.twitter.com/SglMP6tvkaJune 26, 2021
See more
Anna Rahmanan is a New York-based writer and editor who covers culture, entertainment, food, fashion and travel news. Anna's words have appeared on Time Out New York, the Huffington Post, Fortune, Forbes, Us Weekly, Bon Appetit and Brooklyn Magazine, among other outlets.