The co-creator of Friends expresses regret over the handling of this character
Over 18 years since the end of the iconic sitcom Friends, co-creator Marta Kauffman opens up about the show's representation of Chandler Bing's transgender parent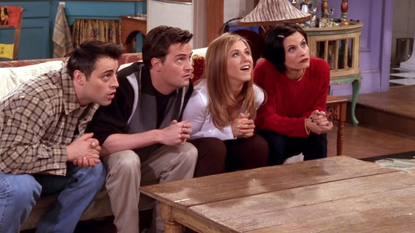 (Image credit: NBC)
While on BBC World Service's The Conversation program, Friends co-creator Marta Kauffman opened about the iconic series' handling of one specific character, Chandler Bing's transgender parent.
Specifically, Marta, who created and wrote all 235 Friends episodes, admitted that she now regrets referring to the character, which was played by Kathleen Turner, as Chandler's "father" all throughout the show's run.
---
"We kept referring to her as Chandler's father, even though Chandler's father was trans," the TV guru said on the program. "Pronouns were not yet something that I understood. So we didn't refer to that character as 'she.' That was a mistake."
As fans of the show, which ran from 1994 to 2004, know, the character, named Helene Handbasket, was never actually referred to as trans on any episode. Kathleen took on the role in three episodes back in 2001, during the show's seventh season (including her debut in one titled The One With Chandler's Dad), but, overall, she was referred to as a drag queen (in the series, she performed in Las Vegas) or as gay.
Marta has previously discussed the subject publicly. Just last week, she told the Los Angeles Times that she has "learned a lot in the last 20 years." She went on saying that, "admitting and accepting guilty is not easy. It's painful looking at yourself in the mirror. I'm embarrassed that I didn't know better 25 years ago,"
Quite literally putting her money where her mouth is, Marta also revealed that she has pledged $4 million to the African and African American Studies department of Brandeis University, her alma mater, in response to Friends' lack of diversity within the cast.
Kathleen herself spoke about the topic back in 2018, during an interview with The Gay Times. She specifically mentioned that, when showrunners approached her about the role, they asked if she'd like to "be the first woman playing a man playing a woman" on television.
"I said yes, because there weren't many drag/trans people on television at the time," Kathleen said to the outlet a few years ago.
---
That being said, Kathleen admitted that she probably wouldn't play the same part again in this day and age "because there would be real people able to do it," she said in a 2019 appearance on Watch What Happens Live with Andy Cohen.
For what it's worth, Marta has made it clear that she now deals with similar work situations differently.
"It's very important to me that where we are is a safe place, a tolerant place, where there's no yelling," the showrunner, who most recently co-created the hit Netflix show Grace and Frankie, said in the interview. "I fired a guy on the spot for making a joke about a trans cameraperson. That just can't happen."
Clearly, people change.
Anna Rahmanan is a New York-based writer and editor who covers culture, entertainment, food, fashion and travel news. Anna's words have appeared on Time Out New York, the Huffington Post, Fortune, Forbes, Us Weekly, Bon Appetit and Brooklyn Magazine, among other outlets.