The chilling true story behind The Nurse on Netflix
The Danish series The Nurse is made all the more terrifying by its roots in real life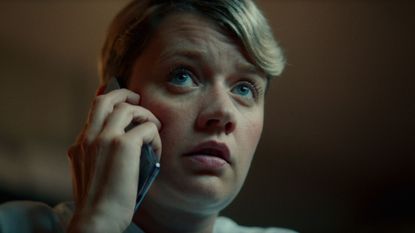 (Image credit: Netflix)
The chilling Danish series The Nurse is about to hit Netflix and its disturbing storyline is rooted in real life, making the plot all the more terrifying.
The Nurse follows the story of series lead Pernille Kurzmann as she begins her new job as a nurse in a hospital in the outskirts of Denmark. It sounds innocent enough, right? Viewers watch on as Kurzmann settles into her new role and begins to fall into the rhythm of the job. She befriends fellow nurse Christina Aistrup Hansen, a charming and charismatic personality who appears to be loved by everyone thanks to her kind nature and calm disposition in emergencies. But soon Kurzmann's image of her is changed and she begins to believe that there might be more to Christina than what first meets the eye.
The Nurse follows Kurzmann as she fights to uncover the horrifying truth about Christina and bring her unfathomable crimes to light. But what makes the series all the more chilling is that, just as Netflix's latest movie release 2 Hearts is based on a true story, so is The Nurse.
Is The Nurse based on a true story?
Netflix's The Nurse is based on the true story of Pernille Kurzmann, the nurse who brought to light the horrific crimes of fellow nurse Christina Aistrup Hansen. Just as in the series, Kurzmann began working at the Nykøbing Falster Hospital in Denmark when she was fresh out of nursing school.
Before her fall from grace, Hansen was the hospital's top nurse and was beloved
by everyone who worked there. But, any time she was working a night shift, patients who had seemed stable in the day would take a sudden nose-dive and, on the brink of death, Hansen would heroically swoop in to save them - most of the time.
Unfortunately, a lot of Hansen's patients kept dying for no apparent reason. Kurzmann became suspicious of the top nurse despite everyone else's love for her and set out to uncover what was really going on.
Thanks to Kurzmann's whistleblowing, Hansen was eventually charged with the murder of three patients and the attempted manslaughter of one other at the Nykøbing Falster Hospital.
Speaking to Tandem, the series director Kasper Barfoed explained why he felt compelled to dramatize the story of Hansen and Kurzmann. He explained, "So many people suspected something or saw something - and yet it's the new nurse, the one who's in her first job who not only senses something is wrong, but who actually does something about it and risks everything."
"[Making the series] became a lot about trying to be loyal to Pernille and the situation she was in. We wanted the audience to be able to feel how difficult this is. It's not just pushing a button and then you're a whistleblower."
When will The Nurse be released on Netflix?
The Nurse will be released globally on Netflix on 27 April 2023. The miniseries will feature a total of four episodes, all of which will drop on the same day.
Charlie Elizabeth Culverhouse is royal news and entertainment writer. She began her freelance journalism career after graduating from Nottingham Trent University with an MA in Magazine Journalism, receiving an NCTJ diploma, and earning a First Class BA (Hons) in Journalism at the British and Irish Modern Music Institute. She has also worked with Good To, BBC Good Food and The Independent.