Is Netflix's 2 Hearts based on a true story?
Everyone's obsessed with Netflix's latest romance, but is 2 Hearts based on a true story?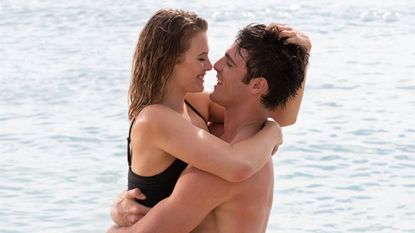 (Image credit: Netflix)
Netflix has just dropped its latest heart-jerking romance, 2 Hearts, and its heart-wrenching storyline has viewers wondering if it's based on a true story.
2 Hearts has quickly become one of the best movies on Netflix with its sad storyline that follows two seemingly separated couples, their parallel running stories divided by decades of time until a tear-inducing twist of fate brings them together under dire circumstances.
The romance follows a 19-year-old college student called Christopher, played by Jacob Elordi of Euphoria fame, and his girlfriend Sam, played by Tiera Skovbye, as they navigate their young and blossoming love.
At the same time, the story of Cuban exile Jorge, played by Adam Canto, and the love of his life Leslie, played by Radha Mitchell, plays out alongside the story of Christopher.
But it's not just the abundance of love, romance, and tears that have caused 2 Hearts to skyrocket to the top of Netflix's charts, but the fact that the film is actually based on a true story. But how much of 2 Hearts is rooted in real life and based on true events?
Is 2 Hearts based on a true story?
Yes, most of 2 Hearts is based on the true story of Jorge Bacardi and Christopher Gregory, and its storylines were inspired by a book written by Chris' father, Eric, called All My Tomorrows: A Story of Tragedy, Transplant, and Hope.
Just as is portrayed in 2 Hearts, Christopher Gregory was a 19-year-old freshman in college who tragically died from a brain aneurysm. As an organ donor, Christopher's organs were later donated to seven different people, including the film's other protagonist Jorge.
Following Christopher's death and the subsequent donation of his organs, the film's other protagonist, Jorge, is able to receive a life-saving double lung transplant. This is where the two seemingly unrelated stories connect, just as it really happened in real life.
Up until this point, the film follows Jorge as he navigates his budding love with Leslie, a flight attendant he meets and falls for, while he also struggles through his battle with, what he has been told is, cystic fibrosis.
Then, when Jorge reaches his 40s, he is told he was misdiagnosed and in fact has a lung condition called primary ciliary dyskinesia. At the age of 64, Christopher saved Jorge's life by donating his organs and making the much-needed lung transplant possible.
With the transplant, Jorge went on to live until he was 76 years old and set up the Gabriel House of Care, a non-profit that supports those awaiting transplants.
There are a couple of embellishments made to the film, however, rather than following Christopher's life up until his tragic and short-lived end, viewers of the film see Chris live the life that he missed out on following his aneurysm; marrying his girlfriend Sam and having a child, but unfortunately, this didn't happen in real life.
The only other slight change from the real-life story of 2 Hearts is that Chris's girlfriend was referred to as Jenn in the book written by his father, while in the film, she is known as Sam.
Both Jorge and his wife Leslie were involved in the making of 2 Hearts but he sadly passed away before its release.
Charlie Elizabeth Culverhouse is royal news and entertainment writer. She began her freelance journalism career after graduating from Nottingham Trent University with an MA in Magazine Journalism, receiving an NCTJ diploma, and earning a First Class BA (Hons) in Journalism at the British and Irish Modern Music Institute. She has also worked with Good To, BBC Good Food and The Independent.