Susanna Reid left 'heartbroken' as devastated viewer reveals how scrapping the free TV licence will affect her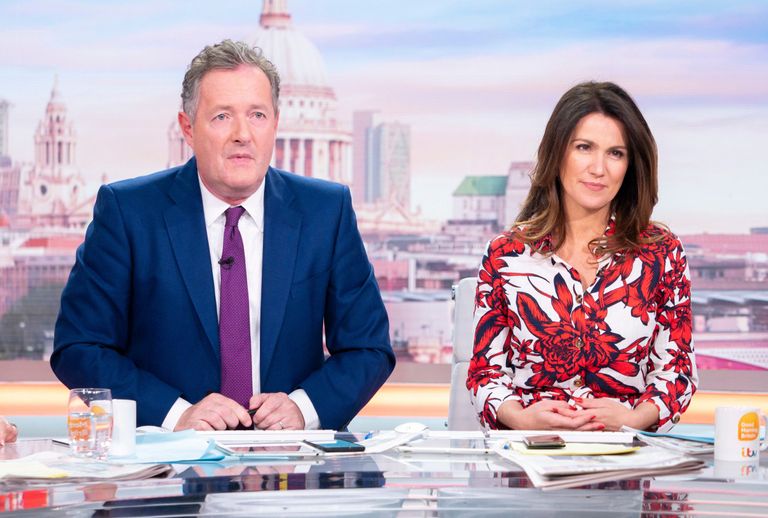 By Amy Hunt
Susanna Reid was almost left in tears during today's Good Morning Britain, after a viewer called in to decry the BBC's recent scrapping of free TV licences.
Yesterday, the BBC announced that it would be getting rid of free TV licences for over-75s, meaning many will now have to pay the £154.50 required to watch.
Come June 2020, a means test will come into effect to judge who can and cannot pay the TV licence.
The decision has been a controversial one, and has been met with plenty of anger - with many questioning what pensioners who are barely able to afford the fee will do.
MORE:Susanna Reid is presenting a new true crime documentary and it looks fascinating
And on GMB, Susanna, and her co-star Piers Morgan, were left visibly upset after listening to the concerns of one distressed woman.
Josephine Iron, whose husband is in a care home with dementia, called in to share her thoughts, revealing that she thinks the BBC and bosses at the corporation need to 'get in the real world'.
Looking into the monitor, Susanna said, "Josephine, it's an outrage that someone like you, with everything that you've already faced and all your responsibilities, that you're reduced to tears this morning because of this decision. It's shocking, my heart absolutely breaks for you."
Piers then went on to ask Josephine what she would say to the heads of the BBC, when she emotionally confessed, "Get into the real world and listen to the people like us.
"You're old-fashioned, you need to get into the real world and stop penalising the elderly people, because that's what you're doing. We shouldn't be paying for that now."
As the camera panned back to Susanna, the 48-year-old looked visibly moved, before saying, "Good luck Josephine, we send you all our love and support."
MORE:Series three of The Handmaid's Tale is coming to the UK very soon
Since the decision was made, Age UK have revealed the difficult impact a means-tested TV license could have on the elderly, with their research revealing that 2 million over-75s will have to go without TV, or cut back on heating and food if their licence was no longer free.
They also found that half of over-75s have a disability, and rely on their TV for entertainment and companionship - while many also count on it for staying up to date with what's going on in the world, without use of the internet.
If you want to help campaign against the BBC's decision, you can sign Age UK's petition to save free TV here.
So what do you think about the latest TV licence news?