The Hidden Significance Behind Meghan Markle's Outfit In Wales Yesterday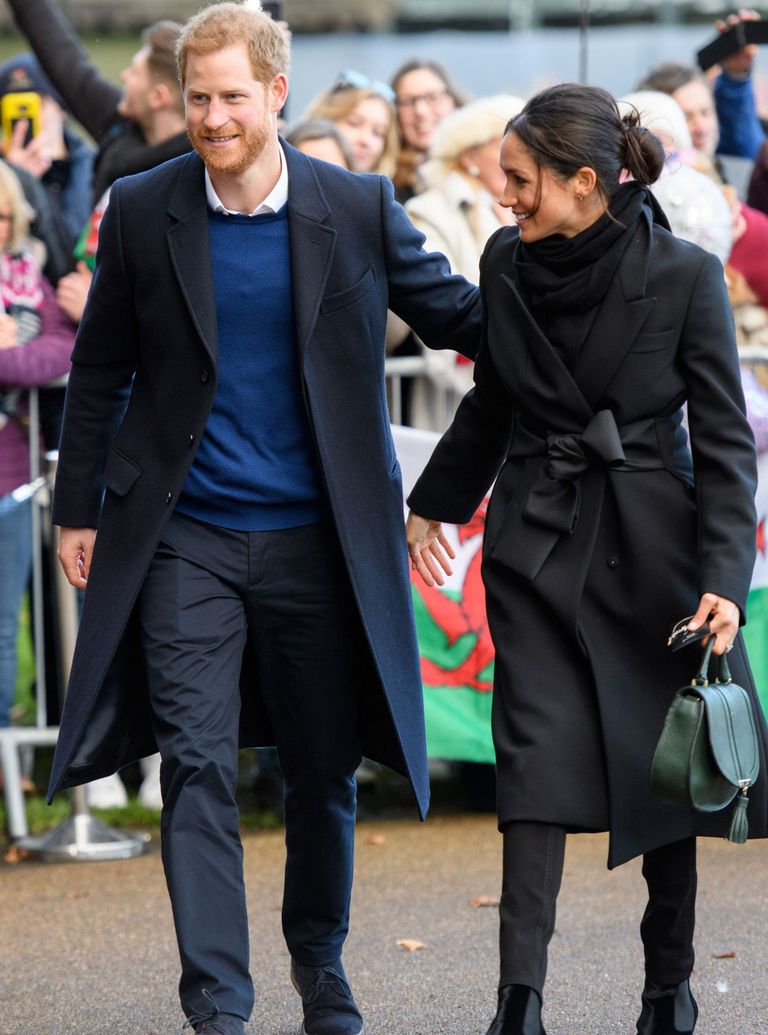 (Image credit: Shutterstock/Rex)
On Thursday, Meghan Markle and Prince Harry went on their third royal visit since becoming engaged in November 2017.
The couple, who are set to be married on 19th May, headed to the Welsh city of Cardiff to undertake a tour of the Welsh captial's Castle, and to tour an arts and culture facility, StarHub.
Although the pair arrived into the city a little later than planned due to a delayed train, they were welcomed by huge crowds of fans as they arrived at the castle, all excited to meet the newly-engaged couple.
And as with the couple's first two engagements, Meghan appeared to wow fashion fans with her subtle, sophisticated outfit choice for her trip to Wales.
However, while she excellently executed the casual and sophisticated look, there was a hidden significance behind Meghan's outfit that seems to shows how diplomatic and thoughtful the soon-to-be royal is.
Meghan wore a sleek Stella McCartney coat for the engagement, and while it was certainly stylish, it also displayed Meghan's desire to champion sustainable, charitable causes.
The designer is well-known for her cruelty-free designs, and also regularly uses sustainable clothing pieces - suggesting Meghan is keen to advocate conscious fashions brands.
She also chose to accessorise with a dark green handbag by DeMellier London, which some suggested was a subtle homage to Wales.
But the hidden message behind the choice of bag again points to Meghan's desire to raise awareness of worthy causes.
DeMellier London actually uses proceeds from each of their bags sold, to help prevent child mortality. The brand work with SOS Children's Villages, a charity who support orphaned and abandoned children across the globe.
In the past, Meghan has worked with both One Young World and World Vision, to help children and young adults in disadvantaged parts of the world. So again - her outfit choices in Wales clearly show Meghan's intention to shine a light on causes she's passionate about.
Finally, Meghan also dressed down for the official engagement, in a pair of jeans by Welsh brand Huit Denim. The trousers were certainly stylish, but the choice has also been praised, given the brand's excellent track record for boosting employment in the town of Cardigan.
So it seems that Meghan is subtly hinting once more at her support for local Welsh brands, who are working towards good in their communities.
Since her engagement to the Prince, Meghan has made it clear that she is keen to start making changes for the causes both she and Harry support.
In the pair's first interview together, she stated, "The causes that have been very important to me, I can now focus even more energy on, because very early out of the gate I think we realised that once you have a voice people are going to listen to, with that comes responsibility, which I take very seriously."
It seems as though the royal-to-be is already off to a great start.