Sandra Bullock reveals she's 'embarrassed' to have starred in this movie...
Oscar-winning actor Sandra Bullock admits she's not a fan of one movie in particular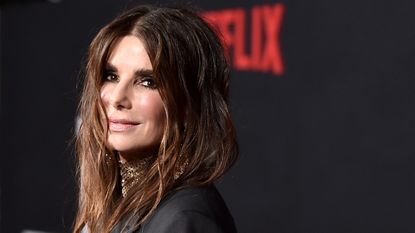 (Image credit: Alberto E. Rodriguez / Stringer / Getty Images)
In a new interview alongside Daniel Radcliffe, her co-star in The Lost City, Sandra Bullock admits that she is "still embarrassed" about starring in Speed 2, which was released over two decades ago.
News site TooFab specifically asked Daniel and Sandra, who recently announced an acting break to spend time with her family, about career projects that they feel uneasy about to this day or that, perhaps, embarrassed them until they realized that fans embraced them.
"You stumped me with the fans coming around later on [portion of the question]," Sandra said. "I have one no one came around to and I'm still embarrassed I was in. It's called Speed 2. [I've] been very vocal about it. Makes no sense. Slow boat. Slowly going towards an island."
---
Although Daniel quickly replied that he thought the 1997 film, a sequel to the still successful Speed, did garner an audience, Sandra doubled down on her comments. "That's one [movie] I wished I hadn't done and no fans came around that I know of. Except for you, so I'm glad you enjoyed it," she said half-jokingly to her co-star.
"I feel like it had a kind of cult love, though, as well," Daniel went on.
"Very quiet. Almost... five people. Him and the other four 12-year-olds that were watching the slow boat going towards the tiny island," she retorted.
Sandra isn't entirely wrong in her assessment of the film. Although 1994's Speed, which starred Keanu Reeves as well, did well both critically and among fans, the sequel, filmed sans Keanu, was a box office flop. Critics weren't thrilled about it either.
Here's to hoping that The Lost City, set to drop in theaters today, will be a more successful production. The romantic adventure comedy stars Sandra as reclusive author Loretta Sage, who writes romance-adventure novels about Dash, portrayed by book cover model Alan Caprison (Channing Tatum). While on tour with Alan, Loretta is kidnapped by one Abigail Fairfax (Daniel), an odd billionaire who believes that Loretta's plots are real and that she can lead him to a "lost city." Brad Pitt also appears in the film as Jack Trainer, a Navy Seal-turned-CIA agent.
Anna Rahmanan is a New York-based writer and editor who covers culture, entertainment, food, fashion and travel news. Anna's words have appeared on Time Out New York, the Huffington Post, Fortune, Forbes, Us Weekly, Bon Appetit and Brooklyn Magazine, among other outlets.