Why Ruth and Eamonn were celebrating over the weekend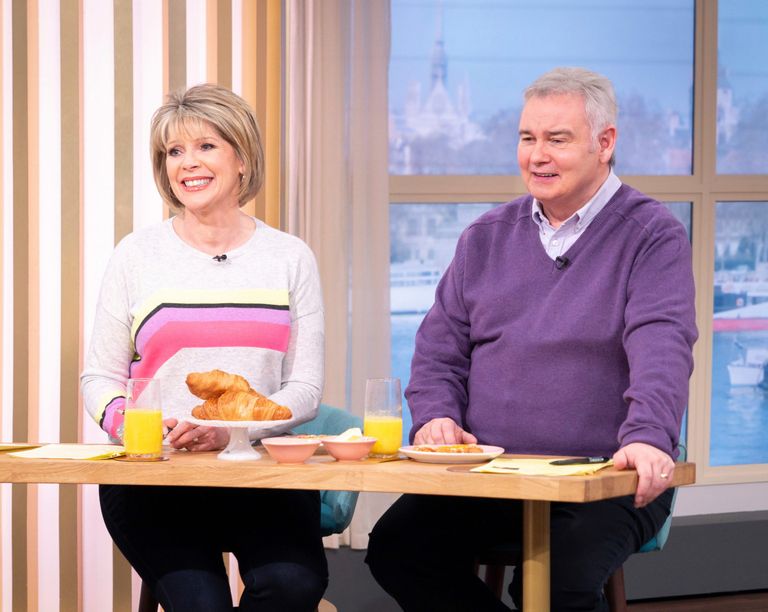 By Amy Hunt
Ruth Langsford and Eamonn Holmes usually have a packed work schedule during the week - and now that This Morning is also shown on a Sunday, they've got themselves some pretty busy weekends too!
But this weekend proved to be particularly hectic for the popular TV couple, as they were celebrating some very special events.
MORE:Eamonn Holmes And Ruth Langsford Net Worth Revealed
First and foremost, on Sunday, the pair marked Ruth's 59th birthday, during their appearance on This Morning.
And though Ruth and her husband might have been working, they was definitely some celebrating going on too.
They tucked in to plenty of tasty food by chefs Jack Stein and Juliet Sears, who rustled them up some lobster and chips, as well as a very timely chocolate Guinness cake.
During the episode, Ruth and Eamonn also treated themselves to a glass of champagne, and were seen toasting to her birthday close to the end of the episode.
Eamonn posted an Instagram message on Sunday evening, assuring fans that, outside of work, he had treated his wife to a lovely birthday weekend.
He wrote, 'She had a packed weekend of Birthday indulgences.🎂🍰 No husband could have done more.🥂🍾 I rest my case. Going back to work tomorrow for a rest. 😁'.
And of course, Irish-born Eamonn was celebrating St. Patrick's day on the Sunday too. On the day, he shared a few poignant messages about his late father with his Twitter followers.
In one message, he wrote, 'I honour #StPatricksDay but even more I honour my late Father who always made this day so Special in The Holmes Household ☘ Happy memories. A real Dad who entertained his boys. Not enough space to tell you how good he was. He and today will always live on in his 5 Sons. ☘☘☘'
The weekend also marked another very special moment for the couple. On Sunday, it was the tenth anniversary of the day Eamonn asked Ruth to marry him. The pair eventually married a year later, on 26th June 2010, with a lavish ceremony at Elvetham Hall in Hampshire.
What a busy weekend! Let's hope the couple are able to relax a bit this week...