Rejoice: And Just Like That... season 2 will remind of 'iconic' Sex and the City episodes
HBO Max insider reveals that And Just Like That… season 2 will go back to Sex and the City basics, promising exciting story lines for all characters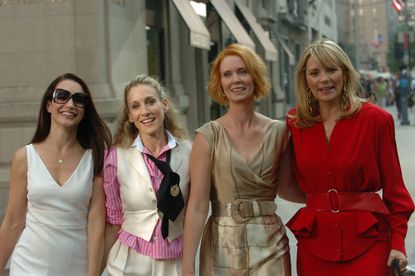 (Image credit: Richard Corkery/NY Daily News Archive via Getty Images)
As photos from the set of the second season of And Just Like That…, the HBO Max Sex and the City reboot, start circulating, fans can't help but wonder what the new episodes have in store considering the (spoiler alert!) surprising death of iconic character Big in season one.
Just a few days after a first look at And Just Like That season 2 has fans divided, the network's head of originals, Sarah Aubrey, gave an interview to Variety (opens in new tab) hinting at the sorts of story lines that we should expect to see once the new episodes hit the air.
To the delight of probably everyone, Sarah revealed that fans will be treated to what will feel "like iconic Sex and the City episodes" - something we were hoping to hear since reports about Aidan coming back for And Just Like That season 2 were first made public.
"What you're seeing this season is all of these characters embracing life. It's a very joyful season and I think, in some ways, it feels like iconic 'Sex and the City' episodes," Sarah said to the outlet. "Most of all, for Carrie, in particular, in the way her character has always been up for the next adventure or the next love, the next friendship in the city, and you really feel that this season. We're so excited. I went to the table, I've seen the clothes. So I'm voracious, just like everyone."
Of course, one key player will be missing from said plot lines given the off-set drama that had defined her relationship with the original show.
Kim Cattrall, who played hilarious PR guru Samantha Jones on Sex and the City for 6 seasons (and reprised the role in the two Sex and the City movies that were released following the wrapping up of the season), did not appear in premiere season of And Just Like That… and will not be part of any future episodes in the flesh (for now, hopefully).
The character will, however, make her presence known in season two as the creators vowed to explore her relationship with protagonist Carrie Bradshaw, played by Sarah Jessica Parker, in creative ways.
"It's very funny because every single one of the writers has a different version of what happened during that conversation," said show creator Michael Patrick King to Variety, reminding all of the text message exchange that the two characters had at the end of season one. "So, I think there was some champagne. I think there was a grownup back and forth, and a love affair that they realized that something's more important than being afraid to heal. To me, they had a great night and things became resolved. Once Carrie let go of an old, old love, one of her current loves came back in."
As for when, exactly, new episodes of And Just Like That… will be released, no official date has yet been made public. We'll be patiently waiting.
Anna Rahmanan is a New York-based writer and editor who covers culture, entertainment, food, fashion and travel news. Anna's words have appeared on Time Out New York, the Huffington Post, Fortune, Forbes, Us Weekly, Bon Appetit and Brooklyn Magazine, among other outlets.