First look at And Just Like That season 2 has fans cooing over a classic, quirky Carrie Bradshaw look
Carrie Bradshaw is definitely back to her quirky fashion best after fans get a first look at the new season of the Sex and the City spinoff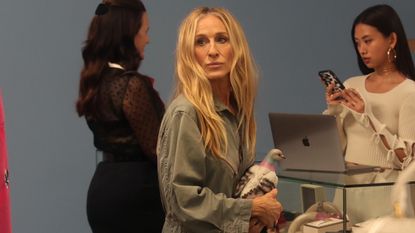 (Image credit: Jose Perez/Bauer/Griffin/GC Images)
"I made the effort. I put a bird on my head!" Carrie Bradshaw, the perpetual ingenue, uttered these lines during the first Sex and the City movie.
And it wasn't the first time Sex and the City fans had witnessed Carrie's unique take on style. From the iconic tutu used in the opening credits of the HBO series to the "naked dress" first worn on her date with the man who would become her husband, Carrie wasn't afraid to take a risk.
Which is why the first look at And Just Like That season 2 has fans in a flap – classic Carrie is back.
Sarah Jessica Parker's iconic character is out and about on the streets of Manhattan combining a vintage flight suit – Top Gun: Maverick has smashed box office records, so she's very on trend here – with a clutch in the shape of a pigeon.
Only Carrie Bradshaw. (Unless you want to give it a go and take some lessons on how to dress like Carrie!)
The pigeon clutch is the work of British fashion label, JW Anderson, and is currently on sale for $890.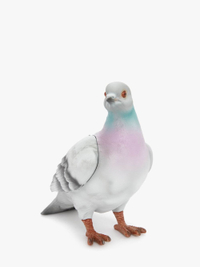 (opens in new tab)
Carrie's look is completed with Dior Gladiator sandals and a small Fendi ankle baguette, plucked straight from the latest runway season.
While many would struggle to pull off a similar look, fans flooded the Instagram accounts for Sarah Jessica Parker and everyoutfitonsatc, a page dedicated to documenting all the fashion details of the show.
Bravo's Andy Cohen, famous for hosting shows like the Real Housewives reunions, commented, "Man, it's good to see her again…"
One fan commented, "Only Carrie/SJP could pull it off" and another summed it up perfectly, writing, "Carrie Bradshaw is BACK."
Not everyone was a fan, alas.
One fan wrote "Good thing Big isn't alive to see this…" with another already trying to work out if the look is a hint of storylines to come, speculating "This look screams Aidan is back."
Aidan was, of course, Carrie's ex-boyfriend. She dated him twice in between courtships with Mr Big. The first time she cheated on him, and the second shot at love ended with an engagement but Carrie ultimately splitting up with him after realizing she couldn't marry him.
However, after a passionate kiss in the second movie and the fact that Mr Big is now out of the picture, could Aidan and Carrie go for a round three?
The fact that rumors have already swirled that Aidan is back for the second season of And Just Like That will surely heighten speculation…
Dressing very much to character, she looks the epitome of Upper East Side princess with a pink satin bow with a black polka dot blouse.
While we don't quite know when season 2 will return, consider us excited for more bold fashion swings, unexpected storylines and the possible return of some familiar faces.
Jack Slater is not the Last Action Hero, but that's what comes up first when you Google him. Preferring a much more sedentary life, Jack gets his thrills by covering news, entertainment, celebrity, film and culture for woman&home, and other digital publications.
Having written for various print and online publications—ranging from national syndicates to niche magazines—Jack has written about nearly everything there is to write about, covering LGBTQ+ news, celebrity features, TV and film scoops, reviewing the latest theatre shows lighting up London's West End and the most pressing of SEO based stories.