The Queen Mother's Brilliant Advice To The Queen On How To Appear Confident In Any Situation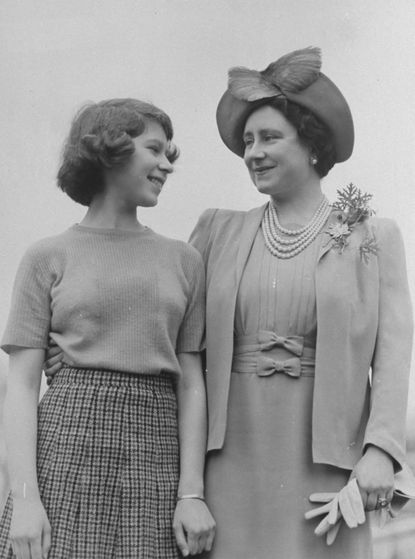 The amazing advice given to the Queen (then Princess Elizabeth) by the Queen Mother, has been revealed by a former lady-in-waiting.
Prudence, Lady Penn has revealed that the young Princess Elizabeth was often very shy, and struggled in social situations, finding it difficult to assert herself.
Though it seems strange now, considering how gracefully The Queen manages the thousands of duties and visits she must perform as monarch, she only became destined for the throne aged 10, after the sudden abdication of her uncle, Edward VIII.
Speaking as part of a new 8-part series, Elizabeth: Our Queen, on Channel 5, which will commemorate 65 years since the Queen's coronation, Lady Penn shared,
"The Queen Mother told the Queen when she was very young to be brave.
"I think the Queen probably when she was young, felt walking into a room full of people was rather daunting.
"So she said to her 'What you want to do, when you walk into a room, walk through the middle of the door.'"
Explaining the significance of The Queen Mother's advice, Lady Penn continued,
"And I think by that she meant, don't sort of go in apologetically. You walk through as if I'm in charge. I think that was very good advice."
Even though the advice was given to a monarch, it is definitely something we can all carry over into our own lives!
Lady Penn and the Queen have been friends for a long time, and remain close. The Queen was seen dining with Lady Penn at a restaurant in Mayfair in 2016, celebrating the latter's 90th birthday.
The first episode of the series also told the story of exactly how Princess Elizabeth learned she was destined to be Queen.
She returned from a swimming lesson, and, upon hearing noises outside the palace, asked a footman what they were for. She was then told that her uncle was no longer King, and her father had ascended to the throne.
Elizabeth: Our Queen airs on Tuesday nights at 9pm, on Channel 5.
Mollie worked as a junior reporter across Women's Lifestyle brands, focusing on news, with a particular fascination with all things royal.
Mollie started out doing work experience across digital websites, before taking up a role as a digital intern, working mainly on woman&home, where she excelled at sourcing original stories for the woman&home audience, but also wrote up fashion, beauty, and general lifestyle features. She now works in marketing for a creative media recruitment company.
Mollie is a candle, film, and food fanatic, who also makes a mean margarita.