We earn a commission for products purchased through some links in this article.
If two people do exactly the same job it's reasonable to assume they'd be paid identically. Yet as TV's gender pay gap scandal confirmed, very often that's not the case.
Good Morning Britain presenter Piers Morgan says he believes his co-host, Susanna Reid, wouldn't actually mind if she discovered he was out-earning her.
"I have no idea what [Susanna] is paid," Piers told ES Magazine.
"I don't think it would matter to her, even if she found that I was
being paid more, because she, I think, would be the first to accept that
I've slightly redone the wheel here. I bring a completely different
kind of feel [to the show]."
In typically humble fashion, Piers adds: "They pay me what I'm worth. A lot."
Since Piers, 52, joined the breakfast show in October 2015 Good Morning Britain's audience has risen by 24%, regularly peaking at over one million viewers.
However, anyone who has tuned in to the show knows that Piers'
presenting style requires some balancing – and that's putting it mildly.
It's only the combination of him and Susanna that makes the show such a
success, which Piers did acknowledge: "I think she's brilliant, worth
every penny ITV gives her…But I don't know what that is."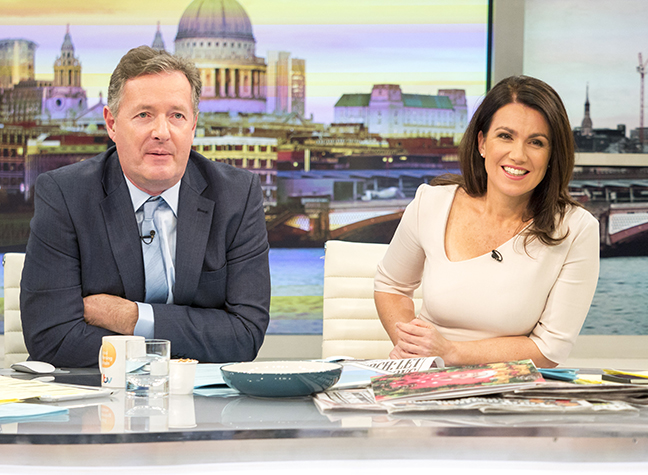 When the news of the TV pay gap broke it revealed that the BBC's highest-paid male star, Chris Evans, earned a whopping £2.2 million last year, while its highest-paid woman, Claudia Winkleman, made just £450,000.
ITV wasn't forced to reveal how much it pays their biggest stars. But when the huge disparity at the BBC hit the headlines, a journalist called Barbara Speed tweeted: "For all this chat and judgement who would just openly tweet their salary right now? Go on, I dare you."
Piers responded, claiming he earns whopping £22.5 million a year – which would mean he makes 10 times more than Chris Evans. Is this the real size of Piers' paycheck? And does that mean he's raking in lots more than his hard working co-host? Susanna, it's over to you…