Phyllis Logan: "I'd Be Terrible In A Medical Crisis!"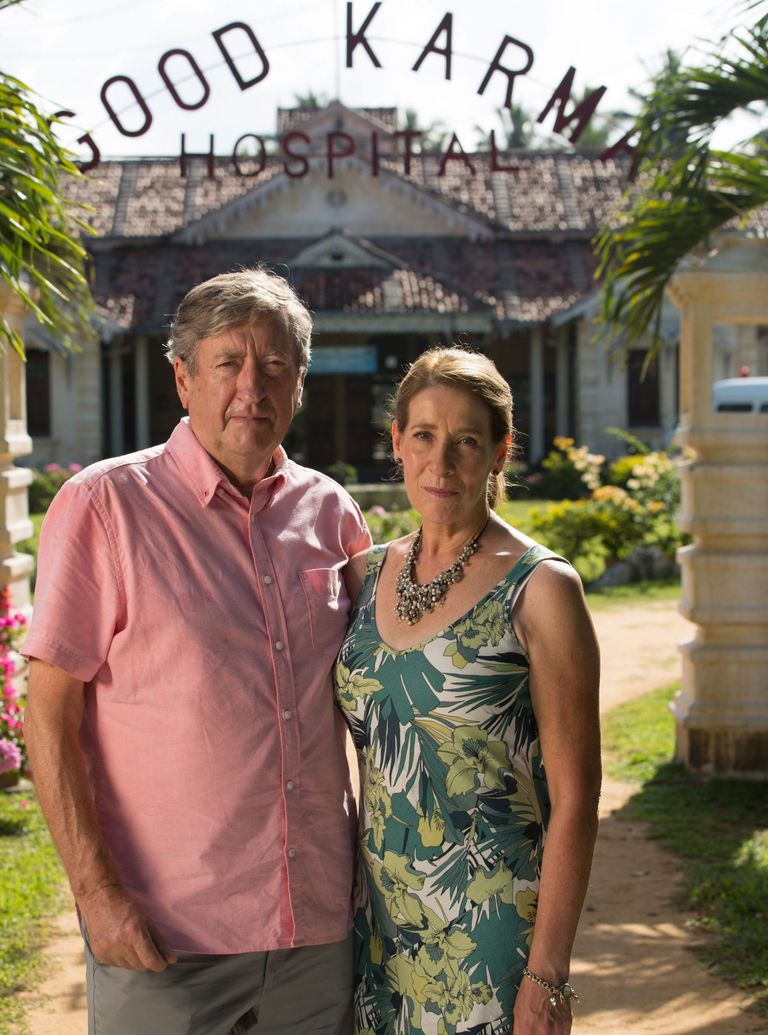 Phyllis Logan, 61, starred in the six-part medical drama The Good Karma Hospital, which was set in southern India and followed a team of British and Indian medics at an under-funded hospital, run by Lydia Fonseca (Amanda Redman). Phyllis plays Maggie Smart, who is in India with her husband (Philip Jackson) for her daughter's (Leanne Best) wedding. The series is now out on DVD.
Phyllis lives with her husband, actor Kevin McNally, in London and they have a 20-year-old son, David. She tells Nathalie Whittle more about the series...
I'd describe the drama as a bit like Holby City meets The Best Exotic Marigold Hotel! You have this eclectic mix of characters whose paths all cross in some way in India - and there's everything from terrible accidents to fighting between families. Plus, it's cross-cultural, so there are misinterpretations and accusations of racism - and that's what modern day life is all about, isn't it?
My character, Maggie, could be perceived as being quite selfish, but actually I think she's incredibly brave. She's taken ill at her daughter's wedding and ends up at The Good Karma Hospital - and when it's time to go home to England and recuperate, she decides she wants to stay in India, despite her husband and daughter disapproving. I have to be honest, I'm not sure I'd be as brave as her. The most adventurous thing I've ever done is to have a child!
We all like to think we'd be 'captain courageous' in a medical emergency - but I'm not convinced I would be! I did a play with Lenny Henry several years ago and the script required us to do some CPR, so we took a first aid course. Well, I've completely forgotten it all now! She's spent most of her life doing what was expected of her and resolves that at 60 it's time to do what she wants - even if that means having to swap a plush hotel for an old beach hut!
We filmed for two months in Sri Lanka - and all I can say is that it was bliss. We stayed near the city of Galle, which is on the south-west coast, and there were these huge lizards wandering about, and monkeys would come swinging by. The one thing I did find tough was the heat. Sometimes we'd do 14-hour days and it would be 30 degrees outside. And it was so humid that you'd wash your hands and two minutes later you'd feel like you'd stuck them in a pot of honey. It's funny because years ago, you'd have a costume assistant who would get a Chamois leather soaked in cologne (a little bit of 4711!) and they'd slap it on your neck to cool you down. I can tell you, that doesn't happen any more!
The one character I think everyone enjoyed is Lydia, who's played by Amanda [Redman]. As one of the heads of the hospital, she's very forthright and speaks her mind, without caring what other people think - but she's not this prim, harsh woman, she's got a life outside the hospital - and I think that's appealing.
Between takes you'd find Amanda, Phil [Jackson], Neil [Morrissey] and I telling endless stories to each other. In fact, we created a WhatsApp group with all the cast and when we had downtime, someone would message saying, "I fancy going to this place - who's up for it?" I went whale watching with Leanne Best, who plays my daughter, and we'd all take little walks along the beach together.
One of my favourite scenes is where we replicate the Holi festival. It's a huge celebration where everyone throws coloured powders in the air (and at each other!), we had hundreds of extras in and we were all covered in garish pinks, blues and greens. In fact, some of the crew ended up with blue necks for about three weeks because they couldn't get it off! The Good Karma Hospital Season 1 is out now on DVD.