INTERVIEW: Olivia Colman On Her Return To Comedy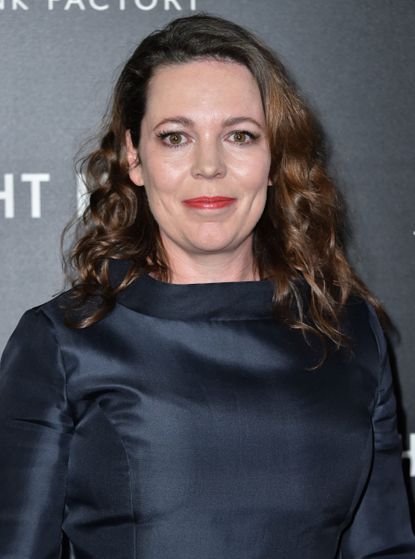 woman&home newsletter
Sign up to our free daily email for the latest royal and entertainment news, interesting opinion, expert advice on styling and beauty trends, and no-nonsense guides to the health and wellness questions you want answered.
Thank you for signing up to . You will receive a verification email shortly.
There was a problem. Please refresh the page and try again.
http://www.youtube.com/watch?v=vpR-5gzK04U
Having recently appeared on our screens as The Night Manager's spy boss, Angela Burr, BAFTA-winning actress Olivia Colman is back - and this time, she's turning her hand to comedy. Stepping into the shoes of Deborah Flower in Channel 4's new six-part series, Flowers, she's a music teacher tasked with trying to keep her dysfunctional family together.
As Deborah's husband, author of illustrated children's books, Maurice, fights inner demons and dark secrets, she becomes increasingly suspicious that he's in a secret homosexual relationship with his Japanese illustrator Shun [Will Sharpe]. But that's just the half of it - the family live in a creaky, messy, crumbling old house with Maurice's elderly mother Hattie (Leila Hoffman) and their maladjusted 25-year-old twins, Amy and Donald, who are both competing for the same girl.
Despite living on top of each other, the family will do anything to not communicate, pushing their struggles with love and life to extreme and ridiculous places. Can Deborah hold things together? We'll be tuning in to find out. But in the meantime, star of the show, Olivia Colman, shed some light on the situation...
Flowers is not what you'd call a traditional sitcom, is it? No! It goes to darker places than most would go to. A comedy about suicide and mental health is pretty unusual - they're normally the domain of drama. It's quite daring, and I like that.
You play Deborah - what's her story? Deborah is a woman of love. She loves her family desperately, although is misguided a lot of the time. If she can sense something isn't right, she doesn't necessarily try and sort it in the right way. It's a symptom of the entire family that they don't really listen to each other. Or they listen but don't hear, which is where a lot of the comedy comes from. She's quite eccentric, as they all are. She's lovely, she loves her family and wants to sort them out - she just gets it a bit wrong. There's a very real feeling to a lot of the conversations and reactions in the series. Did you improvise much or was it all laid out in the script?
It was all there in the script. If there was a big group scene, we'd record it as it was written, and then Will would say "Okay, and now we're going to let rip a bit." I find that terrifying, but it was actually really quite liberating and fun, and some hilariously weird stuff came out of it.
Looking at your comedy back catalogue, with Sophie in Peep Show and now Deborah in Flowers, your characters aren't exactly blessed with the greatest luck in love, are they?
No! I don't know why. Maybe I find that funny. Is that awful of me? I think a good dollop of sadness is quite a useful thing in comedy sometimes. I think if everyone's happy all the time, it's a bit dull. It's like salt and caramel - you wouldn't imagine they would go well together, but they do. I think watching someone, from the comfort of your own home, doing something awful or wrong - you have the luxury to be able to laugh at it. I think it works. Flowers and The Night Manager are such different projects - is everything a bit more exaggerated and pronounced in comedy?
Yes and I hadn't done it for a while, so I felt quite out of my comfort zone doing Flowers. You feel more comfortable as the days go by. I felt like I was doing an awful job, really hamming it up. But then I started to care less and just enjoy it. You seem to have been very busy for the last few years. Are you someone who feels a need to keep on working? Do you hate to turn good work down?
I do struggle. I really remember what it was like not to work, so it's hard to willfully say 'no'. But it also looks like I've been working more than I have. Apart from Flowers, I've just had nine months off, because I've been with my baby. It's just the luck of the draw that The Night Manager and Flowers are showing fairly close together. My family is my first love and my first priority and I probably have more time at home than people with normal jobs.
How was learning lines and performing with a small child at home?
It was slightly worse! The learning lines when pregnant wasn't too bad, but there were a few rewrites and so I might have possibly used it as an excuse to say, "I can't do it!" But once the baby's there, it's quite hard. I had the car journey in the morning to try and cram it in! Flowers starts on Channel 4 on Monday 25th April.
Natalie Whittle is a British journalist specialising in celebrity content in the women's lifestyle sector. She previously held the role of Celebrity Director at Woman & Home and has also worked at Prima, Red & Good Housekeeping.