Which New Great British Bake Off Star Has Admitted That They NEVER Eat Cake?!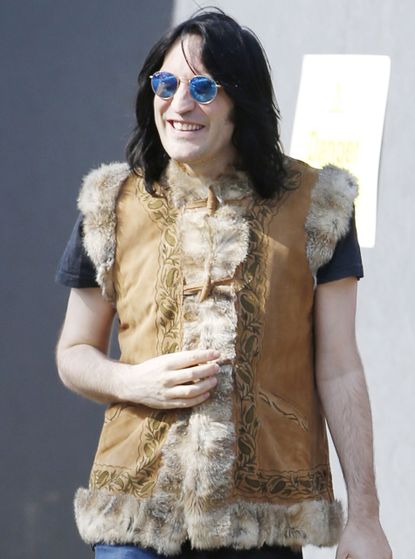 (Image credit: Beretta/Sims/REX/Shutterstock)
We've been awaiting the return of Bake Off with bated breath - and mixed feelings - since the announcement that the show would be moving from the BBC to Channel 4 in a £75 million three-year deal. After all, who could replace our favourite TV presenting duo, Mel Giedroyc and Sue Perkins, not to mention Mary Berry?
We're set to welcome comic actor Noel Fielding and QI host Sandy Toksvig as our new hosts, and chef and author Prue Leith as a judge. But, there might be a whisk in the works. Shockingly, (for a show all about baking), one of the new stars has admitted that they NEVER eat cake.
That's right, eccentric actor-comedian Noel Fielding, who found fame on 'The Mighty Boosh' in 2004, told the Sunday Times Dish magazine that he shuns sugar in all forms. "It's not that I don't like cake, I have a very sweet tooth," he explained. But, "you can't just get straight back onto sugar, as it's quite a powerful thing."
The actor quit sugar in order to shed a stone when he was offered the chance to play Alice Cooper in an upcoming episode of 'Urban Myths' on Sky Arts, which will also feature David Suchet as Salvador Dalí. "I get more work when I'm thinner, so I can't put on weight," the star continued. "No one likes a tubby gut is what I'm saying."
Following his comments, Fielding recieved a backlash from fans over what he said, and many questioned his suitability as a Bake Off judge.
Sandy Toksvig and Noel Fielding bake off hosts, with the judges, Paul Hollywood and Prue Leith
Fielding responded to the backlash from fans of the show on Twitter last night, claiming that he had been misquoted: 'What I actually said (as a joke) in the Sunday Times was "nobody likes a tubby goth" I was taking the piss out of myself. I love cake x'
[twitter]
However, Noel's loyal fans were quick to leap to his defence in light of the matter. "Please do the 1st episode refusing to try anything. The outrage will be worth it. Or stuff an entire cake in your face. Either works" one follower responded. Tabloid reports also claim the comedian has been banned from wearing black clothing on the show. However, it's said producers will allow "more extravagant, colourful outfits later in the series, once viewers have got used to him".
Will he win us over? In Mel and Sue, he's certainly got a tough act to follow...