"My beautiful husband was paralysed... like the hero in Me Before You"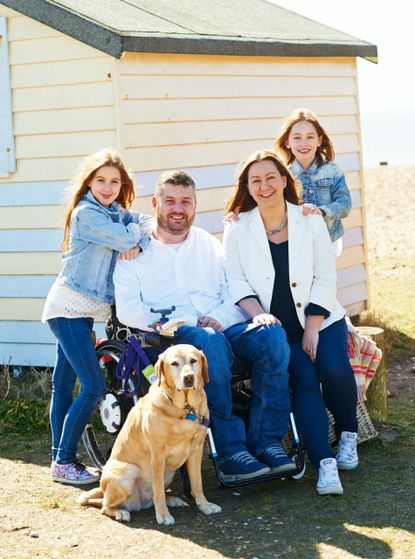 woman&home newsletter
Sign up to our free daily email for the latest royal and entertainment news, interesting opinion, expert advice on styling and beauty trends, and no-nonsense guides to the health and wellness questions you want answered.
Thank you for signing up to . You will receive a verification email shortly.
There was a problem. Please refresh the page and try again.
In October 2008 Steve was driving back from work when his motorcycle was hit by a car, sending him flying into oncoming traffic. Steve was left paralysed from the neck down, like the lead character in the film Me Before You, based on the novel by Jojo Moyes. Nichola and Stephen have two daughters, Grace, 11, and Emily, eight, and live in Hampshire.
Nichola says: Until that day we had everything. Stephen and I met in 2000 while we were working in the Falkland Islands. I was an army telecommunications operator and he was in the Royal Navy. I couldn't help being attracted to his cheekiness. He had all the chat-up lines - a typical sailor! We fell in love and got married in 2003. Our daughter Grace was born in 2004. Stephen had wanted to be in the navy since he was 13 and we were used to him being away for months at a time.
In October 2008, having recently returned from the Far East, he took up a new role at his ship's base in Poole, to which he commuted from our home in Hampshire. He said it made sense to go by motorbike to cut down the travel time to an hour, but I'd always hated him riding the bike. I'd make Stephen text me every morning when he got to work and ring me every day before he left so I knew exactly when to expect him home. That October afternoon he rang me at 4.45pm to say he was leaving work, so I started to prepare dinner. By 6pm, he wasn't home and I knew something was wrong. I tried to call his mobile, then at 6.10pm the phone went and a male voice asked, "Is that Mrs Brookes?" When he introduced himself as the marine welfare officer from Poole I broke down, begging, "Please tell me he's still alive." But he didn't know. He told me to wait there so he could collect me to take me to Poole Hospital. The hospital wouldn't give me any information when I called asking, "Just tell me: is he alive?"
The nurse told me he was in a critical condition, saying, "The sooner you can get here the better." When I arrived a consultant told me, "We've managed to stabilise him but unfortunately we're just about to tell Stephen that he's damaged his spinal cord and he's going to be paralysed from the neck down for the rest of his life." For a moment all I could think was, "He's alive! He's alive!" But then the news hit me: oh my God, he's paralysed...
When I saw Stephen, he was strapped to a spinal board with his head sandwiched between two blocks. As I clasped his hand, the consultant told him, "Stephen you're paralysed, you've had a neck injury." Stephen replied, "What? Are you going to fix it?" and was told, "No it's really serious, you've broken your neck and you're paralysed." Stephen turned to me in horror, realising, "I can't feel you... I can't feel you holding my hand."
We both broke down as the reality hit us. The consultant explained he'd never walk again and Steve kept saying over and over, "But what about the kids?" It was heart-breaking. A million thoughts rushed through my mind, thinking he's never going to be able to pick up the girls again, he'll never be able to cuddle them. In that first hour we went through a roller coaster of emotions. When they said they were transferring him to a specialist unit at Southampton, for a moment, I thought, "Oh, there's going to be a cure." I couldn't accept he'd be like this for the rest of his life.
Telling his parents was so difficult. When they arrived at the hospital from Manchester, they were in complete denial, especially his mum. Stephen had always been the golden boy. They were convinced the doctors must be wrong and that he could be cured. I quickly realised that I had to be the one to accept the truth, so I could explain to the rest of the family. I understand his mum's denial was a way of coping. Even now, she still calls up when she's found some new research on the internet, hoping Stephen might walk again one day. Her maternal instincts kicked in after the accident and she immediately wanted Stephen to move back home to Manchester so she could take care of him, but I had to gently explain his life was in Hampshire now, so he'd have his treatment here. Inside I was thinking, "No, this is our home, we've got our two daughters to think of and my job."
Days turned into weeks and I went onto autopilot. I was working shifts, looking after Emily, who was only ten months old, and Grace, who was three, visiting Stephen first in hospital then in rehab every other day, and I also had to find a new home for us. We had to sell our house as it couldn't be adapted for a wheelchair, which was soul-destroying, as Stephen had just finished decorating it.
The severity of his injuries meant his career in the navy was over too. Early on, Stephen told me he'd understand if I left him, saying, "Look love, I'm not the man you married." I replied, "Of course you are." I teased him, "I'm not going anywhere and you can't run away because I'll switch your chair off!" I never even considered leaving him. To me, he's still the same person.
But by January, Stephen had sunk into a deep depression. He was so low he stopped eating and went down to eight stone. I know the film is based on a tragic real life story where the man contemplates suicide. Stephen never felt that way, but I could sense during one very dark period that he did start to feel maybe life wasn't worth living. It was so hard seeing him emotionally broken; he'd always been the strong one. I went into "nagging wife" mode because I didn't know what else to do. I kept reminding him, "You have so much to live for."
Together, we grieved for the life we thought we were going to have. I told him we had to stick together and work our way through this for the girls' sake. The turning point came in the spring when Stephen got a surprise invite to attend Prince Philip's 90th birthday party at Buckingham Palace, along with other injured servicemen. We got to use the back entrance, as he was in his wheelchair, and I saw a flash of the old Stephen as he joked, "This is my gold pass now!" We had a wonderful day and it made him see there was life after the accident.
He finally came home a year later. We'd moved house into a bungalow with a stunning sea view, which I hoped would lift his spirits. I'd so missed having someone to talk to and it was lovely to have him back in the bed again. He couldn't lift himself in and out of bed, so the team of private carers we'd had to employ when we got home did all the lifting and he'd use overhead hoists to help.
It took me at least a year to get used to having carers in my house 24 hours a day, especially as they have to come in our bedroom at 2am every night to turn him, so he doesn't get pressure sores. They even have to come on holiday with us. The girls loved having their daddy home and being a father gave Stephen a purpose. Now he works for a charity so I'm a stay-at-home mum again. He never lets his condition hold him back, even going on skiing holidays. To me, he hasn't changed. He still has his military sense of humour. We've always been a close, romantic couple. We're still able to make love and we automatically kiss each other good morning and good night. Our relationship has grown even stronger since the accident. I so nearly lost him, we know just how precious every day together is.
Stephen says: Nichola wanted to give up her job to become my full-time carer, but I said, "I want you to be my wife, not my carer." I didn't want to change the dynamics. I wanted her to be able to go out for a romantic meal with me and not be worried about my bowel management the next day. I didn't want her to be involved in my personal care. The nurse also advised that it would be better for our relationship if we employed private carers. When my peer support worker came to visit me, I asked him, "Will I be able to have sex?" As a 28-year-old man, that was the main thing I wanted to know. He told me of course you can, so once I got home from hospital I was able to feel like a proper husband again. I'm still "fully functional" and could even father children. We do everything we did before; I just have to do it sitting down now! In hospital, depression hit me and I couldn't see a way out. I wasn't consciously trying to starve myself and definitely didn't want to end my life, like the film character, but it became easy not to bother eating. On Christmas Day, my eldest daughter said, "Happy Christmas, Daddy" as she left and I couldn't stop crying. But one of the nurses gave me a good talking to afterwards and I realised I had to get better for the girls and for Nichola. Now I'm a peer support worker for the Spinal Injuries Association, helping others. For me, it's about leading the best possible life I can. Knowing I had Nichola and my family is what got me through.
Visit the Spinal Injuries Association (SIA) atspinal.co.uk
for those affected by spinal cord injury.